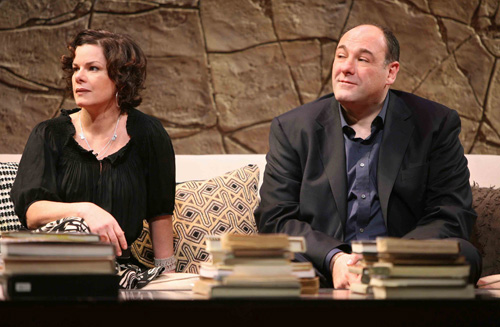 God of Carnage Arrives in Los Angeles With Original Broadway Cast
If you didn't have the chance to see Tony Award-winning Best Play God of Carnage on Broadway, now you can see the original cast in an exclusive Los Angeles six-week run at the Ahmanson Theatre.
Jeff Daniels, Hope Davis, James Gandolfini and Marcia Gay Harden, the original Tony Award-nominated Broadway cast of the scathingly funny, Tony Award-winning Best Play God of Carnage, will reunite in Los Angeles for six weeks only to bring this comedy of manners without the manners to the Center Theatre Group's Ahmanson Theatre, April 5 through May 15, 2011.
Hailed by Elisabeth Vincentelli of the New York Post as ". . .  gleefully nasty fun," God of Carnage is set in a gentrified section of Brooklyn where two married couples meet to sort out a playground fight between their sons. At first, niceties are observed but as the evening progresses and the rum flows, the gloves come off and the night becomes a side-splitting free-for-all of verbal brawling. Linda Winer of Newsday said God of Carnage is ". . . brutally entertaining," while syndicated columnist Liz Smith raved, "Hysterical! Fasten your seat belts and go!" and Variety's David Rooney thought it was "Played to perfection by a scorching cast."
Opening night is April 13, while previews run from April 5-12.
Currently available to subscribers only, tickets go on general sale January 30.
Ticket Prices: $20 – $120
Tickets are available by calling Center Theatre Group Audience Services at 213.972.4400, in person at the Center Theatre Group box office or on-line at www.CenterTheatreGroup.org.  Hot Tix: $20 each can be purchased in advance or, subject to availability, on the day of performance at the box office.
Ahmanson Theatre, , 135 N. Grand Ave., downtown, 213.972.4400. www.CenterTheatreGroup.org