Get Your Spice On at the 1st Annual LA Sriracha Festival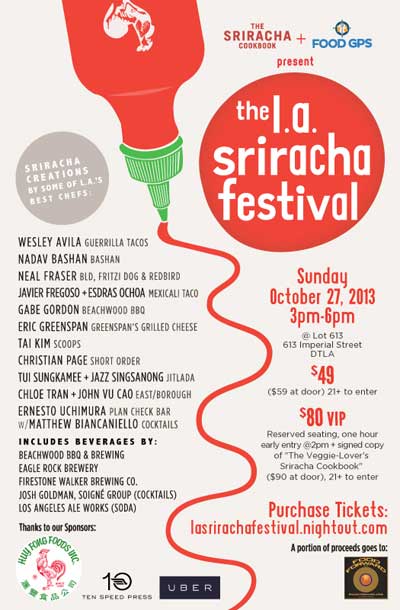 Check out the chef-driven event celebrates Sriracha—the world's most iconic hot sauce—in the downtown Los Angeles Arts District on Oct. 27.
We pay homage to many delicious things in Los Angeles: fried chicken, food trucks and tacos—to name a few. That's why it only seems fitting for us to turn up the heat for our favorite hot sauce—Sriracha—with bites from some of L.A.'s best chefs from restaurants around the city. And who better to organize than the man who wrote the book, Randy Clemens author of The Sriracha Cookbook and The Veggie-Lover's Sriracha Cookbook.
Family Friendly Food Event in LA
Stop by for bites from:
· Wesley Avila— Guerrilla Tacos
· Nadav Bashan — Bashan
· Neal Fraser — BLD, Fritzi Dog, ICDC, Redbird at Vibiana, The Strand House
· Gabe Gordon — Beachwood BBQ & Brewing
· Eric Greenspan — The Foundry on Melrose, Greenspan's Grilled Cheese, The Roof on Wilshire
· Tai Kim — Scoops
· Esdras Ochoa & Javier Fregoso — Mexicali Taco & Co.
· Christian Page — Short Order
· Tui Sungkamee & Jazz Singsanong — Jitlada
· Chloe Tran & John Vu Cao — East Borough
· Ernesto Uchimura —Plan Check Kitchen + Bar — also featuring a cocktail from Matthew Biancaniello
Sip on beer from Eagle Rock Brewery, Beachwood BBQ & Brewing, and Firestone Walker Brewing Co.; and drinks from inventive bartenders Josh Goldman (Soigné Group) and Matthew Biancaniello. Los Angeles Ale Works has created artisan ginger ale (with or without Sriracha!), Pure Water of Los Angeles is providing beyond-green purified water from their water systems.
Tickets are $49 per person in advance, and $59 per person at the door, if still available. Tickets are all-inclusive, and enable attendees to sample freely from all food and drink vendors as they please. VIP Tickets for the event are $80 in advance, and $90 per person at the door, if available. They include reserved seating, one-hour early admission from 2 pm to 3 pm, and a signed copy of The Veggie-Lover's Sriracha Cookbook. Tickets are only available for people 21+. Proceeds benefit Food Forward.  This is easily one of the best things to do with your food-loving friends this weekend. See you there!
3-6 p.m. LOT 613, 613 Imperial St., downtown. nightout.com/events/lasrirachafestival