Get a Taste of Modern Luxury with Celebrity Cruises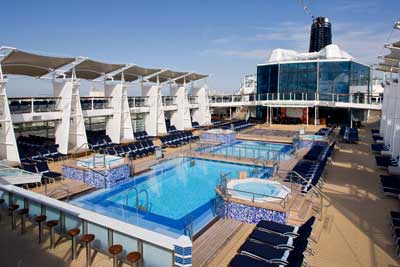 Savor VIP treatment and amenities when you embark on a trip with Celebrity Cruises.
By Christina Xenos
Celebrity Cruises and "Modern Luxury" have become synonymous in recent years, and not just because it is the brand's tag line. The industry leader was the first cruise line to be recognized by Wine Spectator, the first to cook at New York's famed James Beard House, the first to introduce solar technology to its ships and the first to bring land aboard with their acre lawn club.
So what can you expect with the "Celebrity" experience? On Solstice-class ships find 10 distinct restaurants serving 12,000 meals a day of indulgent cuisine; signature drinking spots serving everything from molecular cocktails to wines (650 bottles to choose from); and a luxurious spa; in addition to nightly entertainment and unique fixtures like a world-class art collection and glass blowing demonstrations. When you're just looking forward to relaxing, hit one of two pools and an abundance of whirlpools or kick back in a hammock and gaze out at sea. Take a closer look.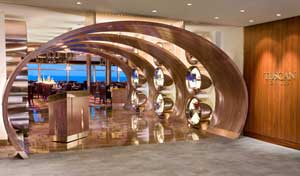 DINING
Food takes center stage on any Celebrity cruise. Celebrity was the first to partner with SPE Certified to offer a healthy, farm-to-table approach to it's dining program. James Beard Award nominated-chef John Suley oversees all culinary experiences of Celebrity Cruises and sources local ingredients and leads the fleet's kitchens to offer cuisine selections that meet SPE nutritional standards. You can find more than 60 SPE-certified menu selections at Celebrity's Grand Epernay main restaurant. Signature dishes there include cold smoked Atlantic salmon roulade, roasted Colorado rack of lamb and beef tournedo. Also delight your inner foodie with Celebrity's array of specialty restaurants that range from modern chef driven selections from land and sea at Quisine, to fresh and sleek spa dishes at Blu, Italian steakhouse fare with a nouveau twist at Tuscan Grille and offerings from the Far East at Silk Harvest. You can also order off the room service menu any time of day.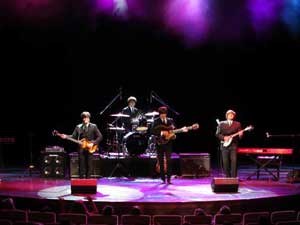 DRINKING
You can grab a drink at 15 dedicated spots aboard Solstice-class ships. Experiences range from sips over stellar views at the Sunset Bar, umbrella drinks poolside at the pool bar, expertly crafted martinis at the stylish New Building & Design-designed martini bar, but two experiences not to pass up are the creative selection of cocktails at the Molecular Bar and diverse wine selections at Cellar Masters. In addition to just sitting back and sitting, try out Celebrity Life activities like "Mixology 101," "Molecular Mixology from the Liquid Chef" where you can learn to make a variety of concoctions, including the perfect mojito. Several wine activities are also available onboard, including "Wine Appreciation 101," the "Riedel® Comparative Wine Crystal Workshop" and the "Food and Wine Pairing" hosted in Cellar Masters.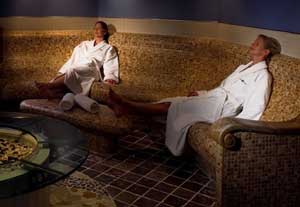 SPA
Each Celebrity ship is outfitted with fitness center and an Aqua Spa featuring luxury cosmetics line Elemis. Enjoy a variety of treatments or just relax in their tranquil Persian Garden, which is a series of different grottos filled with dry heat, steam and mists in an aromatherapy enhanced environment. Signature therapies include the Elemis Aroma Spa Seaweed Massage where you body is wrapped in a seaweed mask that is infused with a blend of essential oils that detoxifies your body while you relax. You can also have your spa experience transcend to your sleeping quarters by booking an Aqua Class stateroom. The spa-inspired staterooms give you unlimited access to the Person Garden and priority seating at specialty restaurant, Blu.
PLAN YOUR EXPERIENCE
How do you get a Celebrity experience in Southern California? Celebrity has just announced the highest ever number of departures out of the Port of Los Angeles. Beginning in the Spring of 2014, you can conveniently board eight roundtrip sailings from Los Angeles to Pacific Coast ports—including international destinations in Mexico and Canada—and itineraries geared toward beer and wine enthusiasts.
Hop on the industry's first ever craft beer cruise that leaves the Port of Los Angeles on April 12, 2014. The seven-day California Beer Festival at Sea floats up the California cost with stops in Santa Barbara, San Francisco (overnight), Monterey, Catalina Island and Ensenada, Mexico. Get your brew on with specially planned beer and lunch pairings, a craft beer round table, and "CBF Craft Beer Heaven" featuring Ninkasi and Lagunitas Brewing Companies. Find more info on that HERE.
Wine lovers can celebrate the 10th anniversary of the movie, Sideways with a cruise that departs L.A. on March 21, 2014. Celebrity partners with Costco Travel and Central Coast's Zaca Mesa Winery for this event (call for more info. 877.849.2730). An additional wine focused cruise departs April 19, 2014 in partnership with Worldview Travel and the California Wine Festival (for more info call 855.Worldview).
You can also take in the West Coast on the Celebrity Century on 7-, 8-,11- or 13-night Pacific Coastal and Gold Rush cruises departing  in March, April and May 2014. The cruises depart from Los Angeles and visit various U.S. Pacific Coast ports of call, including Santa Barbara, San Francisco (overnight), Monterey, Catalina Island and Seattle, as well as Ensenada, Mexico or Victoria and Vancouver, British Columbia.
Before you take off, get a taste of the food and amenities you'd experience aboard a world-class cruise without casting off, you have your chance at the Celebrity Cruises "A Taste of Modern Luxury Culinary & Spa Tour." The pop up event offers gourmet cuisine from Celebrity's signature restaurants Qsine, Tuscan Grille, Bistro on Five, The Porch and Grand Epernay prepared by their chefs in a specially outfitted food truck. Also indulge in complimentary neck and shoulder massages and get the opportunity to win a cruise vacation for two and more.
Check out more highlights from our experience on board the Celebrity Solstice.
[nggallery id=248]
For more information on Celebrity Cruises, visit celebritycruises.com