Geri G Signature Facial Therapy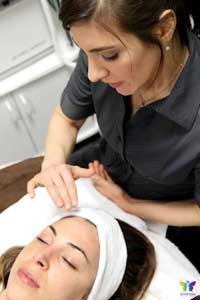 With a combined regime of customized treatments, a Geri G signature facial brings your face back to being baby-soft.
By Christina Xenos
Sometimes your skin needs an intervention. Whether it's parched, overly oily, or showing early signs of aging—living in denial about it only perpetuates the vicious cycle. I know because I've been there. Living a lie, thinking that my patchy irritated skin would just fix itself. That my cheap drugstore beauty product regime would rescue me. That if I loaded on enough makeup, my complexion would finally even out. But it didn't, and I needed help. Luckily Geri G was there to step in as my skin guru.
With an obsession with her own complexion, Geri Giagnorio started her career as a makeup artist, but soon saw the negative effects that makeup can have on skin. She then transitioned to her current mission: to help skin improve on a cellular level through diet (by developing her own nutritional line), facial treatments and with her own makeup and skin care products that offer a holistic approach to skin repair.
Geri G holds court in a stylishly cozy studio off Santa Monica and La Cienega Blvds. No matter what your skin issues are, her goal for you is to get your face back to being baby soft—where it was before it was polluted by environmental toxins, by the five martinis you slammed last night and by the chemical laden products you're probably using on it right now.
Your visit to Geri G's studio will start with a consultation. Make sure you're able tell her what you're currently using on your face and the active ingredients in those products, and what problems you might be experiencing. Then she'll formulate her signature facial to fit your needs. This may include LED light therapy, DermaSweep, an oxygen multivitamin cocktail, Geri's signature secret treatments and all the while she will coach you about which foods are vital to your skin health, what ingredients you should never use on your face, and so on.
When Geri finished her customized cocktail of treatments on my face it felt hydrated and quenched. To keep this effect going, I took home her Transceutical™ Canvas, which utilizes her proprietary blend of Nanomarine-5® a healing antioxidant and blend of pro-vitamin nutrients; her innocent foundation, which is a much better way to even out skin tone than the mineral powders that I was using; her cheek and eye blending duo; and her signature canvas brush.
In the days after my experience with Geri G people continuously commented on how my skin looked like it was glowing, and a few months later it continues to feel hydrated and healthy.
Geri G, 916 1/2 N La Cienega Blvd., L.A. 310.488.2577. gerigla.com