Fringe Benefits Event At Paley Center For Media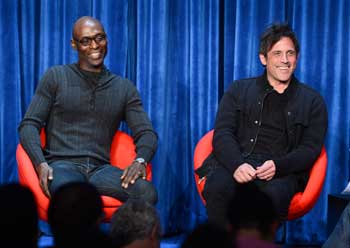 Following five seasons of Fringe, The Paley Center for Media presented Fringe Benefits with a special gallery exhibit, screening, panel & reception on Wednesday, Jan. 9, 2013 at The Paley Center for Media in Beverly Hills.
By Christina Xenos
Fringe, the series that blended mind-bending storylines, ambitious artistry and powerful character drama, concludes its run Jan. 18 on FOX. The Paley Center for Media hosted a fond farewell to one of their favorite series with Fringe Benefits, an exclusive fan art and screening event.
The event featured a special exhibition of posters for sale from Gallery1988 in Los Angeles, which benefitted the non-profit organization, The Mission Continues, and commemorated the series' most memorable moments selected by Fringe fans worldwide. The posters will be on display at the Paley Center into next week, in addition to other Fringe memorabilia that is part of the center's Television Out Of The Box interactive exhibit that brings 60 years of notable television culture to you, and is on display until 2015.
In the Q&A that followed the third to last episode of the series entitled "The Boy Must Live," J.H. Wyman (Executive Producer, Showrunner) and Lance Reddick (Phillip Broyles) discussed the evolution of the series with Jeff Jensen, senior writer for Entertainment Weekly. Wyman explained that the story of Fringe has always been an "organic, living, breathing experience." And  throughout the series he wanted viewers to go through everything the characters were going through at the ground level, "…so you can say I know these people." While Reddick laughingly noted that it was hard for him to adjust to a kinder, gentler version of his character, from Broyles' misogynistic tendencies in Season 1.
The Paley Center for Media's final event this month is An Evening with Suits Mid-season Premiere Screening & Panel on Jan 14. $10 members/$15 general admission. Tickets: paleycenter.org
Fringe Benefits Gallery:
Paley Center for Media, 465 North Beverly Dr., Beverly Hills. paleycenter.org