Five New Los Angeles Bands To Hear Now
Now hear this: Five Los Angeles bands are poised to dominate your Spotify playlist with brand-new debut albums. A sister act, a band of brothers, two eclectically inspired duos and a trio born out of a sound bath in Joshua Tree—these are the bands to know.
Adapted from an article in Where Los Angeles Magazine by Katie McCarthy
1 of 5 next>>
Haim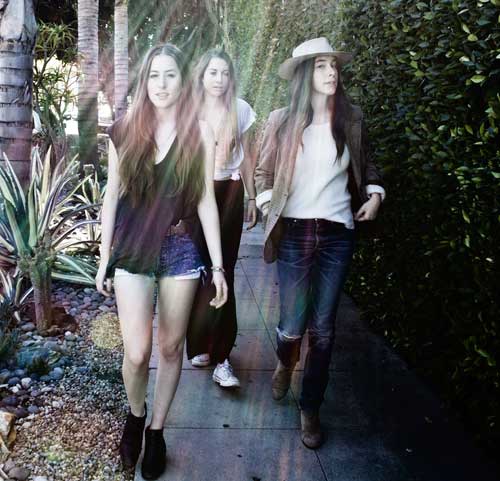 Most teenagers would regard playing in a classic rock band with their parents as some form of punishment, or at least humiliation. But that's just how Este, Danielle and Alana Haim honed their musical stylings growing up in Studio City—playing covers of "Mustang Sally" with Mom and Dad at area festivals for the majority of their adolescence.
If that conjures an innocent, Partridge Family-esque image of the sisters behind Haim, think edgier. The siblings (plus drummer Dash Hutton) emerged in 2012 with their EP Forever, a confident mishmash of folk rock and nostalgic pop. Lead guitarist/singer Danielle's deep, throaty vocal style grounds four songs that are throwbacks to '90s pop, generously sprinkled with beats straight out of an '80s R&B song. Eldest sister Este (bass) and youngest sis Alana (rhythm guitar, keyboard and percussion) contribute harmonies.
Haim's experience isn't limited to the family band; Danielle has toured with Julian Casablancas and Jenny Lewis, and Haim has already supported outfits including Edward Sharpe and the Magnetic Zeros, Ke$ha and Cold War Kids. More recently, Haim opened for Mumford & Sons and Florence and the Machine.
Perhaps due to their association with U.K.-based Polydor Records, so far Haim has probably gotten more attention overseas than they have at home; NME went so far as to proclaim "Forever" the No. 4 song of 2012. Haim releases its as-yet-untitled debut album this summer via Columbia Records. In the meantime, they've put out two more hypercatchy singles—"Don't Save Me" and "Falling."