10 Celebrity Workouts In Los Angeles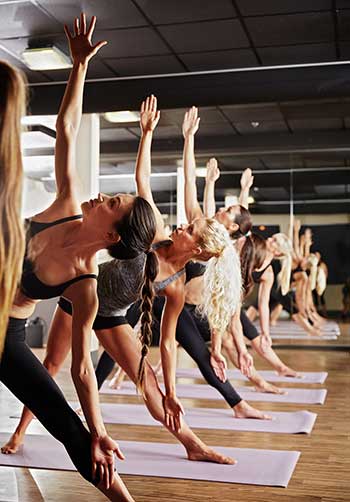 While it's easier to spot celebrities from the sidelines, why not make like a local and take a class? We've got the top 10 spots in Los Angeles where you can pop in for a workout, no membership or SAG card required.
By Marina Chetner
When it comes to matters of fitness, L.A. is a clear front-runner. Here, you'll find the hottest classes for the latest workout trends, from high-intensity interval training sessions using old-school kettlebells to the innovative ViPR to sweat sessions in the spinning studio that inspired a reality TV show. Also turning up the heat: the Hollywood A-listers who hit these studios to transform themselves for movie roles and maintain red-carpet readiness at all times. While it's easier to spot celebrities from the sidelines, why not make like a local and take a class? We've got the top 10 spots where you can pop in for a workout, no membership or SAG card required. You just might find yourself cycling alongside Bradley Cooper. At the very least, you're guaranteed an endorphin high.
Equinox
This upscale fitness club makes headlines for its racy ad campaigns—#equinoxmademedoit—and its celebrity clientele (think Bradley Cooper, Cameron Diaz, Nicole Kidman and Gerard Butler). The luxe gyms are primarily filled with the club's membership base, though some locations offer a reduced-rate day pass to local hotel guests that allows access to all of their facilities: weights, cardio machines, cycling studio and the group-fitness schedule offering "star" classes like Kettlebell ViPR (a handheld cylindrical weight), Strip Hop and Rockin' Model Workout. The Santa Monica location, steps from the beach, allows open-air training on its balconies; has showers filled with Kiehl's products; and like all Equinox locations, features a full-service spa for massages, facials and even bronzing (for nonmembers, a spa treatment also grants complimentary gym access). Don't be surprised if you overhear a screenplay being discussed over green smoothies at the juice bar, because, hello, you're in L.A. Celeb-frequented studio: 8590 Sunset Blvd., West Hollywood, 310.289.1900; see website for 15 L.A. locations.
Barry's BootCamp
It's your first class? Welcome to the deep end … which means when the trainer yells over the music to "jog at a 12 percent incline," you jog at a 12 percent incline. No excuses. There's a reason David Beckham, Carrie Underwood, Jake Gyllenhaal and Jessica Biel look the way they do, and it's thanks in part to this drill-sergeant workout created by fitness instructor Barry Jay. Attendees of the one-hour class are split into two groups that rotate between intervals of cardio on the treadmill and floor-based strength training incorporating free weights, resistance bands and kettlebells. No two workouts are the same, and days are dedicated to muscle groups: Mondays are arms and abs; Tuesdays, legs and butt; and on the weekend, it's a full-body regime. Trainers are hard-core; Allure magazine called the sessions "the best celebrity workout." The mirrored gym is dimly lit; basic bathrooms have no showers; towels are free. Reserve your spot online and arrive five minutes earlier, as there's a waitlist. Drop-in: $24. Flagship: 1106 N. La Cienega Blvd., #104, West Hollywood, 310.360.6262; see website for two L.A. locations, and a Hollywood studio is set to open this summer.
SoulCycle
BFFs Taylor Swift and Karlie Kloss SoulCycle, as do David Beckham, Bradley Cooper and Lady Gaga. Is there a better reason to indoor cycle? Oh, yeah, for the mood-boosting, feel-good high. This is not your ordinary workout: All of the 45-minute, calorie-torching classes take place in a clublike setting with the instructor playing DJ, motivating cyclists with dance music intended to get them pedaling to the beat. The amped-up communal atmosphere makes the uniquely choreographed routines, which work both the upper body and the core, really fun. A single class at $20 for first-time riders covers the cost of cycling shoes, a private locker and bathrooms with showers. SoulCycle co-founders Elizabeth Cutler and Julie Rice are celebrities in their own right—they're among Goldman Sachs' 100 Builders + Innovators, plus, in 2013, Fast Company voted SoulCycle one of the world's top 10 most innovative companies in fitness. Call ahead to book your first ride. Flagship: 8570 Sunset Blvd., West Hollywood, 310.657.7685; see website for seven L.A. locations, including the just-opened Hollywood studio on the Walk of Fame.
Hot 8 Yoga
If you follow Jessica Alba on Instagram, you've probably seen the pictures she posts after intense 6:30 am Yoga Sculpt sessions with instructor Omar Lopez at Hot 8 Yoga, Beverly Hills. Otherwise, paparazzi snap her leaving the studio en route to her Honest Company offices in Santa Monica (where, incidentally, there is another Hot 8 Yoga). As the studio's name implies, each of its 100 weekly yoga classes will make you sweat. Mandy Ingber, Jennifer Aniston's yoga instructor, loves the Yoga Barre class, which combines ballet, yoga, body sculpting and cardio. You can also opt for the traditional 90-minute Hot Yoga class (instructor Francesca Asumah attracts a huge crowd, so sign up online) or the aforementioned Yoga Sculpt class, which is aerobically challenging even without the free weights. One great thing about Hot 8 Yoga is that its heated studios are high-tech when it comes to hygiene: Shock-absorbent floors are topped with ploy-extruded matting for maximum cleanliness, and a state-of-the-art filtration system regularly pumps fresh oxygen into the rooms. There are showers and lockers and, conveniently, an in-house café that serves tonics by Pressed Juicery. Drop-in: $25. Mats and towels cost extra. Flagship: 8383 Wilshire Blvd., Ste. 75, Beverly Hills, 310.986.6420; see website for two L.A. locations.
Pop Physique
The name of this studio makes you smile, as does its advertising featuring models reminiscent of a Workout-era Jane Fonda. Created by professional ballet dancer and certified Pilates instructor Jennifer Williams and her brand-developer husband, Deric, Pop Physique has attracted a bunch of celebrity fans across the design, music, TV and movie industries including Trina Turk, Haim, Kat Von D and Diane Kruger. Devotees of the 60-minute classes—a hybrid of ballet barre, Pilates and the Lotte Berk method—say that they produce quick results, sculpting the body into a leaner silhouette with muscle-lengthening and core-strengthening movements. (Side note: Holding an exercise ball between your thighs isn't as easy as it looks.) Barre has been hailed as one of this year's top workouts, and while beginners can try it in studios across L.A., Pop Physique offers a particularly good introduction. For a hipster vibe, head to the original studio in Silver Lake; for a beachside session, the Westside is your best bet. Bring a pair of socks (cute pop socks are available for purchase at the studio); mat is provided. Drop-in: $20. Flagship: 3501 Sunset Blvd., Silver Lake, 323.665.7777; see website for 10 L.A. locations, plus a new Larchmont studio due open at press time.
Reebok CrossFit LAB
First impression of the regulars at this warehouselike storefront emblazoned with the words "Reebok CrossFit LAB"? Hardcore athletes. The 3,500-square-foot space filled with hanging rings and boxing bags may look daunting, but don't worry. That side is for the experienced CrossFit enthusiasts who've completed a mandatory six-day foundations course. The EFx (Endurance Fitness Training) class—a 45-minute fat-blasting class that follows a high-intensity interval training approach called Tabata—takes place in the adjoining smaller studio.Basically, you push through three sets of 8 x 20 second reps each on the treadmill, weights and the core. The class is a mix of men and women who thrive on a balanced, back-to-basics workout made challenging by the coachlike motivation of the instructor. Owner Yumi Lee Mathews, personal trainer to Sofia Vergara, leads a couple of classes a week and is a dynamo: Armed with a stopwatch, she'll correct your form, push you to your personal edge and make running a 9 percent incline fun. Drop-in: $25. Towels provided; showers available; complimentary valet parking. Flagship: 8466 Melrose Ave., West Hollywood, 323.413.2024.
Exhale
Of the three Exhale locations in Los Angeles, head to Santa Monica or Venice Beach for a yoga or Core Fusion class (Loews Hollywood is purely dedicated to spa). Exhale Venice, frequented by yoga-instructor-to-the-stars Mandy Ingber, offers a variety of yoga classes: power, flow, chill and one-off workshops and teacher trainings led by the renowned Shiva Rea. On the flip side, Exhale Santa Monica at the Fairmont Miramar Hotel & Bungalows offers a dawn-to-dusk schedule of Core Fusion classes like Core Fusion Cardio + Barre, a mashup of Vinyasa flow coupled with intervals of mountain climbers, weight work and pliés at the barre. This location also has a steam room, sauna, a Zen lounge and spa therapies so you can really make a day of it before heading across the road to the beach. Exhale fans include Kelly Rutherford and Star Jones. Single class: $25, which includes a mat and towel. Flagship: Fairmont Miramar Hotel & Bungalows, 101 Wilshire Blvd., Santa Monica, 310.319.3193; see website for three L.A. locations.
Cycle House
When a spinning studio inspires a reality TV show that has the potential to motivate couch potatoes off the sofa, you know things are getting serious. The new hourlong series Spun Out, airing on E! in July, is based on Cycle House and its charismatic instructors, who have garnered a local and celeb following (Madonna, Keith Urban and Charlize Theron). It stars lead instructor Nichelle Hines and her instructor-brother, Aaron Hines; apparel director Nick Hounslow; as well as the founders and owners, Adam and Lara Gillman. If you don't catch the cycle-celebs at the Melrose outpost, you might at the new Santa Monica spinning sanctuary. Located opposite the beach and around the corner from Santa Monica Place, the 4,000-square-foot studio has a 48-seat cycling room, dimmable LED lights, showers, a fitness boutique, free postworkout snacks like apples and bananas, and validated parking. First class: $18 by registering online (includes shoe rental and towels). With every class taken, the studio donates two meals to those in need. Oh, and bring your water bottle, because unlimited alkaline water is available. Flagship: 8511 Melrose Ave., West Hollywood, 310.358.0888; see website for two L.A. locations.
CorePower Yoga
CorePower Yoga has a following worthy of name-dropping: Reese Witherspoon, Kaley Cuoco-Sweeting, Ashley Greene, Vanessa Hudgens and Michelle Branch. Why are the classes so, well, hot? Firstly, they're accessible to all fitness types. Secondly, heat and humidity are precisely controlled. On offer: four levels of the signature heated Power Vinyasa classes (C1, C1.5, C2 and C3); the 26-pose Hot Yoga sequence; Hot Power Fusion; and Yoga Sculpt using light weights. Prepare to arrive early for the ultrapopular monthly themed classes like "Glow Flow," '80s-themed Yoga Sculpt and "Madonna Mania" classes. A single class is $23, though new students can sign up for a free week and visit for seven days straight … which you might do because the accredited instructors are as cool as their playlists. To sweat next to a star, head to the Studio City, Wilshire or Hollywood studios. Mat and towel rental cost extra. Most popular studio: 11819 Wilshire Blvd, #214, L.A., 323.545.9642; see website for seven L.A. locations.
YAS
When a picture of Kate Hudson's toned bod went viral after a session at YAS in Venice, Angelenos exclaimed, "We'll have what she's having!" Turns out yoga and spinning (hence, YAS) is the secret sauce to her lean physique. Founded in 2001 by entrepreneur, fitness instructor and New York Times best-selling author Kimberly Fowler, the brand has studios in Silver Lake, downtown L.A. and Venice—the original—where spinners rock to tunes like "Rock the Casbah" and anything Foo Fighters in a converted garage doused in natural light. Afterward, you can stretch, recalibrate and recover with a yoga class in the adjacent exposed-brick studio. It's all very cool, very Abbot Kinney, very Zen. The studio's communal vibe extends to the unisex bathroom with its trough basin and huge (private) concrete shower. Renée Zellweger, Tony Goldwyn, Whitney Port and Justin Long have been spotted at YAS studios around town. The first class (yoga or spin) costs $10. Towels are available for purchase. Flagship: 1101 Abbot Kinney Blvd., Venice, 310.396.6993; see website for three L.A. locations.