Herbivoracious: Top Vegetarian Fine-Dining In Los Angeles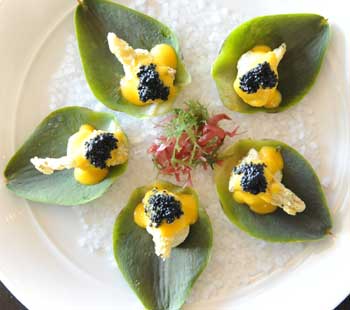 Finally, there are great fine-dining options in Los Angeles for vegetarians (and the carnivores who love them). Going veggie is definitely the thing to do in Los Angeles!
In the not-too-distant past, following a vegetarian or vegan diet entailed having extremely limited, boring, often tasteless options when eating at fine restaurants. Too often these diners would get stuck with plain green salads and simply sauced pastas while the carnivorous folks around them had many more—and more exciting—dishes to choose from.
But much has changed, and there's never been a better time to find great plant-based dining in L.A. than now—something that animal-rights group PETA (People for the Ethical Treatment of Animals) recognized when it recently named Los Angeles the third most vegan-friendly city in the nation. Beyond the plentiful vegan fast-casual options in town, there are now many upscale restaurants serving plant-based cuisine so innovative and tasty that even nonvegetarians regard these places as dining destinations. Additionally, chefs at some traditional fine restaurants are becoming more conscientious about making the vegetarian and vegan dining experience a special one.
Los Angeles Vegetarian and Vegan Restaurants
Crossroads Kitchen
The premier upscale vegan restaurant in L.A. is undoubtedly Melrose Avenue's Crossroads Kitchen. With its espresso hardwood floors, tufted banquettes and faceted Edison bulb chandeliers, it's nothing like the stereotypical crunchy, New Age-y vegan restaurant. Chef Tal Ronnen is a longtime vegan and began cooking to make up for the lack of fine plant-based food he encountered in his own life. "I decided to pursue a career as a chef out of sheer frustration of not being satisfied with being served steamed vegetables as entrees when dining out," he says. Ronnen counts a number of vegan celebrities as fans, including Oprah Winfrey and Ellen DeGeneres, but believes that his food is most popular with mainstream diners. "I would say 90% of our guests are not vegan or vegetarian," he says. "They are there because they're interested in reducing their meat consumption and don't want to sacrifice a good dining experience."
Ronnen's accessible Mediterranean menu includes many dishes that reference nonvegan comfort-food favorites—for instance, tortelloni filled with almond cheese and oven-dried tomatoes and sauced in nondairy spinach cream. Tree-nut cheeses figure heavily in Ronnen's cuisine; in fact, the chef helped create a brand of nut cheeses, Kite Hill, which can be ordered from the menu or a to-go counter at Crossroads. A platter arrives with a dill, truffle and chive cheese, which gets most of its flavor from the herbs and is spongy in texture. However, an aged almond macadamia White Alder cheese is convincingly dense, with a brie-like bloomy rind. His creative artichoke "oysters" are hugely popular: kelp caviar, dollops of yellow tomato béarnaise and crunchy oyster mushrooms atop artichoke leaves. Other highlights include flaky kale spanakopita with a molten hot, fluffy center and tomato-harissa dipping sauce as well as a trio of "crab" cakes, which mimic the texture and from-the-sea brininess of crab with macerated hearts of palm.
Shojin
While it's one of the world's most healthful cuisines, Japanese food as it's consumed in the U.S. relies heavily on animal proteins: sushi, grilled meats, udon or ramen in meat stocks. Even miso soup is made with flakes of dried bonito (a type of fish). However, most Americans aren't familiar with shojin-ryori, the vegan or vegetarian Buddhist diet eaten in Japan. Shojin, which has a location downtown and recently arrived in Culver City, re-creates Japan's nonvegetarian favorites in the shojin style. Spicy tuna on crispy rice, a dish popularized at the legendary Katsu-ya in Studio City, is made at the downtown restaurant with spicy tofu and organic brown rice instead of white. Other items include pan-fried seitan seasoned with garlic tamari soy sauce and a range of whimsically named veggie sushi rolls, including Purple Treasure (a fried tempeh and avocado cut roll with soft fried eggplant, chili and sweet miso on top). The downtown location also offers a selection of veggie ramen bowls that get a healthy California twist with slices of avocado and wilted kale. (Gluten-sensitive diners, rejoice: Most dishes are gluten-free, and are noted as such.)
Rahel
Shojin isn't the only local restaurant to take an exotic cuisine and make it vegan. Humble Rahel is the sole restaurant in L.A.'s Little Ethiopia whose menu is entirely plant-based. In a spartan dining room, groups of diners share generously spiced wots (stews) made with an array of steamed vegetables and legumes—zucchini, chickpeas, onions, lentils. Dine American-style over white tablecloths with silverware, or go authentic by eating with your hands, scooping up each bite with a piece of injera, a flat, spongy, sour bread. The restaurant also encourages gursha, in which companions eat over the same large plate; traditionally, they also hand-feed bites of food to one another.
M.A.K.E.
Not being able to work with animal products could be limiting for even a talented chef. But what if he were to eschew his oven as well? At M.A.K.E. in Santa Monica, raw-cuisine master Matthew Kenney heats none of his dishes above 105 degrees Fahrenheit. The two-time James Beard Award nominee worked many traditional restaurant kitchens, including his own Matthew's in New York City, before joining the raw-volution. "I was introduced to raw food, reluctantly, by a friend in New York about 10 years ago," he remembers. "I had no idea what to expect, and left the restaurant with a clear understanding that my role and passion as a chef was to bring together culinary art and health." Kenney utilizes kitchen technologies such as dehydrators and thermal immersion circulators to prepare his dishes at lower temperatures, ensuring maximum preservation of essential nutrients and enzymes.
Although M.A.K.E.'s setting is informal—it's inside the Market, Santa Monica Place's answer to San Francisco's Ferry Building, and surrounded by charming shops and carts selling gifts and foodstuffs—it has all the trappings of a fine restaurant. The chic wood-paneled dining room and Kenney's elevated New American cooking style are completely atypical of the traditional mall dining experience. It's one of those vegetarian restaurants that occupies the stratum just under fine dining, similar to the stylish Mohawk Bend and petite Elf Cafe, both in Echo Park.
In spite of the limitations of raw cuisine, Kenney's wealth of experience and intelligent use of kitchen gadgets combine to produce some extremely innovative results. The standout on a plate of tree-nut cheeses is Kenney's cheddar, which has the deliciously sharp taste of the real thing and is served with fennel crackers. His tomato lasagna—with zucchini ribbons, macadamia ricotta, red pepper marinara, pistachio pesto and basil—bursts with fresh, bright flavors. Kelp noodles served with mushrooms and snap peas are perfectly al dente, even if their flavor is overpowered by a heavy sprinkling of black pepper. One of Kenney's most popular dishes is the pungent kimchi dumplings, encapsulated in a brilliantly conceived dough made from dehydrated coconut puree.
Vegetarian Tasting Menus In Los Angeles
But what if your party is composed of vegetarians and nonvegetarians—and neither group is willing to compromise? A select group of fine restaurants excel at accommodating both types of diners. Rather than simply throwing in a token vegetarian entree, or lazily compiling a list of vegetable-based options from the regular menu, these chefs seem interested in ensuring that both herbivores and carnivores are treated to a full and interesting dining experience.
N/Naka
The aforementioned shojin style of Japanese cuisine predated kaiseki-ryori, small vegetarian dishes that were originally enjoyed with tea by Kyoto's upper class. N/Naka chef Niki Nakayama shares the art of kaiseki in her elegant, unmarked restaurant in the L.A. neighborhood of Palms. Though today's kaiseki chefs typically utilize meat and fish, Nakayama also serves a vegetarian version of her gorgeously presented, 13-course modern kaiseki menu. For the suimono (essentially, soup) course, the vegetarian gets a bowl of matsutake mushrooms in their own broth while her meat-eating companion gets a bowl of sea bream in bamboo broth. For the mushimono (steamed) course, the carnivore enjoys Horsehair crab with Jidori chicken egg, while the herbivore dines on soft Japanese turnips with shaved white truffles. During the niku (meat) course, the veggie diner might instead get abura-age (tofu) oozing with mochi, sizzling over a bowl of charcoal. Nakayama says that tailoring kaiseki for the vegetarian is a welcome challenge. "In Japanese cuisine, vegetables have always been widely celebrated because it's reflective of the seasons and nature that surrounds us."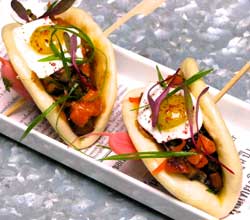 Acabar
At new Acabar in Hollywood, there is plenty to satiate a meat-eating crowd on chef Octavio Becerra's eclectic menu, which was influenced by French fare and the cuisines along the "spice trail." Savory braised lamb is added to the crispy risotto in the arancini, and the addictive "porn bread" (house-made cornbread) is packed with bits of bacon and served with a side of almond-honey butter. But Becerra embraces his vegetarian clientele with a designated menu of plant-based offerings, which is hardly a concession for this produce-loving culinarian. "One of my greatest cooking influences comes from the farmers and families that grow our foods," he says. "Without them, my palette is dull. Fruits and vegetables are the cornerstone of my cuisine."
Becerra offers a 10-item vegetarian menu that takes a couple of meat-y items from the regular menu and thoughtfully tweaks them for the herbivores in the house. A pair of steamed Chinese bao buns, which on the regular menu are filled with pork belly, are folded in half like tacos and stuffed with a spicy, toothsome blend of sauteed foraged mushrooms, onion relish and kumquats. The prime 32-ounce côte de beouf on the traditional menu becomes côte de cauliflower on the vegetarian menu: a head of cauliflower grilled with chili and lime with a side of turmeric carrots. And if you're a lacto-vegetarian, flip over your menu: There are dozens of artisanal cheeses on offer.
Mélisse
A preoccupation with fine cheese and sensitivity to vegetarians are things that Becerra might share with chef Josiah Citrin, whose epic cheese cart presentation is a highlight of dining at Mélisse. The Santa Monica restaurant is perhaps one of the county's finest restaurants; when Michelin began publishing its short-lived L.A. dining guide in 2008, it was one of only three restaurants in town to earn two stars. (None received three stars.) "We've served a vegetarian tasting menu since I opened Mélisse almost 15 years ago," says Citrin. "People often come to Mélisse for special occasions, and I've always said that those who dine with us and have specific diet restrictions deserve to have just as incredible of an experience as they would should they had come in with no restrictions at all." The vegetarian tasting menu he crafted with chef de cuisine Ken Takayama might begin with kuri squash velouté before a baked Okinawa yam stuffed with toasted buckwheat seeds, porcini mushroom butter and créme fraîche and a hearty cassoulet. The aforementioned selection of artisanal cheeses and a choice of dessert ensure the meal ends on a high note.
Hatfield's
Hatfield's, spearheaded by chef Quinn Hatfield and his wife, pastry chef Karen Hatfield, has long offered a four-course, pre-fixe option for herbivores featuring three rotating seasional dishes; one thoughtful example is a wild-mushroom-and-buckwheat crêpe filled with protein-packed wheatberries and marinated beets. They also get to choose one of Karen's heavenly desserts. A favorite is her sugar-and-spice beignets with Venezuelan chocolate fondue plus a shot-size milkshake in flavors such as Earl Grey or ginger. Likewise, Patina downtown has come to be known for its flesh-heavy fare—particularly game, such as a saddle of Millbrook Farms venison with roasted beets and Medjool dates—but the restaurant also offers a six-item vegetarian tasting.
Allumette
In addition to these restaurants with designated vegetarian menus, there are many more venues that are sensitive to herbivores. Acclaimed restaurants such as molecular-gastronomy-inclined Red Medicine and the yearling Allumette in Echo Park are examples of restaurants whose chefs will devise a menu of vegetarian options with a few days' notice. Vegetarians might be accustomed to getting the short end of the dinner menu, but in L.A., it no longer has to be that way.