Explore Top Art In Los Angeles This Month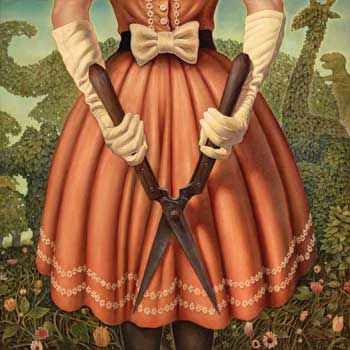 It's official: January is Los Angeles Arts Month, and thanks to the city's rising clout as a world-class center for buying and making art, the energy surrounding this year's celebratory cultural offerings is palpable.
Anchoring the month's must-see events is the 18th annual L.A. Art Show, the longest running venue for contemporary, modern, historic and traditional art in the country. Held in the Los Angeles Convention Center downtown, the show was attended by 50,000 visitors last year and featured 100 national and international galleries. This year, organizers expand the event to a four-for-one art ex-travaganza. One ticket gains entrance into four distinct sections: the Modern & Contemporary Section, the Historic & Traditional Section, the Vintage Poster Section and the IFPDA Los Angeles Print Fair.
In addition to the L.A. Art Show, indulge your artistic side at Art Los Angeles Contemporary where more than 70 top emerging and established galleries to the Barker Hangar in Santa Monica to showcase their top artists; and Photo L.A., where galleries, artists, private dealers, collectors and publishers mingle at the intersection of art and photography. Details are below.
L.A. Art Show
Jan. 23–27. Eighteenth annual art fair features modern and contemporary artworks exhibited by 100 galleries from around the world. Includes IFPDA Print Fair. Jan. 24–26 11 am–7 pm; Jan. 27 11 am–5 pm. $15–$40. Los Angeles Convention Center, 1201 S. Figueroa St., downtown, 310.822.9145. laartshow.com
Photo L.A.
Jan 17-21. Galleries, artists, private dealers, collectors and publishers mingle at the intersection of art and photography when the 22nd Los Angeles International Photographic Art Exposition comes to the Santa Monica Civic Auditorium. Expect cutting-edge lectures, panels and collecting seminars. Opening night gala is Jan. 17. Call for hours, admission prices. Santa Monica Civic Auditorium, 1855 Main St., Santa Monica, 323.458.8551. photola.com
Art Los Angeles Contemporary
Jan. 24-27. In its fourth year, L.A.-centric ALAC brings more than 70 top emerging and established galleries to the Barker Hangar in Santa Monica to showcase their top artists. This year, the fair's partnership with Ceci N'est Pas promises a Francophile element to the programming and exhibition space. Jan. 24 (opening night) 7–9 pm. Jan. 25–26 11 am–7 pm, Jan. 27 until 6 pm. Call for admission prices. Barker Hangar, 3021 Airport Ave., Santa Monica, 323.851.7530. artlosangelesfair.com