Explore the Shiny New Bloomingdale's at Glendale Galleria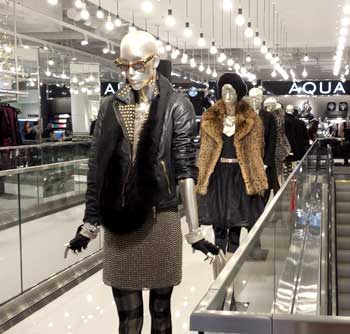 In what will be the 37th Bloomingdale's store in the U.S.—the eighth in Southern California—Bloomingdale's Glendale opens its doors to anchor the Glendale Galleria. If you're looking for something fun to do in LA, this latest shopping attraction is worth checking out!
Hollywood glamor meets contemporary style in the 115,000 square-foot, two-level Bloomingdale's department store at the Glendale Galleria. Taking over the old Mervyn's department store location, Bloomindale's ratcheted up the excitement, expanded its footprint out into the mall which resulted in an airy, exciting, high-ceiling space.
Browse wares from 48 designer shops that showcase an assortment of fashionable essentials for women, men, and children. Highlights include an 8,500 square-foot women's shoe oasis, exclusive apparel designs by Aqua—Bloomingdale's private label—Diane von Furstenberg, Rebecca Taylor, Parker and more.
The first floor offers a dedicated mens area that comes complete with top apparel brands like Theory, Sandro, a shoe department, denim and trend area along with accessories.
Other touches include dressing room mirrors with adjustable lighting so you know how you'll look during the evening, outdoors or in the office; shoe sales associates equipped with mobile tools that feature such capabilities as mobile checkout, digital lookbooks, and the ability to see what inventory is available for all shoes styles; a Denim Seeker tool that digitally maps out a shopper's journey to finding the perfect pair of jeans; the ability to shop online, and pick-up in-store.
Mon.-Sat. 10 a.m.-9 p.m., Sun. 11 a.m.-7 p.m. 103 South Brand Blvd., Glendale, 818.638.4100. bloomingdales.com