Everything Fun to Do at a Los Angeles Beach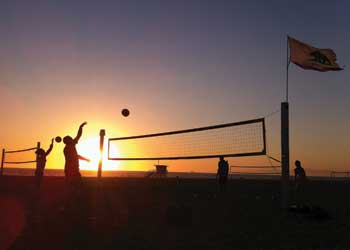 If you're looking for some of the best things to do in LA, there's no better way to spend a day than at a Los Angeles Beach.
But there's more to do there than just soak up the sun—it's the ideal playground for any adventure seeker. Here are five ocean (and oceanside) activities that can add thrills to a beach day.
By Stefan A. Slater
Surfing
Waterman George Freeth brought surfing to Los Angeles in 1907, and the sport's been going strong here ever since. During the summer, the waves are generally a little smaller and the water warms up to the high 60s, making this the ideal time for beginners to learn how to surf. Learn to Surf LA offers lessons at beaches including Manhattan Beach and Zuma. The company provides user-friendly foam boards and wet suits, and instructors teach beginners the basics behind paddling, catching and riding a wave and also the fundamentals of surf etiquette (for instance, learning how to share a wave).
Sport Fishing + Whale Watching
Take to the high seas with Marina del Rey Sportfishing, which offers private charter fishing packages as well as open fishing trips. Clients can fish throughout the South Bay, and seasonal game fish include halibut, yellowtail and sand bass. The family-friendly eco-trip tours are also popular, and it's possible to spot blue and fin whales, dolphins and seals on a year-round basis. Those looking to stick a little closer to dry land can try their hand at some dock fishing, too.
Hang Gliding
Learn to fly with Windsports Hang Gliding, which offers hang gliding lessons at Dockweiler State Beach Wednesdays through Sundays. Each flier takes off several times from a 30-foot sand dune with an instructor walking beneath to keep altitude in check. Once the flier's got the basics down, he can take off and soar above the sand even higher and farther, sometimes up to a football-field's length away. Class sizes are small, and instructors offer detailed instructions and safety briefings to make sure every flier enjoys their day soaring above a beautiful L.A. beach.
Volleyball
Aside from surfing, one of the most quintessential Southern California beach activities is volleyball. Campsurf in Manhattan Beach (which also offers surf lessons) teaches private and group lessons for adults and children. Children older than 7 who are looking to immerse themselves in the sport can try the youth volleyball camp, which runs Mondays through Fridays and features guest appearances from professional volleyball players including Eric Fonoimoana and Holly McPeak.
Hiking
Some of the best beaches in L.A. require a little bit of work to reach, but it's definitely worth the time and effort. Couples looking for a romantic escape can check out El Matador State Beach in Malibu. The nearby cliffs are perfect for watching the sunset, and there are a number of sea caves and towering rock formations to explore, too. On the other end of Los Angeles is Abalone Cove Shoreline Park in Ranchos Palos Verdes, which is one of the best beaches in L.A. County for checking out tide pools.
DETAILS
Abalone Cove Shoreline Park 5970 Palos Verdes Drive S., Rancho Palos Verdes, 310.377.1222
Campsurf Lessons at 3800 The Strand, Manhattan Beach, 424.237.2994
El Matador State Beach 32350 Pacific Coast Hwy., Malibu, 818.880.0363
Learn to Surf LA 310.663.2479
Marina del Rey Sportfishing 13759 Fiji Way, Marina del Rey, 310.822.3625
Windsports Hang Gliding Lessons at Dockweiler State Beach, 12501 Vista del Mar, Playa del Rey, 818.367.2430