Specials for Super Bowl Sunday in Los Angeles
East Coast weather permitting, Super Bowl XLVIII starts at 3:30 on Feb. 2, in Los Angeles. Where will you be? Watch the Denver Broncos battle the Seattle Seahawks with game-day fare, drink specials, table-side mini-fridges and more. Check out our picks.
By Christina Xenos
Mohawk Bend
Quite possibly the best Super Bowl deal ever, celebrate over bottomless pints and pizza for $30 during the game. Pizza selections include both vegan and non vegan selections. RSVP for quad tables: reservations@mohawk.la, pub area is first come, first served. 2141 Sunset Blvd, L.A., 213.483.2337. mohawk.la
Four Seasons Westlake Village
Watch the Super Bowl in Los Angeles on flat screen televisions throughout the Bar and Lookout at Four Seasons Hotel Westlake Village. Highlights of the "football favorites" menu include $8 bar bites like jalapeno buffalo wings, short rib tacos, cheddarwurst sliders and more, in addition to $4 craft and bottled beers served all day long. 10:30 a.m.-close. Four Seasons Hotel Westlake Village, 2 Dole Drive, Westlake Village. fourseasons.com/westlakevillage
Mud Hen Tavern
The new neighborhood bar and restaurant from acclaimed chef Susan Feniger celebrates the Super Bowl with all burgers and pizzas on special for $8 during game time, along with $2 cans $4 select drafts. 742 N. Highland Ave., L.A., 323.203.0500. mudhentavern.com
The Churchill
The West 3rd Street restaurant and bar turns into Super Bowl central with a special themed menu and the game broadcast on six TVs throughout the restaurant. Dine on everything from buffalo chicken wings, to hanger steak frites, to snapper tacos and crispy pig ears "chips and dip." 3 p.m. until the end of the game. 8384 W 3rd St, L.A., 323.655.8384. the-churchill.com
Rock & Reilly's
With more than a dozen flatscreen TVs throughout the venue and a state-of-the-art sound system, the West Hollywood den is the perfect spot to watch a game. For the Super Bowl the spot goes all out, transforming into a "luxury skybox" complete with the option to purchase mini-fridges stocked with ice-cold Budweiser beverages for the table and a special game-day football platter for group feasting. 8911 Sunset Blvd, West Hollywood, 310.360.1400 rnrpub.com
Pearl's
If your taste for game-day drinks extends beyond brews, head next door to Rock & Reilly's more stylish neighbor. Pearl's will be featuring a more relaxed viewing experience with the option to watch the game outdoors on the two-story patio. Champagne and sangria specials will run throughout the game and extra flatscreen TVs will be brought in to enhance the viewing experience. Footballs will also be provided for those who would would like to play a game of catch in the garden during halftime. 8909 Sunset Blvd., West Hollywood, 310.360.6800. pearlsliquorbar.com
Franklin & Company
Reserve a table at the Franklin Village gastropub and enjoy the $30 Super Bowl platter which will include a blooming onion, turkey wraps, chili cheese fries, vegetarian pigs in a blanket (optional) and spicy boneless buffalo wings. If you feel like watching the game at home, you can call ahead and pick it up to take home. 5923 Franklin Ave., L.A., 323.463.1552. franklinandcotavern.com
Chloe's @ Golden Road
At the private event space inside Golden Road Brewing, watch the game on a 120″ drop down screen in addition two flat screen TVs while you nosh on the full pub menu. Also expect contests and raffles, pool table and more. Reserve a table: greenwood@goldenroad.la. 5410 W. San Fernando Rd, L.A. goldenroad.la
Post & Beam
Feast on a menu of game-day bites from chef Govind Armstrong. Highlights include the restaurant's signature chili, short rib gilled cheese, fried chicken wings and more. 3767 Santa Rosalia Dr., L.A., 323.299.5599. postandbeamla.com
Takeout
If you'd rather cater a party at home find game-day takeout options at Rockenwagner Bakeries, 3 Square Café, The Larder at Tavern, The Larder at Burton Way, The Deli at Little Dom's, Tortilla Republic, Chipotle, and pizza night specials at The Oaks Gourmet.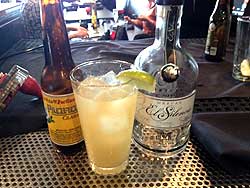 Cocktails
And to get you really inspired for the game, LA mixologist Marcos Tello offers his Silent Victory Dance cocktail recipe to you for the occasion:
2-3 Slice of Ginger Root
1.5 oz. El Silencio Mezcal
.75 oz. Agave Nectar
.75 oz. Fresh Lime Juice
Combine all ingredients in a mixing glass and muddle. Fill with ice, shake, & strain into and ice filled pint glass. Top with Pacifico (or another preferred light lager). Garnish with a lime wedge.