Tournament of Roses Guide 2015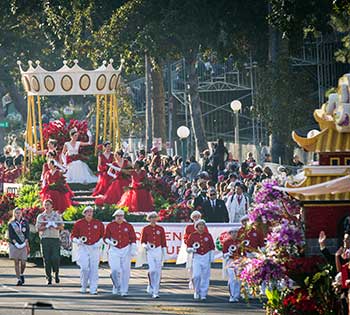 Get the 411 on the 2015 Tournament of Roses
The Tournament of Roses' Rose Parade (Jan. 1, 8 am) and Rose Bowl Game (Jan. 1, 1:30 pm) are among the county's most popular events, drawing up to a million revelers to Pasadena each year. Taking part in these time-honored traditions is a quintessentially L.A. experience, but to ensure that your New Year's Day goes off without a hitch, you'll need to plan ahead. Below, we've got your 411 for tackling all things tournament-related.
TRANSPORTATION AND PARKING
Traffic snarls and street closures can make getting to and from the events a challenge. Consider taking public transportation. The Metro Gold Line light-rail service and Metro buses serve Pasadena. If you're coming from the Santa Monica area, try the eco-friendly Big Blue Bus. Driving? Purchase a parking pass ($30-$40) from the official grandstand ticket vendor, Sharp Seating Co., for one of the lots along the parade route (the company offers game parking with a free shuttle from one of the lots, too). If you opt to take a cab, L.A. Yellow Cab is a reliable option. Book via text message by sending the word "TAXICAB," followed by your location, to 878787. (You might also consider car-service app Uber.) For the game, there is limited stacked parking at Rose Bowl Stadium, but departure is time-consuming. A faster option is to pay a nominal fee to park at Parsons Corp. and take the free shuttle, which runs continuously from 10 am until two hours after the end of the game.
TICKETS AND VIEWS
To purchase a face-value ticket to the college football playoff at the Rose Bowl, contact Ticketmaster (note that those tickets typically sell out well before the event). Buying a resale ticket or a travel and ticket package through Primesport is another avenue. For the parade, purchase a grandstand ticket from Sharp Seating to secure a spot on the sidelines. The most in-demand seats are at the intersection of Orange Grove and Colorado boulevards, where TV crews line up to film the elaborate floats, equestrian units and marching bands. Free curbside viewing is possible, but spots are first-come, first-served, and can be staked out as early as noon the day before the parade. Bring pillows and blankets if you plan to sleep overnight; tents are not permitted. Feeling lucky? Arrive at 5 am the day of the event and look out for a spot along the 5.5-mile route.
OTHER TOURNAMENT OF ROSES EVENTS
Several Tournament of Roses-associated events supplement the main shows pre- and post-New Year's Day:
Float Decorating & Viewing
Dec. 27–31. During Float Decorating & Viewing, teams in Pasadena apply finishing touches of fruits and vegetables, seeds and fresh blooms to the floats. If you want a hands-on opportunity, call float-building companies such as Fiesta Parade Floats or Paradiso Parade Floats to sign up as a volunteer.
Equestfest
Dec. 29. Equestfest, at the Los Angeles Equestrian Center in Burbank, allows you to meet the parade's four-legged stars, tour their stables and watch horses and riders perform drills and dances.
Bandfest
Dec. 29–30. Pasadena City College hosts Bandfest, featuring field shows from the parade's top-notch marching bands.
Post Parade Float Viewing
Jan. 1–2. Marvel at the parade's main attractions up close before they wilt. Post-parade float viewing is open along Pasadena's Sierra Madre and Washington boulevards.
DETAILS
Tournament of Roses website, tournamentofroses.com
Big Blue Bus 310.451.5444, bigbluebus.com
Fiesta Parade Floats 626.610.0974, fiestaparadefloats.com
L.A. Yellow Cab 877.733.3305, layellowcab.com
Los Angeles Equestrian Center 480 W. Riverside Drive, Burbank, 818.840.9063
Metro 323.466.3876, metro.net
Paradiso Parade Floats 626.864.3199, paradisoparadefloats.com
Parsons Corp. 100 W. Walnut St., Pasadena, 626.440.4000
Pasadena City College 1570 E. Colorado Blvd., Pasadena, 626.585.7123
Primesport 800.591.9198, primesport.com
Sharp Seating Co. 626.795.4171, sharpseating.com
Ticketmaster 800.653.8000, ticketmaster.com
Uber uber.com