Celebrate the Third Street Promenade's 25th Anniversary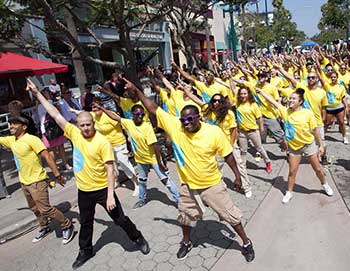 The Third Street Promenade — Santa Monica's iconic shopping, dining and entertainment destination — turns 25. Here are a few ways to celebrate one of L.A. most iconic destinations. If you're looking for fun, you'll find it in LA.
By Christina Xenos
Whether you're on the lookout for designer wares or hoping to snag a bite to eat or a flick, Santa Monica's three-block long Third Street Promenade has been a thriving destination for locals and visitors for 25 years. Celebrate the local's anniversary with a variety of events from Sept. 17-21.
Third Street Promenade 25th Anniversary Symposium
Sept. 17
Everyone is invited out to learn more about the past, present and future of the "international phenomenon that has redefined the 'downtown' model for cities around the world." The evening features guest speakers like Kay Pattison (Santa Monica Conservancy), Denny Zane (Former Mayor of Santa Monica), Kathleen Rawson (CEO of Downtown Santa Monica, Inc.), among others who will educate and entertain listeners with the detailed history and bright future of Third Street Promenade. 6:30-8:30 p.m. Santa Monica Bay Woman's Club, 1210 Fourth Street, Santa Monica.
The Sonic Submarine Music Festival
Sept. 20
Groove out to DJ-driven tunes from five our KCRW's best on-air personalities. The feat features hour-long sets from DJs Raul Campos, Mario Cotto, Chris Douridas, Travis Holcombe and Garth Trinidad, along with an interactive photos booth and more. The free event stretched the Third Street block from Santa Monica Boulevard to Arizona Street. 5-10 p.m.
Third Street Promenade 25th Anniversary Block Party
Sept. 21
The weekend's events culminates with a throw back block part complete with a reenactment of the 1989 ribbon cutting—the actual ribbon in much more 2014, with a custom design and sustainable material, honoring the Promenade's reputation as both innovative and evolutionary. Enjoy events all afternoon long like an ice cream social, an old-fashioned parade, live music and more. 11 a.m.-3 p.m. Free.
Throughout the weekend, business on the Promenade will be celebrating the 25th anniversary with special deals for revelers:
Benihana
Get a free order of edamame or half of a California Roll appetizer with the purchase of an adult entrée when you mention "Third Street Promenade Anniversary Celebration." You must mention "anniversary" when checking in with the host.
Superdry
25 percent off your entire purchase. Just mention Third Street Promenade 25th Anniversary and get the discount through Oct. 31.
Loteria Grill
Complimentary appetizer on a dinner for two or more.
Santa Monica Playhouse
Two-for-one tickets for their three in-house productions for that weekend.
Z Garden
Free appetizer for every purchase of two entrees.
Nekter Juice Bar
15 percent off and 1-day cleanse for just $39.
Simply Raw
10 percent off, aside from happy hour, all weekend long.
Max Studio
25 percent off all merchandise.
Chroma Color Bar
Complimentary deep conditioning treatment with any service during Anniversary Weekend.
24 Hour Fitness
Access the gym in Downtown Santa Monica for free for seven days.
Shiva Imports
50 percent off on the Soap Stone Collection. Any banner for $30.
Santa Monica Tickets
$15 off any in-store purchase of $250 or more. (New customers only.)
Revolution Prep
50 percent off the first month's tutoring.
International Shotokan Karate Federation
New students get 25 percent off during the month of September.