Check Out The Best Los Angeles things to do in October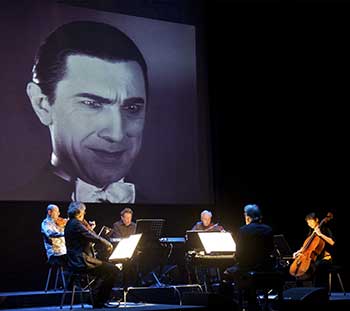 From haunted hayrides and food fests to one of the biggest downtown arts fests ever—find the best Los Angeles things to do in October 2015 in our events roundup.
Edited by Christina Xenos
Immortal Beethoven
Sept. 29; Oct. 1-11. This season, Gustavo Dudamel and the Los Angeles Philharmonic play tribute to the music of Beethoven. Dubbed Immortal Beethoven, the festival features an opening night gala and two complete sets of the composers symphonies shared between the Los Angeles Philharmonic and the Simón Bolívar Symphony Orchestra of Venezuela. Kicking off the concerts, The Los Angeles Philharmonic's opening night concert and gala: The Brillance of Beethoven, offers music not heard elsewhere in the festival—excerpts from the dramatic works Egmont and The Creatures of Prometheus incorporate special elements of dance and narration, capped by the overwhelming exultation of the Ode to Joy. The concert experiences continue, broken down into symphonies 1 & 2, 3 & 4, 5 & 6, 7 & 8 and culminate with Beethoven's Ninth where the two orchestras will join forces for a mind-blowing finale on Oct. 4 and 7. Walt Disney Concert Hall, 111 S. Grand Ave., downtown. laphil.com/immortalbeethoven
Luckyrice
Oct. 1-2. Presented by Bombay Sapphire East, the Asian-food-and-culture festival—now entering its sixth year—hosts fun events from coast to coast. This month, it introduces two new incarnations to L.A.: on Thursday, a ramen-tasting Slurpfest, and on Friday, an L.A. Moon Festival Cocktail Feast. Th seatings from 5:30-10 p.m.; F 10 p.m.-midnight. Th $100; F $50-$88. 21+. Th: Millwick, 800 E. 4th Place, downtown; F: Vibiana, 214 S. Main St., downtown. luckyrice.com
VAN Beethoven
Sept. 11-Oct. 18. In a venture at the forefront of technology, the Los Angeles Philharmonic launches the VAN Beethoven mobile tour, featuring its new Orchestra VR virtual-reality app. The VAN Beethoven truck tours the city offering the opportunity to experience the opening of Beethoven's Symphony No. 5, led by Gustavo Dudamel at Walt Disney Concert Hall, in an immersive, 360-degree, 3-D environment. The customized truck is outfitted with carpet and seating from Disney Hall; an Oculus headset transports visitors to the iconic venue. A soundtrack that adapts to the viewer's perspective—subtly shifting to reflect positions in front of or behind the orchestra, or amid the players—augments the visual private experience. VAN Beethoven visits parks, festivals and museums. Schedule: LAPhil.com/VANBeethoven
Queen Mary Dark Harbor
Oct. 1-Nov. 1. Long Beach's supposedly haunted ship-slash-hotel is the perfect setting for a Halloween scare. Fight your way through six spooky mazes—three new (Soulmate, B340 and Voodoo Village) and three returning favorites, including Circus—and gaze upon oddities at a freak show. Check website for schedule. $20-$94. 1126 Queens Hwy., Long Beach, 877.342.0742. queenmary.com
Dodgers vs. Padres
Oct. 2-4. Los Angeles' boys in blue wrap up an exciting 2015 season by taking on the San Diego Padres at Dodger Stadium. 1000 Elysian Park Ave., L.A., 323.224.1507. dodgers.mlb.com
Los Angeles Haunted Hayride
Oct. 2-31. The popular L.A. Haunted Hayride finds groups of scare-seekers piling into the back of a tractor to be paraded through Griffith Park's Old Zoo every, where several scares are lurking—including, no doubt, this year's advertised "Boogeyman." A maze and new immersive scare zones complete the experience.Check website for schedule. $25-$43, VIP $50-$59. 4730 Crystal Springs Ave., Griffith Park, L.A., 310.993.8289. losangeleshauntedhayride.com
Carmen
Oct. 2-10. Following its extraordinary presentation of The Magic Flute on the Broad Stage last season, the internationally acclaimed Isango Ensemble returns with Carmen. The staging is inspired by Isango co-founder Mark Dornford-May's movie U-Carmen eKhayelitsha, which won best picture at the Berlin Film Festival in 2005; it uses African-inspired music, dance and song to transform Bizet's opera into a supernatural story of lovers in a South African township. Combining violence and passionate love, the Carmen story explores the role of a powerful woman in a masculine society and the attraction between abuser and victim. The Isango Ensemble draws artists at all stages of creative development mostly from the townships surrounding Cape Town. 1310 11th St., Santa Monica, 310.434.3200. thebroadstage.com
The Brewery Artwalk
Oct. 3-4. This biannual art walk takes place in what claims to be the world's largest art complex, which is inside a former Pabst Blue Ribbon factory. A beer garden and food trucks are also on site. 11 a.m.-6 p.m. Free. 2100 N. Main St., downtown, 323.638.9382. breweryartwalk.com
Vegan Oktoberfest
Oct. 3-4. Those who steer clear of animal products but don't want to miss out on the month's Bavarian boozy fun, raise a stein to this vegan event. Find entertainment; food from the likes of Sage Vegan Organic Vegan Bistro, Donut Friend and the Springs; and beer from breweries including Angel City Brewery and the Dudes' Brewing Co. A portion of ticket proceeds benefit Expand Animal Rights Now. 1-5 pm. $45-$55, nondrinking $20. Tickets not sold at door. L.A. Center Studios, 450 S. Bixel St., downtown. veganoktoberfest.com
Beachwood BBQ SourFest 2015
Oct. 5-11. Gabriel Gordon, Beachwood owner and beer hoarder extraordinaire, has cleared his cellar to pour more than 100 kegs of acidic and tart masterpieces from around the world. Both Seal Beach and Long Beach locations will fill almost every tap with sour beers for the duration of the six-day event. The fest kicks off on Oct. 5 with a pre-fest featuring Cascade Brewing. Don't miss the special brewers night that will feature rare offerings from breweries like Allagash Brewing and more. The best part? A free shuttle will be running between both locations Friday through Sunday. See website for full schedule. Free admission. Beachwood BBQ, 131 Main St., Seal Beach, 562.493.4500. 210 E. 3rd St. Long Beach, 562.436.4020. beachwoodbbq.com
Floral Design Workshop by Eric Buterbaugh
Oct. 6. If you've ever been awe-struck walking into the lobby of the Four Seasons Los Angeles at Beverly Hills, vases brimming with everything from lilies to dahlias designed by Resident Floral Designer Eric Buterbaugh are most likely what stopped you in your path. Dubbed "The King of Roses" by Harper's Bazaar, Hollywood's most sought after celebrity florist now shares his secrets in a series of workshops that are open to the public. The quarterly classes kick off Oct. 6 where Buterbaugh will teach you how to style fall and holiday-inspired arrangements and continue in January with an Awards Season theme, while May brings a class focused on Mother's Day flowers. 11 a.m.-12:30 p.m. $95/pp. 300 South Doheny Drive. Tickets.
Culture Collide Festival
Oct. 8-10. The international festival showcases a musical melting pot of live performances from more than 40 acts like Ladyhawke, Ash, The Juan Maclean and Nick Diamonds. The event also features an international record fair, creative summit and Chinese music night. Various locations. culturecollide.com
Mariinsky Ballet and Orchestra
Oct. 8-11. Set to Sergei Prokofiev''s haunting score performed by the Mariinsky Orchestra, Ratmansky''s Cinderella will engage audiences during five performances at The Music Center's Dorothy Chandler Pavilion. The product offers a fresh look at the classic story-ballet with vibrant choreography, feisty humor and a glamorous 1930s twist. 135 N. Grand Ave., downtown, 213.972.0711. musiccenter.org/Cinderella
Carrie the Musical
Oct. 8-Nov. 22. This immersive staging of Carrie takes legendary musical off the stage and puts the audience right in the middle of the action, back in the rooms and hallways of high school and, of course, with a prime seat at the prom. $40+. Los Angeles Theater, 615 S. Broadway, downtown, 888.596.1027. ExperienceCarrie.com
Desdemona
Oct. 8-11. Desdemona is the most fiery angel in Shakespeare's creation—a radiant and radical woman of independence courage and love. She is now given an astonishing and provocative further voice by Nobel Laureate Toni Morrison, who reveals secrets in "Othello" that will change forever our reading of the play. In a time outside of time we discover the other African in Shakespeare's play—Barbary, the nurse who raised Desdemona on African stories and songs, stunningly embodied by the great Malian singer Rokia Traoré. As women's voices fill the night air, we are in an intimate, spellbinding theatrical séance, both haunted and liberating, that moves in words and music across continents and centuries, connecting Elizabethan England to the Courts of Timbuktu to the future of the race—the human race—on this earth. Production is directed by Peter Sellars. Freud Playhouse, UCLA Campus, Westwood. cap.ucla.edu
Artisanal LA
Oct. 10-11. Shop for stylish wares, sustainable edibles, handmade home goods from more than 200 vendors, while enjoying workshops, chef demos, tunes from DJs and more. Look forward to a coffee lounge hosted by Solid Coffee Roasters, local art gallery hosted by downtown's Ren Gallery, seasonal floral displays from Birch and Bone and more. 11 a.m.-6 p.m. The Reef (formerly LA Mart), in the 2nd Floor Magic Box, 1933 Broadway, downtown. artisanalla.com
Taste of South Lake
Oct. 10. Taste through more than 60 of Pasadena's best restaurants from Pie 'n Burger to Italian from Celestino Ristorante & Bar to SanSai Japanese. The foodie fest also includes live cooking demonstrations, live music performances and more. 11 a.m.-5 p.m. 251 S. Lake Ave., Pasadena, 626.792.1259. southlakeavenue.org
An evening with David Sanborn
Oct. 10. In his three-and-a-half decade career, saxophonist David Sanborn has released 24 albums, won six Grammy Awards, and has toured the world relentlessly. His new album – "Time and the River" – is his first collaboration in the studio with producer and bass player Marcus Miller in more than 15 years. The new record is a modern groove-oriented album, with funky beats and beautiful ballads that showcase the emotional side of Sanborn's legendary saxophone skills. Sanborn is joined by Richard Patterson on bass, Ricky Peterson on keys and Gene Lake on drums. $29-$69. Royce Hall, UCLA Campus, Westwood. cap.ucla.edu
Giant Robot Biennale 4
Oct. 11-Jan. 24. Trace the evolution of pop culture phenom Giant Robot at the Japanese American National Museum's exhibition through comic books, street art to illustration, sketchbooks, coveted toys and exemplary paintings and installations by Luke Chueh, Andrew Hem, Mari Inukai, Audrey Kawasaki, Nathan Ota, Mu Pan, and Yoskay Yamamoto, among other artists. 100 N. Central Ave., downtown, 213.625.0414. janm.org
National Spa Week
Oct. 12-18. Biannual event sees participating spas around the city offer signature treatments for just $50. Choose from top L.A. spas including Tikkun Holistic Spa, the Raven Spa and Marc Edward Skincare. See website for a full roster of participating spas and treatments. 212.352.8098. spaweek.com
Sankai Juku: "UMUSUNA – Memories Before History"
Oct. 16-17. Over the course of the past 35 years, the work of Ushio Amagatsu for his company Sankai Juku has become known worldwide for its elegance, refinement, technical precision and emotional depth. His contemporary Butoh creations are sublime visual spectacles and deeply moving theatrical experiences. As one of the premier choreographers at work in the world today, the arrival of a work by Amagatsu is a much-anticipated event in the North American dance landscape. Sankai Juku returns to Los Angeles with its latest creation "Umusuna: Memories Before History". This exquisite new work evokes the essence of duality and unity encapsulated in the Japanese characters for "birth" and "earth" that combine to form the work's title. Royce Hall, UCLA Campus, Westwood. cap.ucla.edu
Miranda July: "New Society"
Oct. 17-18. Miranda July risks all with a unique experiment in collaboration. This hilarious and moving performance artfully blends fiction and real life to create a startling chronicle of time, love and group faith. On this very special night, July tests the limits of what is possible when given two hours and a room full of strangers. $29-$49. Freud Playhouse, UCLA Campus, Westwood. cap.ucla.edu
Veuve Clicquot Polo Classic, L.A.
Oct. 17. This year marks the sixth annual Los Angeles edition of this classy, celebrity-frequented sporting event in Pacific Palisades. Picnic and see professional polo at its best as Argentine polo player Nacho Figueras leads his team. Ticket sales benefit California State Parks. Event is 21+. 11 am-5 pm. $65-$400. Ticket purchase includes shuttle transportation to and from dedicated lot to event grounds. Will Rogers State Historic Park, 1501 Will Rogers State Park Road, Pacific Palisades. veuveclicquot.tumblr.com
The Beverly Hills Artshow
Oct. 17-18. This long-running outdoor art showcase displays artwork from some 240 exhibitors twice a year. This month's special feature is Weather in Art. Wine and beer gardens and food trucks are also on site. 10 am-5 pm. Free. Beverly Gardens Park along Santa Monica Boulevard from Rodeo to Rexford drives, 310.285.6830. beverlyhills.org
Ciclavia—Heart of L.A.
Oct. 18. Six miles of L.A.'s normally congested streets turn into a car-free park for a walk and bike tour of celebrated downtown attractions. October features a fifth-year anniversary route that extends into areas including the Arts District, Little Tokyo and Chinatown. See website for route details. 9 am-4 pm. Free. 213.355.8500. ciclavia.org
Lit Crawl
Oct. 21. Third annual walkable event for lovers of all things literary finds 35-plus venues in North Hollywood's Arts District playing host to 40-plus happenings, including readings series, lit journals, performance groups and more. The night includes an opening event, three 45-minute rounds and a closing party. 6 pm. Check website for updated schedule. Free. NoHo Arts District, anchored by interesection of Lankershim and Magnolia boulevards. litcrawl.org
Julia Wolfe / SITI Company / Bang on a Can All-Stars: "Steel Hammer"
Oct. 23-24. The legend of John Henry, deeply rooted in Appalachian folklore surrounding the construction of the American railroad, has existed in many variations and forms. "Steel Hammer", the latest collaboration from composer Julia Wolfe, SITI Company, and Bang on a Can All-Stars, creatively explores the subject of human vs. machine and the cost of hard labor on the human body and soul. Culling from the vibrant oral traditions of Appalachia, "Steel Hammer" incorporates lyrics by Julia Wolfe and text from four remarkable American playwrights—Kia Corthron, Will Power, Carl Hancock Rux, and Regina Taylor—based on hearsay, recollection and tall tales. Directed by Anne Bogart, performers take on wooden bones, mountain dulcimer, step dancing and more, as they explore the human impulse to tell stories through this quintessential American tale. Royce Hall, UCLA Campus, Westwood. cap.ucla.edu
Grand Ave. Arts: All Access
Oct. 24. During Grand Ave. Arts: All Access, top cultural institutions fill Grand Avenue between Temple and 6th streets downtown with free performances, tours, exhibitions and family-friendly activities. The Broad museum, Center Theatre Group, Colburn School, Grand Park (whose Día de los Muertos installation is pictured above), L.A. Opera, L.A. Central Library, L.A. Master Chorale, L.A. Philharmonic, MOCA, the Music Center and REDCAT are in on the fun. Grand Ave., downtown, 213.972.8500. grandavearts.tumblr.com
Bang on a Can All-Stars: "Field Recordings"
Oct. 25. For 135 years recorded sound has permeated every corner of our lives, changing music along with everything else. World-renowned Bang on a Can All-Stars join us for a special concert featuring selections from the group's latest album, "Field Recordings", a collection of commissioned works from some of today's most innovative composers who were asked to go into the field of recorded sound itself – to find something old or record something new, and to respond with their own music, in dialogue with what they found. Using archival audio, found sound and video, Field Recordings builds a bridge between the seen and the unseen, the present and absent, the past and the future, channeled through the "unstoppable, sexy and loud" Bang on a Can All-Stars. Field Recordings features the West Coast premieres of new music by Tyondai Braxton, Anna Clyne, Bryce Dessner, Florent Ghys, Michael Gordon, Jóhann Jóhannsson, David Lang, Christian Marclay, Todd Reynolds, Steve Reich, and Julia Wolfe. $19-$69. Royce Hall, UCLA Campus, Westwood. cap.ucla.edu
Halloween Horror Nights
Through Nov. 1. Universal Studios Hollywood's iconic—and crazy packed—Halloween attraction, open , features four scare zones and six movie-and TV-themed mazes based on the likes of Halloween, Alien vs. Predator and This Is the End (in 3D). Based on the hit zombie show, maze The Walking Dead: Wolves Not Far will feature moments from season five and two times the number of undead "walkers." 7 p.m.-2 a.m. $55-$85. 100 Universal City Plaza, Universal City, 800.864.8377. halloweenhorrornights.com
Oktoberfest
Through Oct. 25. You'll find L.A.'s oldest (since 1968) and largest Oktoberfest at Torrance's Alpine Village. The German marketplace plays host to traditional Bavarian fun including oompah-pah bands, chicken-dancing, traditional food and beers brewed by Warsteiner. F-Sa 21+, Su all ages. F 6 pm-midnight (after-party until 2 am); Sa 5 pm-midnight (after-party until 2 am); Su 1-6 pm. $6-$25; Dine Stein No Line $65-$75. 833 W. Torrance Blvd., Torrance., 310.327.4384. alpinevillagecenter.com
Lucha VaVoom Aztec Horror!
Oct. 28-29. Celebrate the Halloween seasons with this ridiculously fun performance featuring masked Mexican wrestlers, mini Mexican wrestlers comedy, and burlesque acts all rolled into one wacky and entertaining evening. Mayan Theatre, 1038 S Hill St., downtown. luchavavoom.com
Dracula with Philip Glass and the Kronos Quartet
Oct. 29-31. For a more understated scare, head to downtown's hip Ace Hotel to experience the 1931 classic, Bela Lugosi-starring horror film in an all-new way. L.A. Opera Off Grand presents Dracula on the big screen, accompanied by a live performance of Philip Glass' 1998 score by Glass himself and the Kronos Quartet. On Halloween night, stick around for some bloodsucking fun at a special Black and White Ball in the lobby, featuring guest DJs, themed rooms, bars and more. (Ages 21+, black-and-white attire required.) Th, F 8 p.m.; Sa 4 p.m., 8 p.m. $34-$160. 929 S. Broadway, downtown, 213.623.3233. acehotel.com
West Hollywood Halloween Carnaval
Oct. 31. Billed as the largest Halloween street party in the world, this wild Halloween-night costume bash is also one of L.A. County's biggest annual events, complete with live music and entertainment, photo stations, food vendors and the crowning of a celebrity "queen." 6-11 pm. Free. Santa Monica Boulevard between La Cienega Boulevard and Doheny Drive, 800.368.6020. visitwesthollywood.com