Sing and Play Along at these Los Angeles Holiday Shows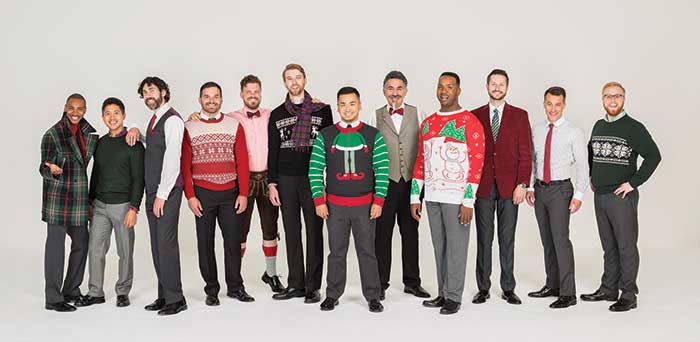 By Libby Slate
Even though the 1954 musical White Christmas premiered in October, it became that year's highest-grossing film. For decades, Bing Crosby's title-song recording was the best-selling single of all time. Those statistics bode well for a new event on the L.A. Phil's "Deck the Hall" holiday season calendar: the White Christmas Sing-Along, Dec. 22 at Walt Disney Concert Hall.
"There's a beautiful timelessness about the movie," Brian Grohl, L.A. Phil program manager for pops, says of the hall's first-ever movie singalong. "We've found, over the many years, that the performances people seem to enjoy going to the most are the traditional, familiar, 'comfort food' type of music—this is not the time for an avant-garde performance art piece." L.A. Phil presents a number of other holiday events as well.
The L.A. Master Chorale offers six Los Angeles holiday shows at Disney Hall, which also provide a different sort of holiday cheer to the organization. Holiday programming, says Chorale marketing director Patrick Brown, "brings in about 60 percent of our revenue for tickets. A lot of people learn about the Master Chorale when they come to a holiday concert—it's an inroad for people who have never experienced the Chorale." Fifty-three percent of those who buy Chorale tickets for the first time do so for a holiday concert; of those, 10 percent return for a subsequent concert, a total of almost 400 people.
The Chorale has just released Festival of Carols, its first recording in almost 20 years. The Carol Bus, a double-decker open-rooftop red bus, also debuted, carrying Chorale singers to various locales around the city for free concerts. This month, two-hour, ticketed Carol Bus tours for the public make stops in West Hollywood (Dec. 3 and 11) and downtown (Dec. 5 and 12). The Carol Bus was Brown's inspiration. "We want this to be a community sing," he says. "We want you to put down your phones … although we do want you to take pictures!"
The Music Center presents its own Holiday Sing-Along (Dec. 18) and perhaps the season's most unusual offering, the Ukulele Christmas Orchestra (Dec. 11), which encourages ukulele musicians at all levels to bring their instruments and play and sing. Both events are free and take place on the plaza.
Last year's ukulele program drew several hundred players, performing numbers such as "Jingle Bell Rock" and "Mele Kalikimaka." "I didn't know there was such a huge ukulele community in Southern California!" Ming Ng, interim vice president of programming for the Music Center, says with a laugh.
For the third year, 40- to 50,000 people will gather Dec. 31 for the Music Center's N.Y.E. LA, a free event at Grand Park with music, dancing, art installations and video projections onto civic buildings and the Dorothy Chandler Pavilion. "This is L.A.'s Times Square—with better weather," Ng says.
The Pavilion hosts the Los Angeles County Holiday Celebration on Christmas Eve. The 56th annual free program runs for three hours in the afternoon and showcases 20 choral, dance and musical ensembles, among them Mariachi Reyna de Los Angeles, the Albert McNeil Jubilee Singers, Mostly Kosher and the Gay Men's Chorus of Los Angeles. The show airs live on PBS SoCal and is live-streamed at PBSSoCal.org.
Pasadena Playhouse again presents Panto at the Playhouse, English holiday pantomime shows tailored to American tastes. Peter Pan and Tinkerbell—A Pirates Christmas runs Dec. 9-Jan. 3. They are produced by Lythgoe Family Productions, the company name referring both to the Lythgoe family, headed by Nigel Lythgoe of American Idol and So You Think You Can Dance, and to the fact that the events are intended for the entire family. Son Kris Lythgoe wrote the show and produces with wife Becky Baeling Lythgoe; his mother, Bonnie Lythgoe, directs.
"The shows are interactive—you boo the bad guys and cheer the good guys," Becky says. There is also a pre-show Winter Wonderland in the Playhouse courtyard, with crafts, other activities and, pre-Christmas, photos with Santa. And, says Becky, "we make it snow—outside and inside the theater!"
Moving from snow to shore, the Broad Stage in Santa Monica often programs artists not overtly associated with the holidays but who offer some holiday context. Israeli guitarist David Broza's program East Jerusalem/West Jerusalem on Dec. 19, for instance, is a collaboration between Israeli and Palestinian musicians that has a holiday-appropriate message of peace.
Looking to the future, new Broad Stage artistic and executive director Wiley Hausam says he is "looking for fresh, nontraditional ways, that are very inclusive, to acknowledge the holidays, and the diversity" of the community, "racially, socio-economically, faith, people who are not part of a faith." One possibility: a show by Basil Twist, a New York puppeteer recently awarded a "genius grant" by the MacArthur Fellowship. And, Hausam says, "I'd love to reflect that this is a beach town."
Hmmm. Nontraditional programming … the beach … holidays.… Ukuleles, anyone?