Los Angeles Mardi Gras and Fat Tuesday Celebrations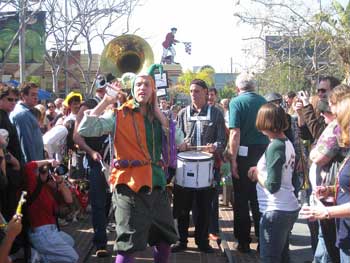 Beads, bands, jambalaya and more: Celebrate at these Los Angeles Mardi Gras and Fat Tuesday parties. Here's your guide for finding Los Angeles fun for Mardi Gras!
Edited by Christina Xenos
EVENTS
Mardi Gras at Farmers Market
Feb. 14-15, 17. At the 26th anniversary of LA's most colorful Mardi Gras event, celebrate with traditional New Orleans and Zydeco music, bead-throwing, strolling parade bands, arts and crafts and face painting for kids, authentic Cajun food, beer, and much more including the annual Mutti Gras Pet Parade & Mutti Gras King & Queen Contests (Saturday). Farmers Market, 6333 W. 3rd St., L.A., 323.933.9211. farmersmarketla.com
Mardi Gras Music and Food Festival
Feb. 17. Take your Fat Tuesday to the next level by listing to 10 bands playing on four stages over three floors at the House of Blues. Also enjoy an array of home cooked Southern eats like fried chicken Po' Boys, smoked brisket, beignets and more. 7 p.m. $20+. 8430 Sunset Blvd, West Hollywood. houseofblues.com
Preux & Proper
Feb. 17. Downtown L.A.'s epicenter of NOLA cuisine and cutler serves up classic bayou eats like crispy frogs less, smoky shrimp beignets, fried oyster po' boys and Kings Cake, paired with an open-air frozen daiquiri bar. Their Fat Tuesday celebration features a live brass band, Mardi Gras beads, decorative masks and other festive fun like their must try King's Cake Cocktail. 840 S. Spring St., downtown, 213.896.0090. preuxandproper.com
Sassafras
Feb. 17. Hollywood's bayou-inspired bar is kicking up their heels for a festival Mardi Gras soiree. Along with its usual offering of cocktails and bar bites deeply rooted in bayou flavors and tradition, the bar will introduce its new frozen slushy offerings including a Watermelon Daiquiri with Bacardi and Chareau Aloe Liqueur, Irish Coffee with Jameson Black Barrel, and an Aviation Gin Singapore Sling. Dance all night to the tunes of "Street Gumbo Grass Band" and enjoy performances from burlesque dancers. If that wasn't enough, Louisiana-derived brewery, Abita will commence its week-long tap takeover. 1233 Vine St., L.A. sassafrashollywood.com
Five0Four
Feb. 17. Hollywood's New Orleans themed restaurant and bar is set to get a little bit rowdy with the ultimate Mardi Gras party with festive beads, masks drinks and more. Get started during happy hour (6-8 p.m.) where you'll get plenty of festive party favors, enjoy DJs spinning Mardi Gras tunes and free King's Cake. 6541 Hollywood Blvd. #102, L.A., 323.960.0224. five0four.com
Tastemade's Mardi Gras Bite Club
Feb. 12. Celebrate the beginning of Mardi Gras week at Tastemade Studios. Enjoy more than 20 of the finest New Orleans dishes and drinks from restaurants around L.A. (think jambalaya from Little Jewel of New Orleans, shrimp and grits from Bar and Kitchen and crawfish and crab étouffée from the Flavor Table), and live music by The Mudbug Brass Band. 1816 Berkeley St., Santa Monica. More Info.
DINING
Dominick's and Little Dom's
Feb. 15-17. Every year Chef Brandon Boudet shares his Big Easy traditions by celebrating Mardi Gras in true Bourbon Street style with cocktails, bites and Jambalaya. This year will be no exception. Chef Boudet has transformed Dominick's and Little Dom's menus into a Fat Tuesday feast, with King Cake, Po Boy's and Boudin Balls. 8715 Beverly Blvd, West Hollywood, dominicksrestaurant.com; 2128 Hillhurst Ave., L.A. littledoms.com
Fishing with Dynamite
Feb. 17. Manhattan Beach might be far from New Orleans but Chef David LeFevre pays homage to the holiday with his signature bowl of gumbo to celebrate. The heavenly mix of chicken, shrimp, linguisa, holy trinity, basmati rice & hot sauce can only be rivaled by the key lime pie on the dessert menu. 1148 Manhattan Ave., Manhattan Beach, 310.893.6299. eatfwd.com
Barton G. LA
Feb. 17. It's always a party at Barton G. LA. For Mardi Gras they're pulling out all the stops for a Voodoo Shrimp special that features esame crusted crispy crab stuffed with jumbo gulf shrimp served over a smoking brew that is inspired by flavors and spirit of New Orleans. The dish arrives at your table in a tapered glass vase containing a small amount of dry ice to create a billowing fog. How's that for a party? 861 N La Cienega Blvd., L.A. bartongtherestaurantla.com