Los Angeles Halloween Events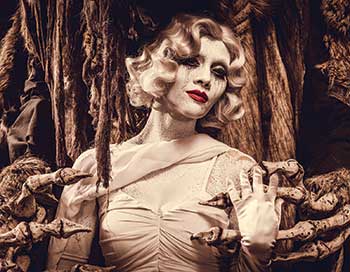 Halloween in Los Angeles is more than a month-long affair, and we've lined up the best Los Angeles Halloween events for you. Let your inner ghoul shine at masquerade balls, costume carnivals and more!
Edited by Christina Xenos
Dark Harbor
Oct. 2-4; 9-12; 16-19, 23-26 and Oct. 29-Nov. 2. Step onto the historic Queen Mary to find scary Halloween mazes, thrill rides, "freak shows," food, lounges and other entertainment. Not recommended for children under 13. 7 pm–midnight. $20–$109. 1126 Queens Hwy., Long Beach, 877.342.0742. queenmary.com
Halloween Horror Nights
Oct. 3-5, 10-12, 16-19, 23-26, Oct. 30-Nov. 2. Universal Studios Hollywood offers fright-filled mazes inspired by TV shows like The Walking Dead and films including From Dusk Till Dawn, plus a "Terror Tram," access to shows and scary attractions and more. $62–$229. 100 Universal City Plaza, Universal City, 800.864.8377. halloweenhorrornights.com
Purge Breakout: Halloween
Oct. 2-Nov. 2. During this haunted house experience you are trapped in a house of a demented torturer and groups must work together to solve mind bending puzzles to escape and survive. The experience is based on popular escape room adventures taking the U.S. and Asia by storm, and is like a real life video game. 2323 Beverly Blvd., L.A. purgebreakout.ticketleap.com
Los Angeles Haunted Hayride
Oct. 3-31. Famed Griffith Park attraction takes thrill-seekers on a ride through the Old Zoo, where they'll face the underworld and portrayals of the Seven Deadly Sins. This year features new mazes, interactive theater, a 40-foot-long Leviathan and returning favorites such as the Scary-Go-Round, House of Mirrors and more. S, Th 7 pm-10:30 pm; Fri-Sat 7 pm-midnight. $30-$58. 4730 Crystal Springs Ave., Griffith Park, L.A., 310.993.8289. losangeleshauntedhayride.com
Rise of the Jack O'Lanterns
Oct. 3-5, 8-12, 15-19, 22-26, Oct. 29- Nov. 2. For the first time ever, the popular East Coast jack-o'-lantern extravaganza opens up an outpost in L.A. displaying more than 5,000 hand-carved pumpkins, ranging from spooktacular to humorous. Beyond the pumpkin exhibit located in the Rose Garden at Descanso Gardens, Patina Restaurant Group is presenting the "Flickering Light Beer Garden" with treats for adults and children alike. Advanced tickets required. Descanso Gardens, 1418 Descanso Dr., La Canada Flintridge. therise.org
KCRW's Masquerade
Oct. 25. Don your favorite costume and discover a feast for all your senses with five uniquely themed ball rooms, DJs, ghost stories, food trucks, performances by Bonobo (DJ Set), Fool's Gold, Tom Vek and more. $100 advance/$125 door. 9 p.m.-2 a.m. Park Plaza, 607 South Park View St., downtown. kcrw.com
2nd annual Zombie Crawl and WOK-ing Dead 2 Halloween Party
Oct. 31. Join hundreds of zombies filling Santa Monica streets from the Pier to 5th Street for the 2nd annual Zombie Crawl . Zombies are instructed to follow specific rules while crawling, including walking, talking and dressing like the undead while they hit up locations like Ye Olde Kings Head and Del Frisco's Grille for drink specials. Free zombie make up will be provided at the starting location for those who need help getting zombie-fied. Post crawl, hit up the  WOK-ing Dead 2 Halloween Party, the largest Halloween party on the Westside, at Wokcano Santa Monica for costume contests, zombie dance-offs and more.
Montage Beverly Hills Children's Halloween Fest
Oct. 25. At the first-ever children's Halloween fest, little ones are welcome to dress up in their best Halloween costumes for an afternoon of festive cookie decorating themed snacks and pastries, story time with a special guest and Halloween arts and crafts. $45 per child, 48-hour advanced reservations required. Montage Beverly Hills, 225 North Canon Drive, Beverly Hills. montagehotels.com
Knott's Scary Farm
Continuing. Knott's Berry Farm transforms into a Halloween fright-fest with interactive mazes, monsters and an all-new stage show featuring the Mistress of the Dark herself, Elvira. See website for details. W-Th, Su 7 pm-1 am; F-Sa 7 pm-2 am. $39-$49. 8039 Beach Blvd., Buena Park, 714.220.5200. knotts.com
Danny Elfman's Music from the Films of Tim Burton
Oct. 31.-Nov. 1. The legendary composer performs pieces from his 16 films with Burton and reprises his role as Jack Skellington's singing voice at Nokia Theatre L.A. Live. 777 Chick Hearn Court, downtown, 213.763.6020. nokiatheatrelalive.com
LACMA Costume Ball: The Living Museum
Oct. 31. Revel at the 11th-annual LACMA Halloween party, where you are encouraged to attend dressed as a work of art, wander the galleries after-hours, and dance the night away. Globally renowned creative label Warp Records presents a night of music from Oneohtrix Point Never (recording artist and composer Daniel Lopatin), Thug Entrancer starts the party in the Los Angeles Times Central Court, followed by Oneohtrix Point Never's performance and a special AV show. Cap off your night with an after-party in the galleries. Prizes for the best costume. Cash bars and food for purchase available until 1 a.m. 9 p.m. $50+. LACMA, 5905 Wilshire Blvd., L.A., 323.857.6010. lacma.org
3rd Annual Haunted Blood Vessel
Oct. 31. Spend your Halloween sailing on a luxury yacht soaking in views of the Marina del Rey harbor. The party features an all-star lineup of DJs performing live on three decks, party favors and more. 8:30 p.m.-1 a.m. $30+. Hornblower Cruises, Entertainer Yacht, 13755 Fiji Way, Marina del Rey. halloweenla.com
Haunted Castle at Cashmere
Oct. 31. Cashmere nightclub turns into a haunted castle for the evening, complete with five bars, DJs playing dance hits all night long, go-go dancers, VIP lounge and more. 9 p.m.-2 a.m. 20+. 6757 Hollywood Blvd., L.A. halloweenla.com
King Tuts Tomb at Egyptian Theatre
Oct. 31. Head to the Egyptian Theatre's courtyard to dance the night away to top international house DJs spinning Top 40, hip hop and dance music. Win prizes for having the best costume. 9 p.m.-2 a.m. Ticket and VIP table info email info@californianightlife.com or call 323.604.6030. 1625 N. Las Palmas, L.A. halloweenla.com
Boo at the Zoo
Oct. 18-19, 25-26. Get in the Halloween spirit with family festivities that include jack-o-lantern carving demonstrations, fun photo opportunities, eerie crafts and trick-or-treating throughout the zoo. You can also check out the Creepy Creature Encounter at the Winnick Family Children's Zoo—then take in a live Halloween show in the Adventure Theater. Learn sweet and scary animal facts while watching some of our resident creatures enjoy enrichment surprises. Los Angeles Zoo, 5333 Zoo Drive, L.A, 323.644.4200. lazoo.org/Boo
Halloween Film with Live Organ: Nosferatu
Oct. 31. Directed by German Expressionist filmmaker F. W. Murnau, this 1922 classic is accompanied by Clark Wilson on Walt Disney Concert Hall's incredible organ. Walt Disney Concert Hall, 111 South Grand Ave., downtown, 323.850.2000. laphil.com
Lucha VaVoom Aztec Horror!
Oct. 29-30. Celebrate the Halloween seasons with this ridiculously fun performance featuring masked Mexican wrestlers, mini Mexican wrestlers comedy, and burlesque acts all rolled into one wacky and entertaining evening. Mayan Theatre, 1038 S Hill St., downtown. luchavavoom.com
Monsters, Mummies and Mayhem: Your Worst Nightmares Come to Life!
Oct. 1-Nov. 16. Ever wonder where Eric Northman sleeps when he's not terrorizing the True Blood's small town of Bon Temps, Louisiana? Or what Clarice Starling felt when she entered Hannibal Lecter's chilling jail cell? You can find out when you visit The Hollywood Museum's newest exhibition. Horror's favorite teenage heartthrob vampires, terrifying serial killers, spooky witches and mysterious ghouls will be showcased in this spine tingling Halloween-themed exhibition. In addition to Hannibal Lecter's legendary prison cell block from The Silence of the Lambs and the pink coffin from True Blood, the exhibition features original items like costumes and props from over 20 horror films and TV shows. Guests who bravely venture into The Hollywood Museum in full Halloween costume on Oct. 24-26 (10 a.m.-5 p.m.) or on Oct. 31 (10 a.m.-5 p.m) will receive $5 off the regular admission price. 1660 N. Highland Ave., L.A., 323.464.7776. thehollywoodmuseum.com
W Hollywood Halloween Spooky Hotel
Oct. 31. Head to the W Hollywood for the ultimate Halloween party. The hotel transforms into a haunted house with Station Hollywood and the Living Room playing everything from Top40 and EDM to HipHop. $25+. 6250 Hollywood Blvd., L.A. halloweenla.com
Vampire Masquerade at Couture
Oct. 31. Deck yourself out in your sexiest Halloween wares and hit Coture nightclub for an evening of live music, DJ tunes, costume contest and more. 8:30 p.m.-2 a.m. $20+. 1640 N Cahuenga Blvd., L.A. halloweenla.com
Haunted Screens: German Cinema in the 1920s
Through April 26. Explore the height of German Expressionist film history through nearly 250 objects on view at LACMA's newest exhibition. From the fantasy of The Cabinet of Dr. Caligari (1919) to the murder mystery M (1931), cinema during the liberal Weimar era was innovative in aesthetic, psychological, and technical terms. La Cinémathèque française partnered with the museum for the show and offers a vast collection of set design drawings to complement an array of film clips, photographs, posters, documents, and cameras on view; these artifacts represent 25 films, 20 artists, and 14 directors. Kino Ektoplasma—a three-screen installation created for the exhibition by Guy Maddin, Evan Johnson, and Galen Johnson—resurrects lost films of the Expressionist era in film sequences. 5905 Wilshire Blvd., L.A., 323.857.6000. lacma.org