ESPA Lifestage Facial At Spa Montage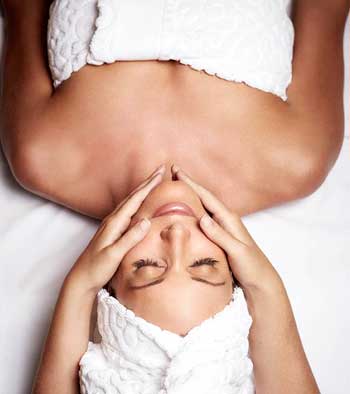 Discover total relaxation and skin rejuvenation with the treatments and amenities at Spa Montage.
By Christina Xenos
It's easy to let the torrent of glamor, shopping and celebrity that is Beverly Hills knock you off your feet. Luckily when you need a break from it all, Spa Montage promises to rescue you, as it did me even though I was recently spending more time pounding my keyboard rather than scouting for stylish finds at Marimekko or Céline. It's a great alternative to the traditional LA Korean spa, Beverly Hills style! For last minute things to do in Los Angeles, you can't go wrong with a day at the spa!
The 20,000-square-foot spa made up of 17 treatment rooms—including 12 massage and facial rooms as well as five wet treatment rooms—resides in the heart of the Montage Beverly Hills. An attendant promptly welcomed me upon arrival and introduced me to the bubbling pools, steam rooms, showers and saunas that are blanketed in sunlit tiled mosaics reminiscent of a mythical hamam. You can either choose to lounge in the co-ed relaxation area the focal point of which is a large mineral pool; I however decided to slip into my swimsuit and spend time before my appointment basking in the women's only mineral pool, herbal steam room and relaxation room, where I caught up on some magazine reading and sipped on jasmine tea.
My mission at the spa was to experience the new ESPA Lifestage Facial, a treatment that utilizes the latest advances in skincare technology to help minimize lines and wrinkles around the eyes, neck, lips and jawline. The treatment uses ESPA's signature cleansers, serums and moisturizers that incorporate a blend of 10 pure and concentrated ingredients that are stage released deep into your skin for up to eight hours. My esthetician started the facial with ESPA's signature Skinvision analysis to determine what skin type I had and what type of ESPA products would be best for my complexion. She then cleansed and exfoliated my face and neck, and continued with ESPA's facial massage that concentrates on specific facial pressure points, stimulates nerve endings, which relaxes the muscles in the face. It also incorporates smoothing and stretching movements and targeted lifting movements to the eye area that release tension. The facial continued with a much-needed shoulder massage and an application of thicker serum (specifically for my skin needs), the result was dewy, revitalized skin and an overall feeling of total relaxation.
225 North Canon Drive, Beverly Hills, 310.860.7800. spamontage.com