Top Los Angeles Comedy Clubs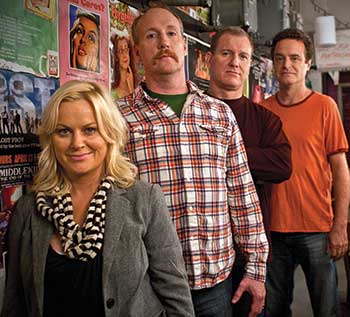 Find the best ways to tickle your funny bone at these Los Angeles comedy clubs.
Tap into the funny side of L.A. nightlife. Between shows by superstar comedians, under-the-radar performances by the next big thing and classes that help you hone your own comedy skills, you're sure to find the perfect way to tickle your funny bone. So order your two-drink minimum and settle in for a night full of laughter at L.A.'s top comedy clubs.
By Gillian Glover
The Groundlings Theatre & School
Since 1974, The Groundlings Theatre & School has developed into a legendary comedic training ground that has spawned some amazing talent; Will Ferrell and Lisa Kudrow are among the Groundlings' A-list alums. See the current troupe at work in this month's new stage show, "Slippery When Groundlings."
Upright Citizens Brigade Theatre
Meanwhile, hipsters queue up around the block for improv shows from up-and-coming comedians at Upright Citizens Brigade Theatre—co-founded by Amy Poehler. UCB just unveiled an additional L.A. venue that houses improv classes as well as two performance spaces.
Comedy Palace
In Los Feliz, the free stand-up show Comedy Palace operates above Chinese restaurant The Palace. Each Thursday night, find a lineup of comedians whose faces you've seen on late-night talk shows and Comedy Central.
Laugh Factory
The world-famous Laugh Factory runs clubs around the country, but its iconic Sunset Strip location is the original. It's a favorite of funnymen Tim Allen and Dane Cook, among countless other comedians. Each November, the Factory hosts a free Thanksgiving show, with big names serving up laughter to guests alongside a turkey dinner.
The Comedy Store
Farther west on Sunset, you'll find The Comedy Store, a family-run establishment covered with scribbled names of comedy greats who've performed within its walls since its inception in 1972. Get your fill of laughs with shows that boast up to 16 headlining comics.
Hollywood Improv
At Hollywood Improv, the Tinseltown outpost of the improvisational comedy empire, expect open mic nights, live podcast tapings and star-studded special events.
The Comedy & Magic Club
In the South Bay, Hermosa Beach's best (read: only) option for stand-up comedy, The Comedy & Magic Club, doesn't disappoint. Head to the venue for comedy sets interspersed with magic shows. Jay Leno is such a fan of the spot that he performs there most Sunday nights.
The Ice House
You can also get your comedy fix at tucked-away club The Ice House, where such legends as Bob Newhart and Robin Williams have performed. The place even knows how to put a good spin on a speeding ticket, with its weekly Ice House Comedy Traffic School.