Los Angeles Philharmonic Performs Stravinsky's Apollo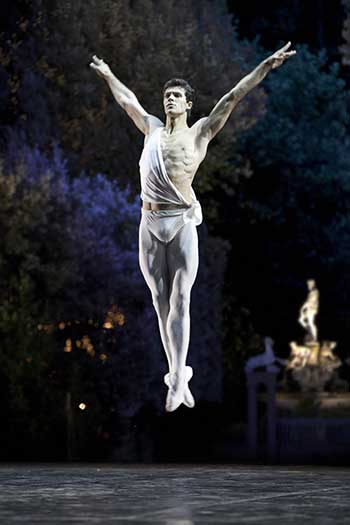 See Stravinsky's Apollo, a co-production from the American Ballet Theatre and Los Angeles Philharmonic, Nov. 27-29.
Top dancers from American Ballet Theatre join the Los Angeles Philharmonic on the Walt Disney Concert Hall stage for a performance of Stravinsky's Apollo.
The performance—choreographed by George Balanchine—features ABT principal dancer Roberto Bolle in the role of Apollo and is conducted by Gustavo Dudamel, Nov. 27-29. Joining Bolle are ABT dancers Hee Seo (Terpsichore),  Devon Teucher (Polyhymnia) and Stella Abrera (Calliope);  Abrera was recently promoted to principal dancer, making her the first Filipino American to reach this rank in the company.
According to the LA Phil, Adolph Bolm choreographed the world premiere of the performance that the Library of Congress commissioned for a contemporary music festival in 1928. However, Stravinsky had reserved the European rights for Serge Diaghilev and his Ballets Russes, whose version opened in Paris six weeks later. This was the first time Balanchine molded it into his vision and it fast became a success. Balanchine continued to tinker with it over 50 years of productions, making it into the work you'll see on stage.
In addition to Stravinsky's Apollo, this program will include Britten's Young Apollo and Shostakovich's Symphony No. 5.
Walt Disney Concert Hall, 111 S. Grand Ave., downtown, 323.850.2000. laphil.com