10 Los Angeles Things to do Before Summer Ends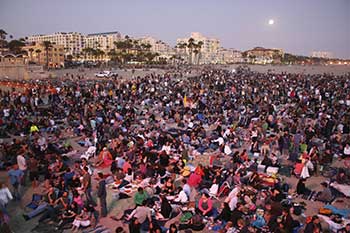 Despite the never-ending sunshine, summer only lasts for a few months in L.A. Check out our roundup of the best Los Angeles things to do before the season drifts away.
Edited by Christina Xenos
Plan a Beach Day
Los Angeles boasts 75 miles of pristine coastline and some of the country's best beaches from Malibu to Palos Verdes. Check out our list of LA's best beaches where you can suit up and hit the sand. But there's more to do on the water than just soak up the sun—it's the ideal playground for any adventure seeker. Here are five ocean (and oceanside) activities that can add thrills to a beach day.
Hit the Hollywood Bowl
The best major outdoor concert venue in the country wraps its summer season with heavy hitting concerts like Pink Martini (Sept. 3); E.T. the Extra-Terrestrial in Concert; their Fireworks Finale with the The B-52s and The Psychedelic Furs (Sept. 11-13); ABBA: The Concert (Sept. 19); Empire of the Sun (Sept. 20); and Grace Jones and Future Islands (Sept. 27). Fill out your Bowl experience by picnicking on site or completely spoil yourself with a picnic from Patina, or one of their three course feast when you book box seats.
Cheer on your L.A. Dodgers
The Boys in Blue host home game series through Oct. 4. At press time they're leading the National League West, so here's hopes to a post-season. Dodger Stadium isn't just for watching games though. On the year-round Dodger Stadium tour you can channel your inner Vin Scully in the Press Box, named for the famous sportscaster; check out a VIP suite (available to rent starting at $4,000); peek inside the historic visitors' clubhouse; and prepare to be awed by the team's collection of World Series trophies, as well as Most Valuable Player, Cy Young and Rookie of the Year awards, in the memorabilia hall—oh and did we mention, you get to hang out in the dugout too?
Take a Hike
Whether you want to hike on or off the beaten path, our guide to Los Angeles hiking trails will take you from Runyon Canyon across the city to Topanga Canyon State Park and take you through breathtaking environments from the former M*A*S*H set to 150-foot Escondido Falls. Check out our guide to the best hiking trails in Los Angeles.
Visit the Getty Center
The Getty Center is a buzz this summer not only with notable exhibits but also with outdoor performances as well. Power and Pathos: Bronze Sculpture of the Hellenistic World is one of the Getty's most exciting exhibitions of the season and the first major international showcase of more than 50 bronze sculptures from the ancient Mediterranean. Extend your afternoon at the center with a music performance. Friday Flights and Saturdays Off the 405 bring cutting-edge musicians to the central courtyard into the fall.
Jazz at LACMA
If you're looking for one of the best things to do in Los Angeles for free, head over to LACMA on Friday nights for Jazz at LACMA. The 24th season plays on through the summer with performances from top artists. Take your jazz night experience to the next level by pre-ordering a picnic from Patina Group. Opting for "The Louie" ($100) gets you a prime reserved picnic spot and set up with real china, fold out picnic table, blanket and cloth napkins; food includes whole roasted or fried Jidori chicken, cheese and charcuterie board, choice of two sides, signature dessert and bottle of Patina Label Vega Sindoa Chardonnay or Merlot. Going for "The Duke" ($40) gets you whole roasted or fried Jidori chicken and choice of two sides. The program continues every Friday night throughout the fall starting at 6 p.m.
See a Movie Outdoors
Break out picnics, blankets and chairs to spend your summer evenings watching your favorite flicks under the stars. From Hollywood Forever Cemetery to poolside at Mr. C Beverly Hills to Silver Lake, we've got you covered here.
Drink and Dine up High
Rooftop restaurants and bars are all the rage in LA no matter what season it is, except some are only open for the summer. Before the fall weather sets in, sip your cocktails and snap a few stellar selfies at these five top spots.
Outdoor Summer Concerts
Spend your evenings under the stars with Los Angles summer concerts in stunning venues from Levitt Pavilion Pasadena to the Santa Monica Pier not to mention standbys like the Hollywood Bowl and Greek Theatre. Spread out your picnic and pop a bottle of wine and enjoy stellar performances from well known and up-and-coming talent.
Take a Tour
Los Angeles may be the capital of entertainment, but it's also a city that thrives on sports, the arts and a multicultural food scene. Plus, it has a fascinating history backed by an ever-evolving skyline and swaying fan palms. These 10 top tours in L.A. range from the new to the updated classics, that explore parts of Los Angeles hidden from plain sight. Draw back the curtain to discover a culturally rich city worthy of its own standing ovation.
Check out our full guide to Los Angeles summer events.