Embark On a Deep Sea Fishing Expedition with Cafe del Rey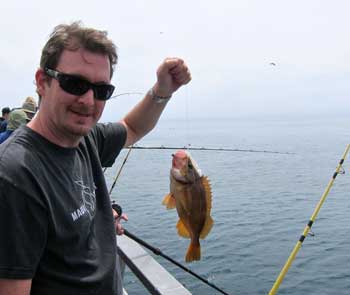 Los Angeles chefs are religious about farm-to-table cuisine, but at Cafe del Rey chef Daniel Roberts takes freshness one step further with his bi-annual Permission to Come Aboard event.
Being located adjacent to the Marina del Rey docks is not close enough to the water and sea-life for Cafe del Rey chef Daniel Roberts, who is also an avid fisherman. With his inaugural Permission to Come Aboard event on Oct. 5, he invites you out to sea with him for a half day fishing expedition to catch the fish that he will cook you for dinner.
The premise is simple: On Saturday morning you'll meat Chef in Marina del Rey in time to board a charter fishing boat and embark on your deep sea fishing adventure. On the boat you'll get a rundown of how to use a fishing pole (or you can bring your own) bait your hook and cast off. Throughout the four-and-a-half hour trip you'll visit a variety of different spots in search of local fish like halibut, sand bass and yellowtail—and hopefully you'll score a few fish. After you're back on shore chef Roberts will  exclusively prepare your favorite catch-of-the-day at Cafe del Rey where you can relax and savor your prize over a bottle of wine.
The package will be available bi-annually with its launch this fall and a second trip in the summer of 2014. The trip is approximately 4.5 hours from about 7 a.m.-noon. with flexible seating for dinner.
$40/pp (fishing trip only), $80/pp (fishing trip + dinner).
Visit cafedelreymarina.com for more information.