Dine on Australian Black Truffles in Los Angeles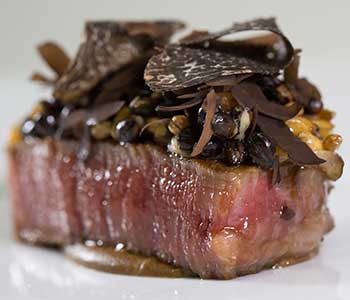 Western Australia's The Truffle & Wine Co.'s bounty of Australian truffles arrive on menus around Los Angeles. Yes, dining on delicious Australian mushrooms is definitely a creative way to spend an evening in Los Angeles!
By Christina Xenos
The sight of truffles on a menu is an occasion for celebration for any foodie. These decadent culinary diamonds add an indulgent layer of ecstasy to everything from Wagyu beef to scrambled eggs. And while truffle oils and salts are common garnishes throughout Los Angeles, nothing comes close to freshly harvested and shaved truffles on your plate.
Most often you can spot truffles—hailing from Italy and France—on menus starting in late fall continuing through winter, but luckily on the other end of the Equator, Australia's truffle season now swings into over drive and Los Angeles is reaping the benefits.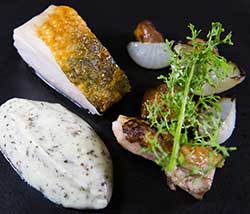 To launch Australian black truffle season in Los Angeles, Western Australian truffle purveyor The Truffle & Wine Co.  (the largest single producer of the T.melanosporum truffle in the world) showcased the best of their bounty during a one-night-only "Black Truffle Friday" five-course dinner at Melisse restaurant, which featured Western Australian truffles woven into a series of decadent dishes by Chef Josiah Citrin and Australian Chef Peter Gilmore of Quay restaurant in Sydney. The evening's taste bud tantalization kicked off with a raw Hokkaido scallop accented with a thinly shaved black truffle; and moved onto robust and memorable dishes like Citrin's roasted Jidori chicken accented with sweet onion, chanerelle mushrooms, truffle potato mousseline served with an albufera sauce; and Gilmore's melt-in-your-mouth Wagyu beef topped with cultured fermentation of grains, fungi and a generous heap of truffles.
If you missed the foodie affair, you now have a chance to celebrate the season at seaside dining destination, Cafe del Rey, which is showcasing more of the The Truffle & Wine Co.'s delicacies on July 17, during a five-course dinner paired with Summerland Wines. Throughout the night, you can dine on truffle-laden dishes like "pork rolled in truffle" with tri-colored cauliflower, Serrano ham, and truffle rabbit jus; and tapioca "risotto" with roasted figs and thyme tuile with truffle anglaise.
In addition to these exceptional dinners, you can also dine throughout the season on these special dishes featuring prized The Truffle & Wine Co. truffles:
Melisse
Rotisserie chicken stuffed with summer truffles, carved tableside and served with morel mushrooms, green asparagus and albufera sauce. Hear more about the dish HERE
Lobster bolognese served with fresh capellini, basil and brown butter truffle froth.
Republique
Black truffle risotto with acquerello carnaroli and tuber melansoporum.
Girasol
Risotto of Koda Farms rice, shaved porcini, Santa Barbara uni, black truffles and hay oil.
CUT Beverly Hills
Whole roasted Stonington Maine lobster with black truffle sabayon.
The Truffle & Wine Co. dinner at Cafe del Rey
July 17. Five-course truffle-wine dinner ($85*). Featuring Australian black truffles from The Truffle & Wine Co. and Summerland's wines from the Central Coast of California. 7-9 p.m., kicks off with a cocktail reception at 6:15 in the lounge. Reservations required. 4451 Admiralty Way, Marina del Rey, 310.823.6395. cafedelreymarina.com