Eat Oodles Of Noodles At Noodle Bowl Fest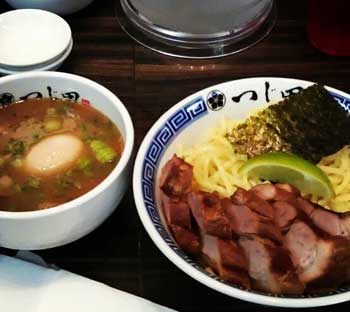 Noodle Bowl Fest is a three-hour feast at the Viceroy Santa Monica featuring Asian soup noodles crafted by seven of Los Angeles' hottest restaurants.
Whether there's a chill in the air, or not, a heaping bowl of soup noodles always hits the spot—unfortunately you usually have to trek all over the L.A. basin to find them. Luckily, on Feb. 10, the noodle gods have answered your prayers and for one day are bringing seven of L.A. best noodle makers together in one place, just for your slurping happiness.
Noodle Bowl Fest Highlights
Din Tai Fung, the iconic San Gabriel Valley branch of the world-famous Taipei restaurant, is making Niu Rou Mian, otherwise known as Taiwan's most popular Beef Noodle Soup.
Rodded, a 40-year family-run restaurant in Thai Town, will offer the Komenkul family's signature Duck Noodle Soup, made with stewed duck and bean sprouts in a cinnamon-tinged soy broth.
Tsujita LA head Chef Kenta Ikehata of Little Osaka's famed ramen shop is creating his popular Tsukemen noodles, a dipping-style ramen simmered for 60 hours served with a Tonkotsu soup.
Additionally, a handful of restaurants that aren't usually a part of the noodle game are also contributing their own take on noodles:
Maximiliano's Chef and Owner Andre Guerrero is showcasing a dish inspired by his mom, Filipino Chicken Noodle Soup (Sotanghon Manok), a chicken broth seasoned with Southeast Asian flavors and bean-thread noodles.
Chef David LeFevre of M.B. Post, a 2012 James Beard Award Semifinalist, Best New Restaurant and Best Chef (Pacific), is featuring Oxtail and Beef Brisket Pho, a popular Vietnamese noodle dish.
Seoul Sausage Co., the winners of the third season of The Food Network's Great Food Truck Race, will preview an exclusive dish for the event: Korean Army Noodles called "Budae Jigae." But their version has a gourmet twist on this classic dish; spicy pork Seoul Sausage, braised pork belly, rice cake, ramen noodles, and roasted corn.
Whist at Viceroy Santa Monica's Executive Chef Tony DiSalvo is preparing Kimchi Sujebi, a traditional Korean noodle soup made with handmade dough.
Also on the menu at Noodle Bowl Fest will be Singha Beer and a delicious craft cocktail courtesy of Karlsson's Gold Vodka. The cocktail, called "La La Land," is a tasty liquid treat comprised of Karlsson's Vodka, Aperol, raspberry and white pepper syrup, fresh lemon juice, fresh cucumber juice, fresh mint, and Bitter Truth celery bitters.
But it's not just about chowing down on copious amounts of food and drink. Street Symphony is performing, and a percentage of the proceeds from the event will be donated directly to My Friend's Place; a Hollywood-based charity dedicated to assisting and inspiring homeless youth to build self-sufficient lives.
Noodle Bowl Fest will take place on Sunday, Feb. 10, 4-7 p.m. $45 thru Jan. 31, $55 after that. Viceroy Santa Monica, 1819 Ocean Ave., Santa Monica. noodlebowlfest.com
(Discounted valet parking will be available at the Viceroy Santa Monica for $8 per car.)