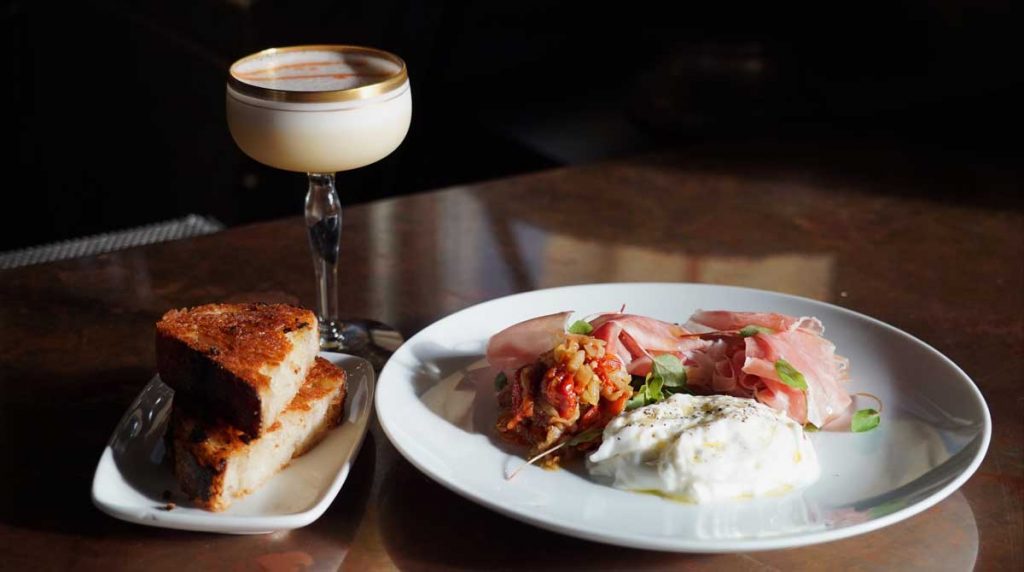 Each week we spotlight top Los Angeles restaurants, dining and drinking experiences you need to try.
Edited by Christina Xenos
The Ponte
James Beard Award-winning chef and restaurateur Scott Conant teams up with Stephane Bombet of Bombet Hospitality Group to open the new contemporary Italian restaurant. The French bistro vibe of the former Terrine location is traded for a relaxed romantic ambiance complete with the swoon-worthy back patio. Highlights of the menu include inspired dishes like wood-roasted prawns with Calabrian chili butter and squid ink farro risotto; braised duck agnolotti with foie gras emulsion; Conant's signature spaghetti pomodoro; and more including a variety of pizzas and larger format entrees like boneless osso buco for two with gnocchi alla romana and bone marrow gremolata. The restaurant's bar program fronted by head bartender Ryan Wainwright celebrates California citrus and Italian herbs with aperitivo-inspired classics and house drinks, including a negroni flight and Wainwright's US Bacardi Legacy-winning Playa Fortuna with Bacardi Superior, lime juice, coconut cordial, and tartaric acid. Drinks pair perfectly with the bar menu of dishes like ricotta fritters, Calabrian chicken wings; and their signature dry aged Ponte burger with tallegio cheese, caramelized onions and picked mustard seeds. The restaurant opens with dinner nightly with brunch to arrive March 4. 8265 Beverly Blvd., L.A., 323.746.5130. thepontela.com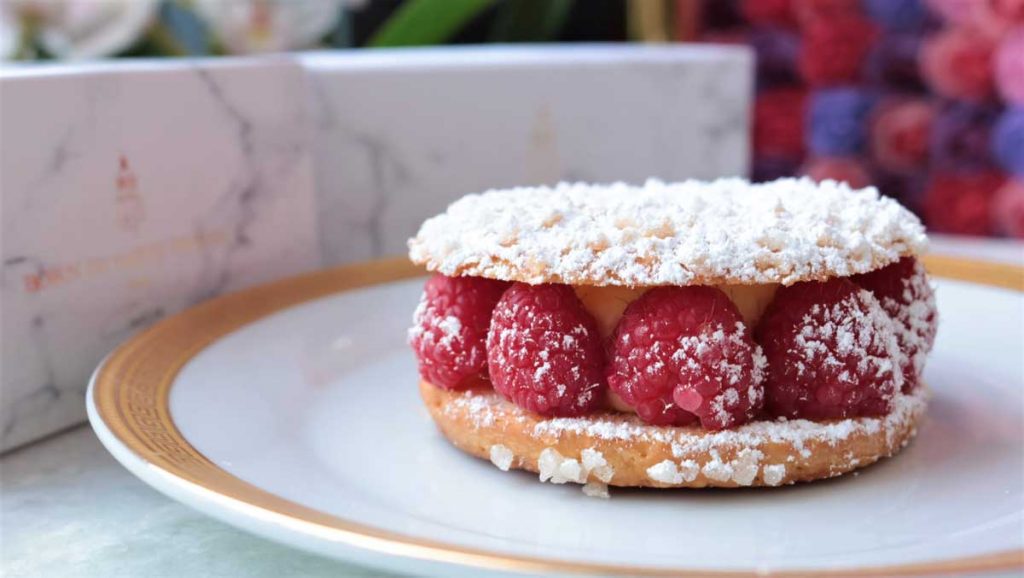 La Tropézienne Bakery
French cuisine meets the City of Angels at the new bakery that channels the Côte d'Azur city Saint-Tropez. The bright and airy locale is the canvas for chef Laurent Cavazza to showcase his selections of pastries, sandwiches, salads and additional baked goods from his home town of St. Tropez. Menu signatures include the Tarte Tropézienne, a specialty dessert pastry consisting of a filled brioche; Éclair Tropézien; Salmon Lemon Butter and a variety of specialty pizzas. Mon.-Weds., 7 a.m.-8 p.m.; Thurs.-Fri., 7 a.m.-9 p.m.; Saturday it opens at 7 a.m. and stays open 24 hours until Sunday at 9 p.m. 211 S. La Brea Ave. latropeziennebakery.com
Congee Pop-Up from Mei Lin
Feb. 25. Top Chef Mei Lin pops up in LA with a congee menu. Try dishes like The "OG" with pork sung, onsen egg, fried shallots and garlic, XO sauce and scallions; "Shrimp & Grits;" and Truffled Crab Congee. $10-$16. Cash only. 6 p.m. until the food is gone. 6624 Melrose Ave., L.A.
Pretty Thai for a White Guy
Feb. 22. Silver Lake's Thai wine bar, Same Same, is hosting their second "Pretty Thai for a White Guy" feast where you can sink your teeth into fried chicken and Thai street corn for $18, in addition to $20 bottles of red and white wine. 2835 Sunset Blvd., L.A., 213.273.8424. samesamethai.com
MatchaBar
LA continues to see green with the opening of Brooklyn's original matcha cafe in Silver Lake. Signature drinks include everything from Sparkling Cucumber-Lime Matcha to their Turmeric Ginger Matcha Latte. You can also pick up Gjusta baked goods without having to trek to the Westside. 3534 Sunset Blvd., L.A. matchabarnyc.com
Little Dom's Mardi Gras Feast
Feb. 25-28. A New Orleans native, chef Brandon Boudet is bringing the flavors of Mardi Gras to his Los Feliz restaurant Little Dom's. Dine on favorites like shrimp, andouille and chicken gumbo; roast beef and/or soft shell crab Po'boys; bread pudding and more including king cake. 2128 Hillhurst Ave., L.A., 323.661.0055. littledoms.com
Pup-Up Breakfast Club
Feb. 26. FrankieLucy Bakeshop invites four legged friends and their friends to their first Pup-Up Breakfast Club. The brunch offers all-you-can-eat pancakes, drip coffee and housemade dog treats. $12/pp, free for four-legged friends. 9-11 a.m. 3116 1/2 W. Sunset Blvd., L.A., 323.285.1458. frankielucybakeshop.com
Red Carpet Specials at The Polo Lounge
Through Feb. 25. The Polo Lounge chef Kaleo Adams has gone all out this awards season to honor nominated flicks with food. The Polo Lounge features a lunch special inspired by each Oscar nominee on the days leading up to the big event. Dine on grilled eggplant parmesan with buttered noodles (La La Land), Feb. 22; vadouvan-spiced chicken breast with coconut-saffron rice (Lion), Feb. 23; New England clam chowder with oyster crackers (Manchester by the Sea), Feb. 24; and Cuban sandwich with fried plantains and French fires (Moonlight), Feb. 25. 9641 Sunset Blvd, Beverly Hills, 310.887.2777. dorchestercollection.com
Prohibition Menu at Boneyard Bistro
Feb. 22. Dine on a seven-course menu paired to showcase Boneyard Bistro's extensive lists of gin, whiskey and cognac. Each dish is paired with an exclusive cocktail. Menu items include everything from blackened shrimp and scallops paired with a mint julep; to char sui roasted duck breasts paired with a sazerac. $65/pp. 13539 Ventura Blvd, Sherman Oaks, 818.906.7427. boneyardbistro.com
Ravello Bar & Grill
Feb. 24. The new southern Italian restaurant located in Uptown Whittier, will be hosting the first of many future wine dinners this week. Dine on a five-course menu with wine pairings from Francis Ford Coppola; you can also purchase featured bottles that aren't typically available at the retail level. Highlights of the menu include pan-seared scallops on wild mushroom risotto with charbroiled asparagus; prosciutto-wrapped lamb loin with fingerling potatoes and Archimedes Cabernet reduction; and cheesecake with raspberry sorbet and pistachio cookie crumble. ravellobarandgrill.com