Dine on Decadent White Truffle Dishes in Los Angeles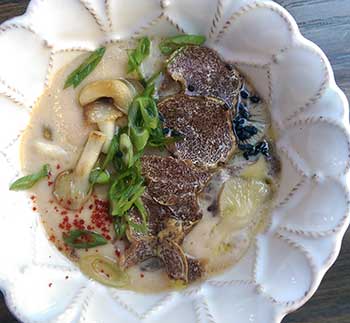 From pasta to risotto, indulgent tasting menus and more. Find out where to dine on white truffle dishes in Los Angeles.
By Christina Xenos
Forget Thanksgiving! November is all about white truffle season. It's the decadent time of year when these prized delicacies are unearth by specially trained pigs and dogs and whisked around the globe to be freshly incorporated and shaved onto fine dining dishes. Here's where you can dine on white truffle dishes in Los Angeles.
SAAM at The Bazaar
SAAM, the chef's tasting room at The Bazaar by Jose Andres, celebrates truffle season through Nov. 22 with a 16-course tasting menu that showcases with each course Italian white truffles hunted by the Truffle Brothers. Savor selections like Pumpkin Meringue with savory Chantilly cream and truffle salt; "Light & Shadow" little neck clams kissed with truffle butter air and truffle cream; and the Five Star Breakfast featuring an egg yolk bathed in sodium alginate so it bursts open into the surrounding bacon cream sauce that is accented with dehydrated piquillo pepper and chanterelles. Thurs.-Sat. evenings. $350/pp, additional wine pairings available. Reservations required.
Melisse
Chef Josiah Citrin is a master of culinary decadence and it's no surprise that he showcases white truffles through menu hits like truffle egg with truffle sauce, shaved white truffles and toasted brioche; fresh tagliatelle with grated white truffles, parmesan and brown butter truffle froth; truffle risotto with mascarpone and shaved white truffles; and five cheese agnolotti with brown butter truffle sauce and shaved white truffles.
Union
The squid ink garganelli with lobster, fennel, preserved lemon and truffle butter on Union's menu is a satisfying way to get your truffle fix, but especially for the season Chef Bruce Kalman fashions a charcoal wheat pappardelle finesses it with pecorino cheese and tops it with a poached egg and fresh shaved white truffle. And to fully indulge, Union is conjuring a very special five-course (plus amuse and dessert) truffle dinner on Sunday, Nov. 16 ($250). Seatings are at 4:30 and 8 p.m. and you can also opt for wine pairings from Sommelier and Wine Director George Pitsironis for an additional charge (Pro Tip: go with the wine pairings).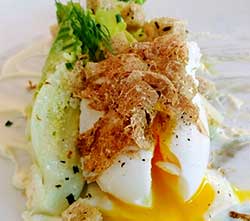 Faith & Flower
At downtown L.A.'s hottest restaurant, get your white truffle fix with Chef Michael Hung's secret menu item available throughout the fall. The decadent Chawanmushi is a bowl brimming with mushrooms, chicken confit and topped with freshly shaved white truffles.
Patina
Dine on a special six-course truffle menu that features selections like a truffled egg with creme fraiche, mouillette; cauliflower panna cotta with sea urchin, crispy pain de mie and arugula; white truffle risotto with sweetbreads and chicken oysters; Hokkaido scallop with butternut squash puree, savoy cabbage, lardon and caraway seed; Veal loin with potato gnocchi, Parmigiano-Reggiano crisp, shiitake mushroom; Mont Blanc with candied chestnut, vanilla Chantilly, coconut dacquoise. $310. available now at Patina until the end of white truffle season.
Scarpetta
Chef Scott Conant showcases white truffles in an exclusive five-course tasting menu (you can also get dishes a la carte) offered through the end of November. White truffles are woven through dishes like salad of smoked Matusake mushrooms; porcini gnocchi with sunchokes, sunflower seeds and fuji apples; glazed lobster with celery root and hen of the wood mushrooms; Wagyu stripling with cacio e pepe fonduta and roasted and peanut potatoes; and truffle gelato with poached apples, agro dolce and toasted almonds for dessert.
Valentino
The revered Santa Monica dining destination has been serving white truffles for more than 30 years and was one of the first restaurants to bring white truffles to Southern California. Dine on a delicious selection of expertly prepared dishes finessed with truffles like Quail involtino on soft polenta (stuffed quail breast) with triple truffle shavings.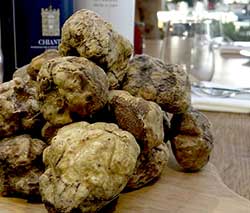 Cecconi's
Chef Alessio Biangini received his bounty of truffles from the infamous Truffle Brothers who sourced them from the Central Italian regions of Molise, Abruzzo, Marche. The Northern Italian restaurant situated in West Hollywood uses white truffles to add depth to dishes like hand-cut tagliolini, risotto, buffalo ricotta ravioli, corn tortelli, plin agnolotti and white truffle pizza with goat cheese and squash blossoms.
Petrossian
What goes better with white truffle accented dishes than to pair them with a selection of Petrossian's decadent caviar? For the season you can savor truffles in the outposts white truffle smoked Caesar salad with rye bread, dill and a poached egg on top, topped with truffles.
Terroni
Expect to find truffles, sourced from the Truffle Brothers, popping up on the menu at both the Beverly Blvd. and downtown locations. Specifically in downtown you can sink your teeth into spinach ravioli, stuffed with ricotta and Parmigiano and served in a Parmigiano sauce with white truffles.
Culina
Dine on a decadent four-course regional Italian feast complete with plenty of truffles and wines from Piedmont selected by Wine Director Chris Bradford. Highlights of Executive Chef Mette Williams menu includes veal carpaccio celery hearts, shallots, lemon, truffle salt; roasted squash risotto charred brussels sprouts, lemon oil, truffle essence; seared duck breast wild mushroom ravioli, braised chard, white truffles; and Il Bonet Piamontese cream gelato, amaretti cookies. To further indulge in the season you can add freshly shaven white truffles to any dish for an additional $65. $85/pp. Every Tues.-Thurs. night in November except Thanksgiving.
Barton G.
Like most things at Barton G., bigger is better and that goes for white truffles as well. For the season the restaurant offers white truffles from Alba, Italy as a supplement to be hand-shaved on dishes. Generally, the chef goes out the table and personally shaves the truffles for guests himself, and we hear that diners are often scoping the dining room trying to "out truffle" the table next to them. They go best with dishes such as the Mousetrap or lobster mac 'n' cheese, It's Easy Being Green pasta, sliders and steak dishes.
RivaBella
A gorgeous setting is rivaled only by luscious white truffle specials from Executive Chef Luigi Fineo that are available until the beginning of January. The Truffle Brothers are at it again, handing over their prized tubers to be used in dishes like the white pizza with burrata and white truffles; tagliolini with butter, parmesan and white truffles; and egg ravioli—one large ravioli stuff led with ricotta mousse and white truffle oil topped with a poached egg.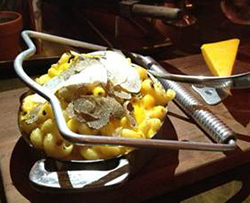 Toscana
Dine on decadent white truffles imported from Abruzzo, Italy. Supplied by Ariola Imports, the fragrant white truffles will be hand-shaved over a selection of Executive Chef Hugo's delicately prepared dishes—everything from soft scrambled eggs to Kobe beef.
Oliverio
Dine in style at the Avalon Hotel Beverly Hills and indulge in white truffles until the end of November. Chef Mirko Paderno is dishing out truffles on cauliflower soufflé, parmesan fondue and white truffle; risotto with uni and white truffle; po​a​c​​h​ed​ egg, asparagus and white truffle.
Drago Centro
Chef Celestino Drago celebrates the season with a special menu dedicated to white truffles, which are fused into indulgences like handkerchief pasta, parmesan, truffle butter, shaved white truffle; wild mushroom risotto, shaved white truffle; seared diver scallops, soft polenta, shaved white truffle; and more.
The Factory Kitchen
Hit this downtown pasta den for an indulger white truffle dish: trifola d'alba—long egg pasta, shaved white truffle (tuber magnatum pico).