Tannins & Tans at Ace Hotel Downtown Los Angeles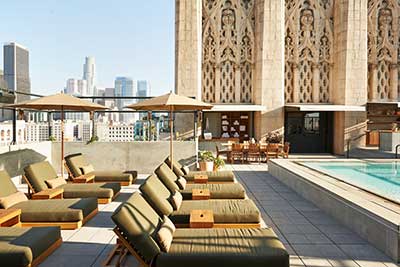 Wine Wednesday takes off this summer with Tannins & Tans wine tasting at Ace Hotel Downtown Los Angeles.
Upstairs, the pool-adjacent restaurant and bar atop Ace Hotel Downtown Los Angeles offers fresh cocktails and global twists on California cuisine along with a gorgeous view of the L.A. skyline. This summer it will also host a series of events especially for wine lovers. Tannins & Tans is their new wine-tasting program held on July 29, Aug. 12 and Aug. 26 aims to introduce you to some of the most cutting edge independent winemakers and wine talents today, including the creator of Hoxie Spritzers and the producer of the Oeno label.
Here's the full schedule:
JOSHUA ROSENSTEIN + HOXIE SPRITZERS
July 29, 5 p.m., $5.
Creator and co-founder of Hoxie Spritzers, Joshua Rosenstein is a professional cook who worked the hot line for more than 12 years in the kitchens of AOC, Alain Ducasse, and Village. On one warm California night, his sangria pairing morphed into a spritzer, and his co-founder said: Let's bottle this. The earliest version of Hoxie was born in a friend's garage in the Hollywood Hills. Now, Hoxie Spritzers (found in dozens of top Los Angeles restaurants & stores) make their way to our rooftop to up the vibes and cool the pool in the hot hot heat of summer.
AMY ATWOOD + OENO
Aug. 12, 5 p.m., $10.
California wine royalty Amy Atwood graces our pool with her presence, reputation, and juice. Atwood's travels have brought her from her home state of Texas to Australia where she fell in love with wine and then all over the map in search of the best of the best. These days she's still hunting but is producing the venerable Oeno label: wines made from grapes that are grown organically, without toxic chemicals, and which pair well with a California sunset.
ANDREW JONES + FIELD RECORDINGS
Aug. 26, 5 p.m., $10.
Field Recordings  is 34-year old winemaker Andrew Jones' personal catalog of the people and places he values most. Spending his days as a vine nursery fieldman planning and planting vineyards for farmers all over California, Andrew is sometimes offered small lots of their best fruit on the side. As friendships are made and opportunities are embraced, Andrew produces small quantities of soulful  wine from these unusual, quiet vineyards. Field Recordings could just be your late-summer surprise jam.
929 S. Broadway, L.A., 213.623.3233. acehotel.com