Savor These Spooky Sips Around Los Angeles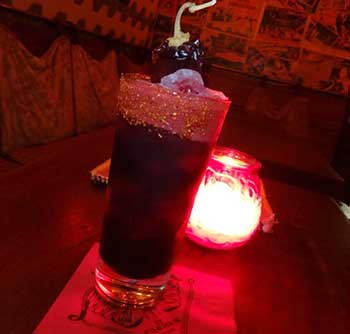 Feeling Devilish this Halloween? Sidle into one of L.A.'s storied haunts, where you can share a booth with a ghost, drink a specialty cocktail or simply learn a scary story or two.
By James T. Bartlett, author of Gourmet Ghosts—Los Angeles
El Carmen
In Mid-City, El Carmen celebrates its 85th birthday this month. This tiny and colorful lucha libre-themed Mexican cantina is a haven for tequila lovers, and originally was a taqueria, opened by Encarnación Gomez. The then-scandalous act for a widow didn't stop John Wayne and artist Diego Rivera from becoming regulars. Family members say that Gomez often doled out sweet treats to her favorites. A few years ago, a new employee found a handful of candies in her bag: a welcome gift from "Mama," perhaps? 8138 W. 3rd St., L.A., 323.852.1552.
If you're looking for a cool way to get your haunt on in LA this year, we've got just the right ice to chill your spine!
Basement Tavern
The Victorian was moved to Santa Monica in the 1970s to make up part of Heritage Square. Upstairs is an events venue, while down below is the hip Basement Tavern, where staff have reported strange noises, footsteps and doors slamming. A visit by relatives of Delia, a former owner of the building, all but confirmed she came along for the ride. She's a friendly guest, though, and the Basement created the Delia's Elixir (bourbon, agave, raspberries, lemon) to keep her happy. 2640 Main St., Santa Monica, 310.396.2469.
The Biltmore
Downtown's glamorous Millennium Biltmore Hotel, fashioned in the Spanish-Italian Renaissance style with a Beaux Arts influence, was the home of early Oscar ceremonies (fans of Ghostbusters will recognize it as the "Sedgewick Hotel"). Ghost stories abound here, but most famously, it was the last place homicide victim Elizabeth Short was seen alive. The opulent Gallery Bar offers the Black Dahlia cocktail in her honor (vodka, Chambord black raspberry liqueur, Kahlua), so take a sip and look around for a pick-me-up: the "Biltmore Angel" design is everywhere. 506 S. Grand Ave., downtown, 213.624.1011.
Formosa Cafe
In West Hollywood, the old-school Formosa Cafe is low-lit and red throughout, and is fashioned partly from an old trolley car. Lined with signed photos of stars who occupied stools here (that's hundreds of notable names), the atmosphere is both romantic and illicit. Co-owner Lem Quon died in 1993, but some say he's still around—especially if you choose to sit in his favorite booth, number 8. Grandson and current owner Vince Jung says his ghost is just keeping everyone working, but if you see a small, elderly Asian man in a cardigan … 7156 Santa Monica Blvd., West Hollywood, 323.850.9050.