Los Angeles Tax Day Specials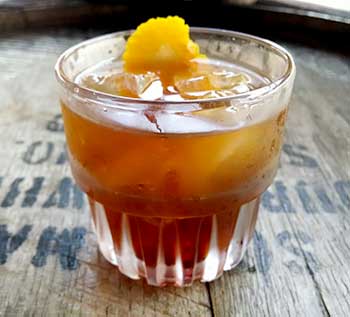 You've filed your return now it's time to have a drink. Celebrate over these Los Angeles Tax Day specials.
Edited by Christina Xenos
Plan Check Downtown
Sip the  Smokey Juarez Cocktail ($7) available for one day only. Comprised of Xicaru Blanco Mezcal, blood orange, lemon juice, simple syrup, and a sprinkle of smoked salt, The Smokey Juarez complements Executive Chef Ernesto Uchimura's happy hour menu (available from 4-7 p.m.) featuring dishes such as the Tacos Hamburguesa with two ground beef tacos, habanero salsa, cheese, guacamole, and cilantro; Pimento Grilled Cheese & Bacon with green chiles and pickles; and Southern Fried Chicken Sandwich with Jidori chicken, yam preserves, smoked milk gravy, pickled okra.
The Detour Bistro Bar 
Take your tax return and head to Culver City's newly opened Detour Bistro Bar for an all-day happy hour on selections like shrimp tacos, grilled chicken skewers, watermelon salad, Philly steak flatbread and drink specials. 11 a.m.-11 p.m.
The Whisper Restaurant and Lounge
Even if you didn't get a refund you can still rejoice over 15 cent martinis from 11:30 a.m.-10 p.m.
Bacari PDR and Bacaro LA
The sister bars are paying Uncle Sam all evening, handling your tax charges throughout happy hour and dinner services.
The District by Hannah An 
Sip the 1040EZ, available for 10 cents with the purchase of a regularly priced cocktail. Additionally, guests that mention the restaurant via a social media post while toasting to their tax woes, or bounty, will receive a complimentary small bite from Hannah.
The Hudson
Rejoice over your tax return, a tall boy PBR and shot of Bushmills for $10.
Want $1 cocktails?
Sip them here from 5-9 p.m.:
Harlowe
Old Fashioned with Old Forester bourbon, demerara, bitters, and orange oils
Oldfield's Liquor Room
Tax Relief made as a traditional Old Fashioned
Sassafras
Death & Taxes with scotch, gin, sweet vermouth, Benedictine, and orange bitters
Bigfoot Lodge
Taxydermy with rum, lime, and bitters
Bigfoot West
Old Fashioned with Buffalo Trace select barrel bourbon, simple syrup, Angostora bitters, luxardo cherry
Pisco Punch with Kappa Pisco, spiced simple syrup, pineapple juice, orange juice, and Prosecco
Thirsty Crow
The Tax Man's Hat with rye, sweet vermouth, and bitters
La Cuevita
Tax Mule with Reyka Vodka, hibiscus flowers, and ginger beer
ACME Hospitality Group is saluting America's most celebrated (and unsuccessful) tax evasion artists with these $7 cocktail specials.
Beelman's Pub
The MezcAl Capone with El Silencio Mezcal, Lime, Spiced Apple Syrup. Famous mobster could not be tried criminally. Prosecuted for tax evasion and served 7 years of 11 year sentence, 1932-1939, on Alcatraz Island
Library Bar
The Martha Stewart
Failed to pay $220,000 in taxes on a home in NY, gov't tried to prosecute for insider trading but failed; found guilty for tax evasion instead.
Sixth Street Tavern
The Wesley Snipes
Found guilty on three counts of failing to file a federal income tax return, owing the government $17 million in back taxes plus penalties and interest. Served 3 years in prison, starting December 2010 (2010)
Spring St. Bar
The Willie Nelson
Went on tour in 1992 to pay the IRS over $16 million in back taxes. IRS sold his belongings, which his friends bought and returned.