Loft & Bear Vodka: Imported from Downtown Los Angeles
Downtown Los Angeles' Arts District inspires creators of all types, including up-and-coming distiller YSA (Young State America) Distilling Co. that produces small batch, hand crafted Loft & Bear vodka.
Not only are some of the most innovative artists, chefs and fashion designers gravitating to downtown Los Angeles, but the city center is also reprising its rich history as a place where exciting, world-class goods are manufactured. Honoring that legacy is an artisanal vodka called Loft & Bear, a product proudly crafted in the heart of L.A.
Loft & Bear is the first product of YSA (Young State America) Distilling Co., a small-batch artisanal distillery founded in 2013 by young entrepreneur Paul Ryan Elliott. After graduating with a degree in economics from the University of North Carolina, Elliott was torn between pursuing an MBA and distilling vodka, his spirit of choice. "I spent $500 to enroll in a GMAT prep course and used another $500 to buy my first still," Elliott says, explaining his allocation of sparse resources at the time.
He never did take the admission exam—and has no regrets about his impetuous decision to become a craft distiller.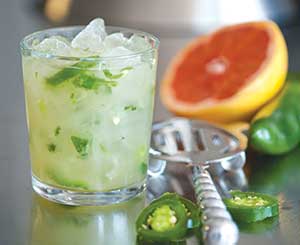 Elliott drew up a business plan and entered into negotiations with a private investor—a technology industry entrepreneur and vodka enthusiast who ultimately funded the project. The resulting boutique distillery is housed in a commercial loft in the burgeoning Arts District, in a former industrial building whose ground floor is occupied by the Factory Kitchen, a hot Italian restaurant drawing foodies from throughout the city. Although Elliott's rapidly outgrowing it, the modest 1,500-square-foot space is where Loft & Bear is distilled, packaged and marketed.
With a flat-screen TV, polished wood foosball table and some comfy furniture on which to crash, the loft resembles a cool bachelor pad, one with a 30-liter copper-pot column still and hundreds of pounds of grain stacked on the floor. Massive concrete columns and exposed ducts give the space the kind of character that would suit an art studio or high-tech startup.
Elliott explains that while a variety of starches (e.g., wheat, rye, corn, potato) can be used in the production of vodka, he prefers soft winter wheat from Northern California and Michigan. Soft winter wheat, used for the production of baking flour, is lower in proteins and gives Loft & Bear a more savory flavor profile, according to the young distiller. Wheat is also the choice of such respected mass-production labels as Grey Goose and Absolut, as well as Ketel One, the brand Elliott used to drink before debuting Loft & Bear. Pure California mountain spring water is used in the labor-intensive process, which includes the vodka being distilled four times and filtered once.
Elliott describes his vodka as offering a nose of subtle floral notes and a creamy, buttery finish with a hint of anise. When the owner's not drinking it straight up with a twist of lime, he'll opt for an old-fashioned vodka gimlet. Elliott says of his Loft & Bear, "I created my product so you could drink it straight, with none of the medicinal tastes sometimes experienced with other vodkas." He lauds its versatility for cocktails, something he has pursued with mixologist and brand ambassador Karl Steuck (formerly of L'Ermitage Beverly Hills and Hatfield's) but insists Loft & Bear is ideal for people who enjoy sipping their vodka neat.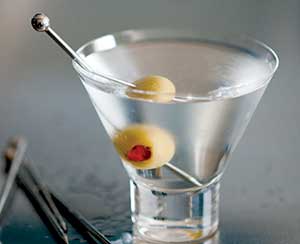 One of Steuck's signature Loft & Bear cocktails is the Bear's Knees, a twist on a Bee's Knees, the Prohibition-era drink that usually calls for gin as a base. This version is composed of mustard-infused Loft & Bear, fresh-squeezed lemon juice and orange-blossom-honey syrup. "It's a really fun play, and it's pretty dangerous when paired with pretzels!" says Steuck, who has a penchant for incorporating savory ingredients into cocktails.
"What makes Loft & Bear distinct from other brands is the depth and character of flavor. … Many vodkas, in my opinion, are harsh and lack flavor," says the mixologist. That distinction is one reason, according to Steuck, that Loft & Bear works particularly well in traditionally gin-based cocktails such as the Bee's Knees, Negroni or Greyhound. His Left Coast Greyhound is made with Loft & Bear, grapefruit juice, sliced jalapeño, mint leaves and either simple or agave syrup. "Most vodkas are simply vehicles to carry other flavors, which is what makes Loft & Bear different," says Steuck, who notes that the market is saturated with vodkas infused with everything from açaí berries to cilantro. "Loft & Bear is an amazing product with a flavor profile that holds up neat or on the rocks."
Elliott has the kind of engaging personality that food and beverage directors and liquor buyers generally appreciate, but competition is fierce in the cutthroat alcoholic-beverage industry. One reason Elliott chose to locate in L.A., aside from its renowned bar scene, is that the city is currently home to only one other distillery, Arts District neighbor Greenbar Craft Distillery, maker of TRU Organic Vodka and Slow Hand White Whiskey. "L.A. is a hub for creative types, and people tend to view it as what's trendy and hot," says Elliott, who insists that only New York's cocktail culture can compete with what's happening in the City of Angels, especially with the recent emergence of downtown.
Loft & Bear is elegantly packaged in a clear, heavy glass bottle—shorter and stouter than most mainstream vodkas—with a classic diagonal black ribbon bearing white, gray and gold lettering, sealed with a wood-capped cork stopper. "I'm a less-is-more kind of guy," explains the YSA owner, expressing a desire to keep it clean and let the product speak for itself. "Right now, I still sign every bottle. But at some point that's going to have to stop." The distillery's current capacity is 100 cases of Loft & Bear per month, with a suggested retail price of about $40 per bottle.
The spirit world has definitely noticed Loft & Bear, which medaled at the New York International Spirits Competition, San Francisco World Spirits Competition and Los Angeles International Spirits Competition its first year out of the box. "Awards give you credibility and say something about the product's quality," says Elliott, who reports that Loft & Bear has won eight awards, medaling in every competition it was entered in. But since racking up medals doesn't ensure entry into a competitive spirits market flooded with small-batch bourbons, Japanese whiskeys and artisanal tequila, Elliott has ambitions to produce other spirits under the YSA umbrella, too. "If I could fit bourbon barrels into this loft, I'd be distilling whiskey right now," he says.
Among the local drinking establishments carrying Loft & Bear are celebrity-favored Crustacean in Beverly Hills, West Hollywood's Harlowe and downtown's perennially hot Bäco Mercat, as well as K&L Wine Merchants in Hollywood. "Getting people interested in the product isn't difficult, but not having the same influence as established brands and distributors can be frustrating," says Elliott. Nonetheless, Loft & Bear will soon be available in New York, Miami and Washington, D.C., and international interest has already been expressed from South Korea to the Caribbean.
The Line Hotel—the hip Koreatown property home to several concepts from revolutionary food truck operator and celebrity chef Roy Choi—also looks forward to carrying Loft & Bear. Pot Lobby Bar at the Line stocks about eight vodkas, and a local vodka is viewed as a particularly good fit for the boutique hotel. "We love supporting products handcrafted in L.A. and were very impressed with the distiller's passion," says bar manager Chris Shin, who adds, "The product speaks for itself."
Through its "Distill.Drink.Donate" program, 5 percent of all profits from YSA goes directly to organizations supporting distressed families, veterans' affairs and human services. "We wanted to be socially aware from the start, when you can build that cost into the business," says Elliott, who suggests that young consumers expect that kind of activism. Currently, Loft & Bear is working with People Assisting the Homeless (PATH), a family of local agencies prioritizing affordable housing and supportive services. "It's our responsibility to take care of people in the community," says Elliott, who is conscious of the poverty and hunger just steps from his distillery.
Although being a boutique label has its own cachet value, investors want to maximize their returns. Elliott insists there are precedents for maintaining quality even after production ramps up, and he names Tito's Handmade Vodka as one of the best examples. Tito's, an Austin, Texas-based craft label that has grown into a major brand, now produces nearly a million cases per year. Elliott also cites Northern California's Hangar One as a comparable case study.
Elliott is already looking for a larger space for YSA's vodka venture and the production of additional spirits. He would like to find 20,000 square feet and upgrade to a 1,300-liter still that would support an output of at least 2,000 cases per month: a twentyfold increase in production. The next location will also have something that's not permitted in the current building: a tasting room.
California-bashing has been a favorite pastime of politicians and lobbyists who insist the state is no longer friendly to entrepreneurs. But Elliott, who shares a neighborhood with a collection of other innovative startups, has not experienced an unreceptive environment. His only handicap is a lack of the kind of big marketing budget deployed by mainstream brands. Without it, Loft & Bear is an enterprise fueled entirely by passion and youthful energy.
To the 29-year-old Elliott, who lacks the cynicism of a jaded CEO, it seems perfectly natural to print labels that read: Crafted in downtown Los Angeles.