DJ Interview: KCRW's Anne Litt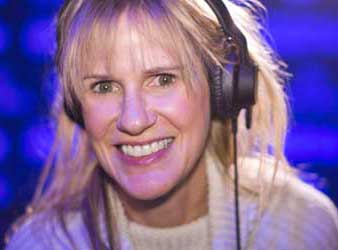 Local radio fans are loyal to KCRW host Anne Litt's weekend afternoon show. The beloved DJ shares her top song picks for bringing to mind all things Los Angeles.
"Blue Jay Way"
The Beatles
1967, Parlophone
»When I first moved to Los Angeles, I actually went looking for Blue Jay Way. I found it up in the mythical hills above L.A. and pictured George Harrison writing it, inspired by those foggy summer L.A. mornings.
"L.A. International Airport"
Susan Raye
1971, Capitol Records
»I don't know of any other airport that has been immortalized so descriptively in a song about a breakup.
"I Love L.A."
Randy Newman
1983, Warner Bros. Records
»This song has become the de facto anthem for Los Angeles.
"Celluloid Heroes"
Ray Davies
1972, RCA
»The melancholy in this version of the song (from The Kinks Choral Collection by Ray Davies and The Crouch End Festival Chorus) is truly overwhelming. … [T]he cautionary tale is powerful and, at the end, uplifting.
"Meet Me In Los Angeles"
George Stanford
2009, Gbones Music
»I love this song about the essence of what drew all of us transplants here in the first place. Makes me love my adopted hometown even more every time I hear it.
"Today Was A Good Day"
Ice Cube
1993, Priority
»This song … came out right after the 1992 L.A. Riots. There's something about its easy nonchalance, West Coast groove and Isley Brothers sample juxtaposed with the true meaning of the lyrics.
"Whittier Blvd."
Thee Midniters
1965, Whittier Records
»Coming out of East L.A. in the '60s, Thee Midniters created a surf-rock sound with horns unique to the urban culture of Los Angeles.
"Los Angeles"
X
1980, Slash
»This is one of the songs that made it apparent I had to come here … I've never listened to it quietly. Ever.
"Goodnight Hollywood Boulevard"
Ryan Adams
2001, Lost Highway Records
»Ryan is an artist who has been inspired by Los Angeles and now calls it home.
"Moving To L.A."
Art Brut
2005, Fierce Panda
»Any song by an English band … that talks about wanting to "hang around with Axl Rose" and "drinking a Hennessy with Morrissey" is an instant classic.
"Hooray For Hollywood"
Jonnie Davis, Francis Langford and The Benny Goodman Orchestra
1937, United Artists
»This is the quintessential Hollywood song, from the 1937 movie Hollywood Hotel …The true classic of them all.