Discovery Cube Arrives In Los Angeles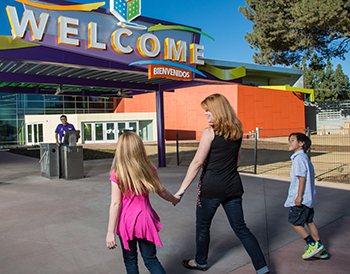 Discovery Cube Los Angeles offers hands-on learning—and fun.
20 miles north of downtown, in the San Fernando Valley's Hansen Dam Recreation Center, the brand-new Discovery Cube Los Angeles lets visitors climb a rock wall, fly above California in a simulated helicopter and descend through the Earth in an "aquavator."
Kids may think they're just having a blast while exploring these interactive, high-tech exhibits, but shh: They're learning, too. The sister site to Discovery Cube Orange County (formerly known as the Discovery Science Center), DCLA aims to enhance science, technology, engineering and math proficiency and and to teach healthy living and environmental stewardship. With 71,000 square feet of exhibit- and display-filled indoor and outdoor space, the science center offers plenty of opportunities for hands-on learning—and fun.
Make sure to check out the Science of Hockey exhibit with the L.A. Kings when it opens in February 2015, and take advantage of special grand opening admission price of $10 per person through June 30.
10 am-5 pm (daily) except Thanksgiving and Christmas. ; thereafter,
11800 Foothill Blvd., L.A., 818.686.2823. discoverycube.org/LA