Dining With The Stars: Los Angeles Celebrity Restaurant Destinations
Hollywood's favorite power-dining restaurants are primed for celebrity-spotting opportunities during Awards Season.
Beverly Hills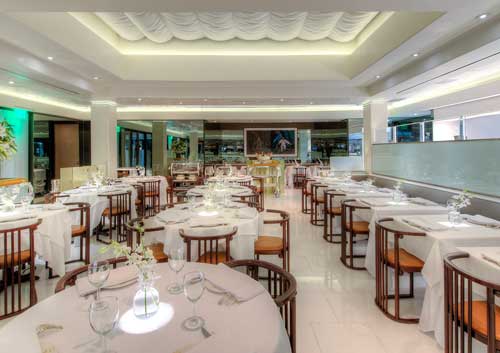 In addition to boasting celebrity-favored hotels, Beverly Hills has been home to many stars since Douglas Fairbanks and Mary Pickford moved here in the 1920s.
Asian-fusion eatery Crustacean has long been popular with entertainment elite for its Vietnamese fusion dishes such as the trademark garlic noodles—made with a recipe known only to the family who owns the restaurant—and over-the-top interior design, including a clear glass walkway that illuminates a koi-filled stream underneath. Guests at the restaurant's New Year's Eve celebration this year were treated to a jazz performance from actor Jeff Goldblum.
Celebrities looking for press need only dine at Mr. Chow to be photographed by paparazzi. The Mr. Chow experience is less about the food than the eye candy—there are always plenty of pretty faces, and chefs make a show of hand-pulling Beijing-style noodles for diners' viewing pleasure. Mr. Chow Malibu just opened at the celebrity-favored Malibu Country Mart, so perhaps Mr. Chow fans such as Ricky Gervais will follow.
If you tune into The Real Housewives of Beverly Hills, you've probably seen Lisa Vanderpump at the Beverly Hills restaurant she designed and opened with husband Ken Todd, the sexy, whitewashed Villa Blanca. You might just get to be an extra on the show if you dine on the right evening here or at Sur Restaurant and Bar, also co-owned by the couple and the setting of Vanderpump's spinoff reality show, Vanderpump Rules.
Wolfgang Puck's first restaurant, Spago, was the buzz of the Sunset Strip when it opened 31 years ago, and it has been one of the few eateries to endure in a city whose foodies are fickle with their loyalties. (Spago moved to Beverly Hills in 1997.) However, it received a much-welcome facelift last year, and its European- and Asian-inflected California menu has been updated to reflect current trends. Small plates have been added, including Brussels sprouts dressed in shiro miso-maple mustard and barbecue skate in an Indonesian sambal sauce. This time of year, Spago will no doubt see some big industry parties; in 2011 it hosted the DVD launch of The Social Network, attended by cast members Andrew Garfield and Jesse Eisenberg.