L.A. may currently be obsessed with meat, but plant-based cuisine is beginning to give steakhouses a run for their money.
Adapted from Planted by Roger Grody, in the January 2016 issue of Where Los Angeles Magazine
Yes, carnivores seem to have hijacked the local dining scene with $150 slices of Japanese wagyu beef, massive slabs of bistecca fiorentina and Brazilian churrascarias that celebrate well-marbled gluttony.
But "plant-based" cuisine is experiencing its own renaissance as stereotypes—struggling poets consuming tasteless sprouts at worn Formica-clad cafés—are being shattered by sophisticated chefs and designers.
Plant-based cuisine, generally a more sophisticated way of saying "vegan," has long been dismissed by traditionalists who believe that vegan chefs can't possibly take their culinary craft seriously. But in contemporary L.A., plant-based kitchens are attracting outstanding talent, resulting in mainstream recognition and commercial success. Their guests are not exclusively herbivores but include meat eaters looking for a change of pace, just as they might approach a Thai or Peruvian meal.
No restaurant in L.A. provides a better example of a classically trained chef turning out sophisticated and innovative vegan dishes than Crossroads. There, chef Tal Ronnen elevates plant-based cuisine, turning out nuanced, aesthetically plated dishes with superb ingredients. Author of cookbooks The Conscious Cook and new Crossroads, Ronnen has been a gourmet vegan caterer with a celebrity clientele and consults with top hotels in Las Vegas, where demand for vegan meals is greater than one might imagine. And with white-linen-clad tables, trendy chandeliers and high-end finishes, Crossroads is no Hollywood Boulevard sprouts joint.
Ronnen creates a roasted-beet salad with candied walnuts, Kite Hill artisanal almond cheese, Granny Smith apples and a balsamic gastrique, and uses hearts of palm as a substitute for fried calamari, serving them with cocktail and tartar sauces. Recently, an inspired seasonal "seafood" tower featured carrot "lox" standing in for smoked salmon with kelp caviar and almond milk "crème fraîche," as well as tempura-battered lobster mushrooms that were transformed into something more indulgent. A wood-fired Bolognese lasagna approximates the real deal, and a New York cheesecake prepared with sweet almond ricotta is plated with a caramel-pecan praline.
But "plant-based" cuisine is experiencing its own renaissance as stereotypes—struggling poets consuming tasteless sprouts at worn Formica-clad cafés—are being shattered by sophisticated chefs and designers.
Chef Phillip Frankland Lee, a frequent contestant in cable-TV culinary competitions, is emerging as one of L.A.'s most creative chefs, whether he's working with red meat or red rice. He recently relocated his Beverly Hills restaurant, Scratch Bar, to Encino, where Scratch Bar & Kitchen offers seven- to 25-course tasting menus and made-from-scratch charcuterie, cheese and olive oil. At The Gadarene Swine, seven- to 12-course vegan tasting menus showcase Lee's equal guile with plant-based cuisine.
The young chef might send out lemon-pistachio kale chips, fried olive-stuffed olives, a play on peanut butter and jelly using sourdough and port-poached figs, or cayenne-scented maitake and shimeji mushrooms in portobello puree. Silky sauces and ethereal foams remind diners they aren't sacrificing technique simply because no traditional proteins are in sight. What makes the Swine so fascinating—and serves as evidence of veganism's newfound acceptance—is that Lee himself, long an unapologetic carnivore, is driven not by orthodoxy but flavor.
Musician Richard Melville Hall—better known as Moby—grew up on suburban fast food but is now a slow-food vegan. Combining his passions for organic food, veganism, community, architecture and design, the Grammy-nominated recording artist and producer recently opened Little Pine in Silver Lake, where he and chef Kristyne Starling created all-organic menus with frequent Mediterranean themes. The intent is to serve food that appeals to everybody, whether lifelong vegan or carnivore.
Dinner at Little Pine might begin with a panzanella salad with market vegetables and avocado, or a farro-walnut salad with butternut squash, scallions and pomegranate. Entrées include a trio of stuffed shells (olive and pesto, artichoke and lemon, and spinach and ricotta), as well as "meatballs" with polenta in marinara sauce or a vegan cassoulet. Look for a vegan grilled cheese sandwich with tomato soup at lunch. Organic wines and premium teas are also offered in an attractive lodge-inspired dining room whose wallpaper features a forest scene photographed by Moby.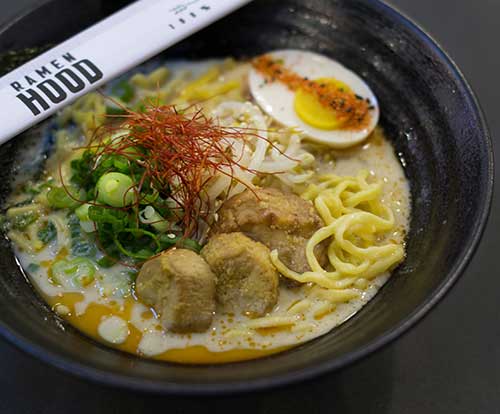 In Venice, where trends quickly come and go, plant-based cuisine is elevated to fine-dining standards in the hands of Matthew Kenney, a James Beard Award nominee so prominent in the plant-based food movement that he even markets his own cuisine. Busy "crafting the future of food," Kenney is in demand as a private chef, keynote speaker and consultant, all the while operating restaurants scattered from the chef's native Maine to Miami to Mérida, Mexico (locally, he also has a fast-casual option, Make Out, in Culver City). At Venice's Plant Food + Wine, French oak floors and white-marble tables inhabit a modern space warmed by a fireplace, while a gorgeous olive-tree-shaded courtyard brings guests even closer to the origins of Kenney's refined, artfully presented cuisine.
Meat may be off limits at Plant Food + Wine, but a mushroom pâté provides the illusion of something far more decadent, while a fingerling-potato poutine features smoked almond cheese, mustard greens and mushroom gravy. A selection of house-made nut cheeses is served with pickles and fennel crackers, and seasonal entrées might include spaghetti squash with tomatoes and fennel, dusted with sunflower Parmesan and topped with "meatballs" crafted from farro. What doesn't grow in the restaurant's on-site garden, Kenney and chef Scott Winegard find at the Santa Monica Farmers Market, just like Mélisse's Josiah Citrin and Maude's Curtis Stone. A five-course tasting menu with optional wine pairings is offered, and desserts include olive-oil cake with balsamic gelato and pumpkin pie with a pecan-oat crust.
The historic Grand Central Market has undergone a rather remarkable upgrade to coincide with downtown L.A.'s overall renaissance. An expansive, eclectic repertoire of innovative quick-service eateries now includes Eggslut, Wexler's Deli, Belcampo Meat Co., the Oyster Gourmet and Berlin Currywurst. One of the latest to occupy a coveted stall at the market is Ramen Hood, where Top Chef champion Ilan Hall is creating vegan ramen-noodle bowls and quirky snacks. Hall—the chef was a downtown pioneer with the Gorbals, which recently shuttered a couple blocks away—is able to infuse his dashi with rich flavors not from meats but from ingredients such as sunflower seeds. He then loads the broth with noodles, mushrooms, nori, bean sprouts and vegan "eggs."
Appetizers at the Hood include broccoli with soy-chili glaze, all-vegetable bánh mì poutine and tofu al pastor. Busy with a new Brooklyn branch of the Gorbals, Hall has assigned Rahul Khopkar to run the Grand Central Market kitchen. The two chefs insist that this is not a restaurant designed for vegans, but instead that Ramen Hood's celebration of fruits and vegetables in both traditional and nontraditional ways appeals to diners of all stripes—even those who usually gravitate toward the pastrami at Wexler's Deli.
Chef Roberto Martin has introduced an inviting juice bar and café called eLOVate to Santa Monica, offering a 100 percent organic, vegan menu. The Culinary Institute of America alum perfected his vegan cooking skills while serving as a private chef for Ellen DeGeneres, and those recipes were published in his first book, Vegan Cooking for Carnivores. Martin is now presenting his craveable vegan cuisine to the public.
Unlike in earlier eras—when chefs of Martin's caliber were too busy braising meats in French kitchens to open vegan cafés—the food at eLOVate is so attractively plated that it catches even the eye of carnivores. With its long, wood-topped bar, glimmering subway tiles and relaxing patio, eLOVate is an inviting space where an eclectic crowd samples burgers crafted from black beans, farro and shiitake mushrooms, or Thai-inspired bowls of steamed Bhutanese red rice, Khorasan wheat grain, vegetables and mint tossed in sesame-ginger dressing. Busting yet another stereotype, there's also an unexpectedly superb wine list here that includes pricey California labels like Wolf Family and Quintessa.
One of the most interesting undercurrents within the larger trend of plant-based cuisine is the emergence of the Latin-themed vegan restaurant. Gracias Madre in West Hollywood not only honors the role of mothers in traditional Mexican kitchens, but executive chef Chandra Gilbert also applies interesting multicultural twists to her organic, vegan menus. Starters might include cumin-scented lentil empanadas with tamarind-mint chutney, or hearts of palm "crab cakes" with chipotle aioli, which diners could follow with a Guatemalan-style tamal or sopes topped with guacamole, pineapple-habanero salsa, beans and cashew crema. For dessert, a fudge brownie is topped with salted mezcal caramel, coconut "bacon" and faux whipped cream.
In L.A., a plentiful selection of vegan dishes can be found at many Indian, Chinese and Middle Eastern restaurants, as well as at Satdha Plant-Based Thai Kitchen, whose menu is exclusively vegan. After munching on complimentary crispy kale chips, consider pad thai, an artfully plated quintet of mung-bean croquettes or vermicelli with mushroom-curry sauce. Finish with the likes of coconut black sticky rice with mango or taro tapioca pudding, all beautifully presented in this inviting eatery with sleek, modern lines.