Each week we spotlight top Los Angeles restaurants, dining and drinking experiences you need to try.
Edited by Christina Xenos
Plan Check Kitchen + Bar
Feb. 22. Celebrate four years of top burgers and comfort food at Plan Check. Tradition dictates that fourth anniversaries should be celebrated with flowers. As a nod to this historic practice, you can sink your teeth into the restaurant's Birthday Cake Crullers (birthday cake batter-doughnuts coated with white icing and crystallized rose, hibiscus, fennel flower and mint sprinkles for garnish) for free all day long at all locations (Sawtelle, Fairfax, Downtown). You can also look forward to a new Plan Check in Santa Monica later this year. plancheck.com
Harvard & Stone
Feb. 22. Celebrate five years of top cocktails at the Thai Town hotspot. The event launches Harvard & Stone's new cocktail menu and also features Oaxacan bites by Guelaguetza. OG Bar Manager Matt Wallace in the R&D Bar pouring the pouring the OG H&S opening menu. The night also features live bands and DJ tunes along with Illegal Mezcal cocktail specials. 5221 Hollywood Blvd., L.A. More Info.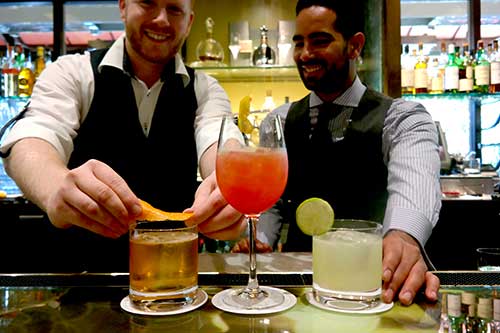 Windows Lounge at Four Seasons Los Angeles at Beverly Hills
Awards Season kicks into high gear the week before the Oscars so why not toast your favorite stars and movies over themed cocktails at celebrity hideout, Windows Lounge at Four Seasons Los Angeles at Beverly Hills. The bar is serving up three specials to celebrate the season. They are the Ruby Red (Sponsored by Moet), with hanger vodka, lemon citrus shurb, Moet & Chandon; Salt Road with Don julio tequila blanco, mescal, lime and cilantro; and The Revenant with Bulleit rye, Cardamaro and Nocello walnut liquor. 300 S Doheny Dr., L.A., 310.273.2222. fourseasons.com
Superba Food + Bread
Feb 23. A powerhouse roster of chefs including James Trees (Superba Food + Bread), Carlos Enriquez (Executive Pastry & Bakery Director Superba Food + Bread), David LeFevre (Manhattan Beach Post, Fishing With Dynamite, The Arthur J.), Steve Samson (Sotto), Bruce Kalman (Union, Knead & Co.), among others collaborate on a special dinner that benefits the Tehachapi Grain Project, whose mission is to preserve heirloom grains in California. Each of the seven chefs will prepare a course and mingle with the crowd of foodies, farmers and community leaders throughout the night. (photo Laure Joliet) $150/pp. 6-9 p.m. 1900 S. Lincoln Blvd., Venice. superbafoodandbread.com
Wally's Beverly Hills
Feb. 25. Enophiles have the rare opportunity to taste a variety of Valdicava Brunellos. Vincenzo Abbruzzese, owner and winemaker of one of Brunello Di Montalcino's most legendary wineries, Valdicava pour multiple vintages throughout the night. Guests will also be one the first to taste the 100-point 2010 Valdicava Madonna del Piano Riserva, one of the world's finest. 6:30-7:30 p.m. $45/pp. 447 N. Cannon Dr., Beverly Hills. wallywine.com
Sack Sandwiches
Opens Feb. 26. Chef-driven turns to guest-driven at Michael Voltaggio's new Sunset Strip sandwich spot. To take his beloved ink.sack concept to the next level, he dropped the "ink" and added "sandwiches" along with new menu offerings like Straus Creamery milkshakes, Stumptown nitro cold brew coffee and Boylan's fountain soda. You will still be able to sink your teeth into Sack's Cold Fried Chicken with ranch cheese, lettuce, pickles and hot sauce; and have an array other other choices like the Spicy Tuna with tuna salad, dynamite sauce, nori, pickles, lettuce and tomato; and  "BAE", bacon and egg with cheddar, arugula and mayo. Ink.Sack on Melrose is temporarily closed for its transformation into the second Sack location, while Sack Sunset opens Friday. 8915 W. Sunset Blvd., West Hollywood, 424.777.0113. SackSandwiches.com
Ocean Prime in Beverly Hills
The sprawling celebrity dining destination in the heart of Beverly Hills turns up the volume on surf & turf. Their new Sunday Surf & Turf menu pairs an 8 oz. filet with surf choices like shrimp scampi, crab cakes and sea scallops with sides like truffle mac 'n' cheese, creamed spinach, jalapeño au gratin and more. 9595 Wilshire Blvd., Beverly Hills, 310.859.4818. ocean-prime.com
Demitasse Roastery & Kitchen
You might be familiar with Demitasse Roastery & Kitchen's coffees made from house-roasted small batches of ethically sourced coffee beans; their fourth outpost in Hollywood offers that and so much more with the addition of globally inspired fare, beer, wine and shim cocktail menus. Owner Bobby Roshan opened the first Demitasse in Little Tokyo in 2011 and has woven his passion for coffee into a variety of espresso drinks and brewed coffees on their Curtis Seraphims, Nitro and Kyoto-Style Cold Brew systems. The Hollywood locale also offers housemade chai tea and swoonable lavender liquid hot chocolate. Executive Chef Jeff Lustre takes cafe food to new heights with creative dinner plates like hamachi crudo over avocado mousse, and pan-seared cod in a Fisherman-style stew. For breakfast and lunch, enjoy dishes like sweet potato pancakes with whipped yoghurt, dates and maple syrup sauce; breakfast sandwich with a fried duck egg; and Creekstone Farm brisket with caramelized onions and Chimichurri on a Cemita bun. The menu is filled out with carefully sourced beer and wine selections and shim cocktails like the Blood Orange Sake Swizzle with sake, lime and a rosemary and black pepper garnish. Open daily: B (7-10:30 a.m.), L (11:30 a.m.-2:30 p.m.), D (5:30-10 p.m.). 1542 North Cahuenga Blvd., L.A., 323.498.5155. cafedemitasse.com
Norah
Dine on an eclectic American menu ranging from housemade charcuterie to wood-burning grilled meats, fish and vegetables alongside cocktails, beer and wine in a Thomas Schoos-designed space. The new West Hollywood dining destination is the latest from restaurateur Rohan Talwar of acclaimed Ellipsis in Bombay. Chef Mike Williams (The Tasting Kitchen) helms the kitchen and turns out creative dishes like housemade ricotta with sesame, honey and sumac with grilled levain bread; uni butter-poached shrimp with smoked tomato and scallions; and cider-glazed heritage pork with sunchoke puree and flowering broccoli. Hamish McShane (Bayswater Brasserie in Sydney) heads up the cocktail program, which will focus on Southern California's plentiful citrus offerings. 8279 Santa Monica Blvd., West Hollywood, 323.450.4211. norahrestaurant.com
K Ramen. Burger. Beer.
Head to the second floor of Katsuya Glendale at the Americana at Brand for a new pop-up that offers ramen, poke and more. Slurp of bowls of lobster ramen made from a mix of chicken and fish stock, with lobster butter and a marinated egg; the half-pound burger boasts Katsuya's secret spicy mayo, and is paired with tater tots that are drizzled with duck fat; while a selection of poke dishes (think spicy creamy tuna, or snapper and kale in a yuzu ginger sauce) are served over aonori sesame rice. 702 Americana Way (2nd floor), Glendale, 818.741.2701. sbe.com