3 Los Angeles Restaurant Pop-Ups to Eat at Now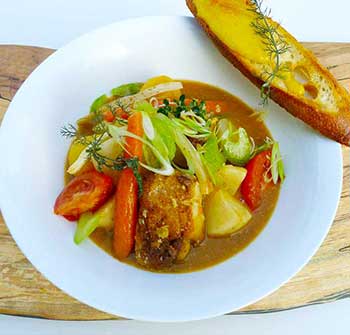 From dining at one of the most exclusive chefs tables in Beverly Hills to getting a taste of Paris in L.A., make sure to snag a seat a these three Los Angeles restaurant pop-ups before they're gone forever.
Fountain Coffee Room Pop-Up Dinners
Feb. 18-19. The legendary 19-seat Fountain Coffee Room inside the Beverly Hills Hotel transforms from casual cafe into chefs table for a new series of intimate dinners. Executive Chef Kaleo Adams serves up a four-course menu, highlighting the best of California's fresh and seasonal ingredients that will be paired with Domaine Anderson wine selections. You can make reservations beginning Jan. 30. $149/pp with wine pairings.
Coin de Rue
Feb. 12-14; 19-21; 26-28. Parisian-style bistro pop-up in Beverly Hills is a partnership from Executive Chef David Féau is partnering with AdVantage Partners' Adam Fleischman. Dine on a four-course prix-fixe menu that includes highlights like vegan onion soup; cabbage and sea urchin soft scrambled eggs with turmeric crab bisque; monkfish bouillabaisse; roast duck Apicius; and more. $55/pp, $25/pp wine pairings. Call 310.943.9650 for reservations.
Barbershop Ristorante
Feb. 13-14. Chef Walter el Nagar pops up especially to cook a special Valentine's weekend menu at Flake in Venice. The five-course prix-fixe menu brings together Italian cooking techniques with global ingredients. Hihglights include skinny capon (red beet, potatoes, salsa verde, ridgeback prawns and mussels), rossini 2015 (beef, foie gras, madeira and black truffle), kiss my tongue (veal, oyster, onions and horseradish) and more. $85/pp.