Indulge In Los Angeles Restaurants During Winter dineLA Restaurant Week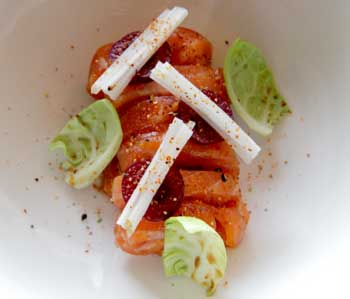 Dine at more than 300 top Los Angeles restaurants, which are offering specially priced prix fixe lunch and dinner menus during the wildly popular dineLA Restaurant Week, Jan. 20-31. Find out for yourself what's going on in the LA food scene!
By Christina Xenos
You know the drill: For 12 days restaurants all around Los Angeles will offer specially priced prix fixe lunch and dinner menus, so book your reservations now. But before you lock them in, here are a few things to know for this round of dineLA Restaurant Week.
$85 Tasting Menus
In addition to the usual two- to three-course prix fixe menus, select fine dining destinations—CUT, mar'sel, Melisse, Patina Restaurant, Spago Beverly Hills, and Valentino Restaurant—are offering multi-course tasting menus for $85.
At Wolfgang Puck's CUT steakhouse inside the Beverly Wilshire Hotel, you can sink your teeth into one such menu that lays out selections like Maine diver scallop ceviche, slow-braised oxtail consume with poached bone marrow, pan-roasted Maine black sea bass, dry aged New York sirloin steak and Irish whiskey chocolate cake.
New Los Angeles Restaurants
The week also gives you a chance to check out a few of LA's newest restaurants. Mud Hen Tavern from chef Susan Feniger, which recently arose in her former STREET location, features gourmet pub and comfort food. Dine on selections like green eggs and ham, lamb meatballs, tuna ceviche, vegetarian tostada for dinner on a $25 three-course menu. Over at Warren's Blackboard you can dine on cuisine influenced by LA's food culture by chef Warren Schwartz. This tranlates to a $15 lunch full of selections like mac and cheese balls with truffle oil, shortrib grilled cheese and orange and sage roasted Mary's chicken salad. For dinner ($35), look forward to highlights like albacore poke with crushed avocado and crispy wontons, handkerchief pasta with lamb neck and tomato ragu, diver scallops with kabocha squash risotto and more.
All-Time Favorites
Perennial favorites of the week include chef Tom Colicchio's Craft where you can explore a menu that includes a variety of first-course selections for the table—think albacore tuna and smoked chicken rillette. The Bazaar by José Andrés gives you multiple selections from their deliciously whimsical menu. Your caviar dreams can come true at Petrossian Paris Restaurant & Boutique with a $45 three-course dinner menu that includes Mediterranean sea bass with caviar and an optional caviar presentation that you can add on for $45. Travel to the south coast of France with Fig & Olive Melrose Place's indulgent Mediterranean menu; or to Mexico with upscale regional Mexican cuisine from chef Jimmy Shaw at four LA Loteria Grill locations.
Spotlight On
Here are a few other standouts in the DineLA lineup:
Allumette
The Echo Park destination for avant-garde comfort food offers a menu that lets you taste the delicious range of ingredients and flavors that chef Miles Thompson brings to the table. Stick with aquatic offerings, or mix and match with deft vegetarian options. The $45 dinner menu includes highlights like Kurodai (black sea bream) sashimi with yuasa shoyu and black truffle; branzino with shellfish tapioca and fried broccoli; blistered cauliflower with little gem lettuce, beets and pomegranate; white pumpkin agnolotti with white truffle, beurre noisette, among others. Cap it off with chocolate ganache with green tea merengue, chicory crisp and brioche cream for dessert.
Culina
Indulge in modern Italian feast inside the luxurious Four Seasons Los Angeles at Beverly Hills. The restaurant offers a two-course lunch ($25) featuring highlights like tartare di Dentice with red snapper, fennel, tomato marmelata, castelvetrano and parsnip crisp; chicken breast with creamy porcini polenta; and Branzino with tomatoes, capers and lemon. For dinner, dine on a three-course menu for $45 that includes the first course lunch selections for appetizers, main course offerings of scallops with eggplant camponata; mushroom risotto with blistered tomatoes; and sliced New York strip steak with grilled radicchio, walnuts and gorgonzola. Dessert options include honeycomb gelato and Neapolitan gelato pie.
The Wallace
Culver City's new seasonally inspired gastropub offers up lunch ($25) and dinner ($45). For lunch don't miss the ever addictive caramelized onion and blue cheese dip, which you could follow with main course options like truffled chicken salad, pappardelle with roasted mushrooms or Pacific rock fish tacos. Cap it off with with salted caramel pudding or ricotta fritters, which are also available for dinner. The dinner menu choices are even harder to make if you have to decide between the blue cheese dip and gruyere and black pepper popovers for a starter. The restaurant offers a generous selection of small plates for the main course, which include the aforementioned fish tacos, braised pork cheeks, grilled hangar steak, grilled cauliflower and sprouting broccoli.
Gusto
The romantic Italian trattoria serves food that will wow any discerning diner's palate. Chef Vic Casanova offers a three-course dinner menu for $35, that includes an abundance of selections for each course with highlights like crispy baby octopus, meatballs al forno in tomato sauce with pecorino cheese, orecchiette pasta with sweet sausage, beef short ribs braised in Barolo, Tasmanian ocean trout with caramelized mushrooms and cocoanut gelato pie.
For more information on dineLA, visit discoverlosangeles.com