Dine On Artful Bites at these Los Angeles Restaurants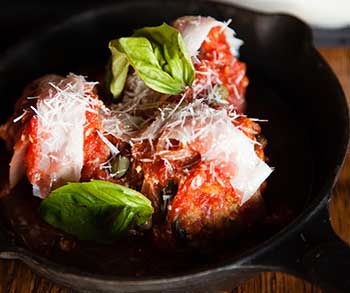 Discover the best Los Angeles restaurants to eat at while you're exploring the Los Angeles art scene.
Downtown
In the Arts District, fuel up with espresso from Blacktop (826 E. 3rd St.) or Blue Bottle Coffee (582 Mateo St., 213.621.4194) and a baked delight from Pie Hole (714 Traction Ave., 888.657.0586). Post-tour, try Eat.Drink.Americano (923 E. 3rd St., 213.620.0781) for New American cuisine (think charcuterie boards and craft beer) served in a casual setting. Sausage mecca Wurstküche (800 E. 3rd St., 213.687.4444) is a must for hipster meat lovers.
Because no museum or artwork in LA can be fully appreciated without a well fed belly!
Westwood & Pasadena
Hammer-proximal Westwood dining options range from farm-to-table fare at AMMO inside the Hammer, to UCLA student haunt TLT Food (1116 Westwood Blvd., 310.443.4433) to finer dining spots, including artisanal Italian restaurant Tanzy (10840 Wilshire Blvd., 310.307.7004). Another popular choice, Napa Valley Grille (1100 Glendon Ave., Suite 100, 310.824.3322) serves a mean salad and an impressive selection of California wines. Meanwhile, Espresso Profeta (1129 Glendon Ave., 310.208.3375), brews what might be Westwood's best coffee. In Pasadena, a 15-minute walk from the PMCA, Picnik (168 W. Colorado Blvd., 626.793.8008) earns raves for its hearty and handcrafted sausage and beer, while the squid ink garganelli and the black mission figs with house-made ricotta cheese at Bruce Kalman's Union (37 E. Union St., 626.795.5841) verge on sublime.
Culver City
Culver City's dining scene is as vibrant as its arts scene, and the historic Helms Bakery complex, just west of the main concentration of galleries, offers several stylish options for a pre- or post-gallery-hopping repast. Bucato (3280 Helms Ave., 310.876.0286) is a no-cellphone zone, so forget about Instagramming your plate and concentrate on enjoying each bite of Evan Funke's delectable handmade pastas. Nearby, chef Sang Yoon's Lukshon (3239 Helms Ave., 310.202.6808) serves innovative, beautifully presented Asian dishes and unusual wines in an elegant and serene space. A few doors away, at his more boisterous gastropub Father's Office (3229 Helms Ave., 310.736.2224), Yoon's famous "Office Burger," paired with a craft beer, is de rigueur. Between galleries, pop in to Cognoscenti Coffee (6114 Washington Blvd., 310.363.7325) for a hot pick-me-up and pastries from Proof Bakery.