Learn to Cook "Modern Italian" at Culina's Tasting Panel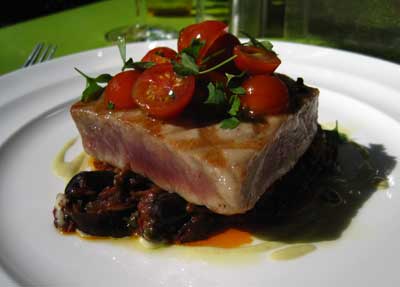 How would you describe "Modern Italian?"
When Chef Victor Casanova, of Culina Modern Italian at the Four Seasons Beverly Hills, muses over the meaning of the concept, he conjures the idea of picking up Italian cuisine from the old world and elevating it using fresh, accessible ingredients and clean simple flavors.
On the second Saturday of every month join Casanova on the Culina patio, and follow his steps to creating Modern Italian cuisine at Culina's "Tasting Panel" course. It's simple really; just pull up a chair and watch—sparkling wine in hand—as Casanova demonstrates creating dishes such as Involtini: yellow tail, sea urchin and basil rolled in a cucumber topped with a sea urchin vinaigrette; Estate: a salad of wild arugula, corn shoots, grilled corn, Santa Barbara spot prawns and heirloom tomato vinaigrette; seared Ahi tuna, served on a bed of eggplant Funghetto and Banga Cuda; and Fragole: sweet California strawberries served on top a whipped black pepper-laced ricotta and basil. For better visuals, check out our photo album below.
At the end of the cooking demonstration, Sommelier Brick Loomis discusses the perfect wine pairings for each dish. Then everything you've learned about creating the perfect plates and the wines that they pair with fuse for an unforgettable lunch.
All the recipes offered in each of the the tasting panels are new, and you get the opportunity to rate them and decide if you would like to see them on a future Culina menu. At the end of the afternoon, Casanova will send you on your way, armed with a set of recipe cards, so you can continue creating modern Italian cuisine at home.
Culina's Tasting Panel beings at 2 p.m. and lasts approximately two and a half hours. Second Saturday each month through 2011: Aug. 13, Sept. 10, Oct. 8, Nov. 12 and Dec. 10. $85/pp.
Culina Modern Italian, Four Seasons Beverly Hills, 310.860.4000. culinarestaurant.com
Culina Modern Italian Tasting Panel Course
[nggallery id=51]