Create Your Perfect Pair of Sunglasses With Made Eyewear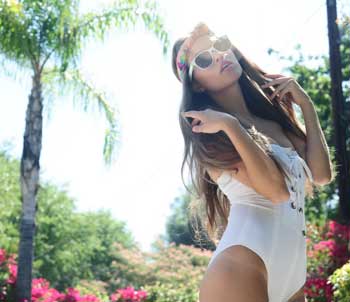 Want to shine this summer with customized sunglasses? Newly launched Made Eyewear lets you style everything down to the lens.
By Christina Xenos
In Los Angeles standing out is everything, and your summer sunnies are an integral part of stepping into the spotlight, especially if you're heading to outdoor concerts or the beach. Enter Made Eyewear: The new online eyewear brand, founded by Angeleno Kevin Hundert, lets you customize your perfect pair of shades—including prescription eyewear—by mixing and matching colors, frame shapes and embellishments.
Here's how it works, just log onto madeeyewear.com and choose from eight pre-designed frames available in eight colors from pink to green, black to tortoise to clear. Next, you pick your lenses (brown, gray or orange mirror) and temples where you can mix and match colors and add laser-engraved embellishments like skulls, animal prints, flames and more; you can also choose a custom text up to 25 characters (I love mom, RyGos 4EVA, or your favorite yoga mantra), but think hard because unlike your tattoo, this is forever.
If you want to be completely sure that what you created will be your most favorite pair of sunglasses, flip on your webcam to try on your frames virtually, using Made's cutting-edge software. The program zones in on hundreds of specific points on your face in 3D so you can experience how your glasses fit your face, even as you turn or angle your head. Like what you see? Then all you need to do is push a button and keep an eye on the mail for your specs.
I chose the Samantha frames in black and added on skull-embellished pink temples to both sides (cause I'm tough like that), with my signature xtinax finishing it out. What will you make?
Sunnies start out at $84 with temple engraving at $5 each; adding your prescription to it brings your grand total to $114.
Start designing at: madeeyewear.com