Common Grains Soba Pop-Up and Dashi Workshop
Though Los Angeles thrives with Japanese cuisine, it's not every day that a soba master comes to town. Through Feb. 21, eat artisan soba at the Common Grains soba pop-up.
By Christina Xenos
In a rare event, Artisan soba makers Sonoko Sakai and Mutsuko Soma bring the skill of housemade soba noodles to Los Angeles through Feb 21. At the Common Grains soba pop-up (that coincides with the grand opening of Soba-Ya), you have the chance to dine on freshly stoned-milled and handcrafted soba prepared with a choice of traditional or modern ingredients and garnishes and specialty onigiri (rice balls wrapped in seaweed).
Bonito, also called katsuobushi (shaved flakes of dried, fermented and smoked skipjack tuna), is the heart of soba dipping sauce, and of the dashi broth that is the cornerstone of Japanese cooking. In a recent workshop Sakai demonstrated how to create different types dashi, which is infused by the delicate pink petals of bonito.
In the workshop Sakai demonstrated how to make dashi from a variety of bonito, konbu (kelp), shiitake mushroom and dried sardines.
To make dashi, you first have to boil the bonito flakes: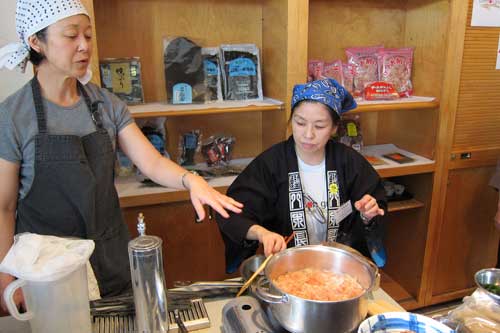 Then you strain the bonito from the broth: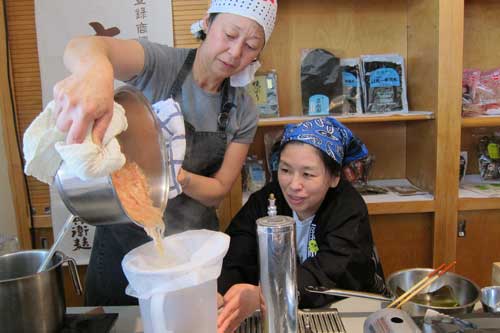 You can also use konbu to flavor a broth.
(This was an unusually large piece of konbu.):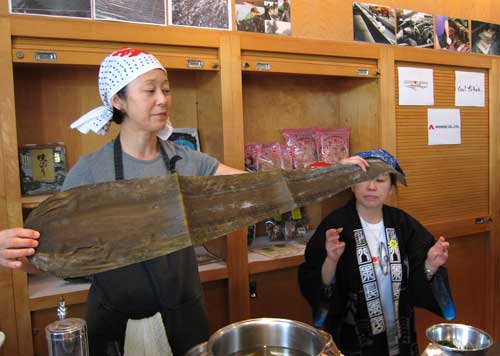 Sample of the dashi with pieces of housemade fu (baked wheat gluten):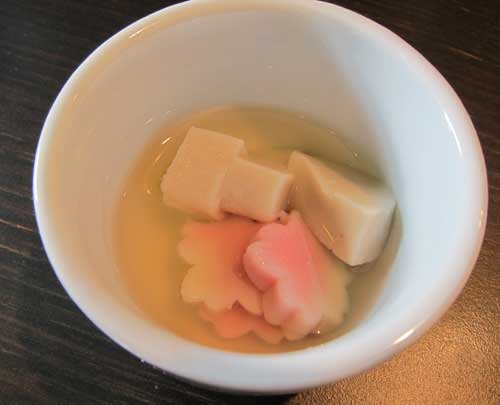 Onigiri with bonito flakes on top: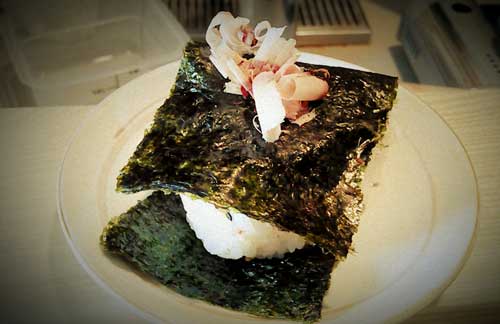 Soba Pop-Up at Soba-Ya, 1757 W. Carson Street, Suite R & S, Torrance, 310.782.7356. www.commongrains.com