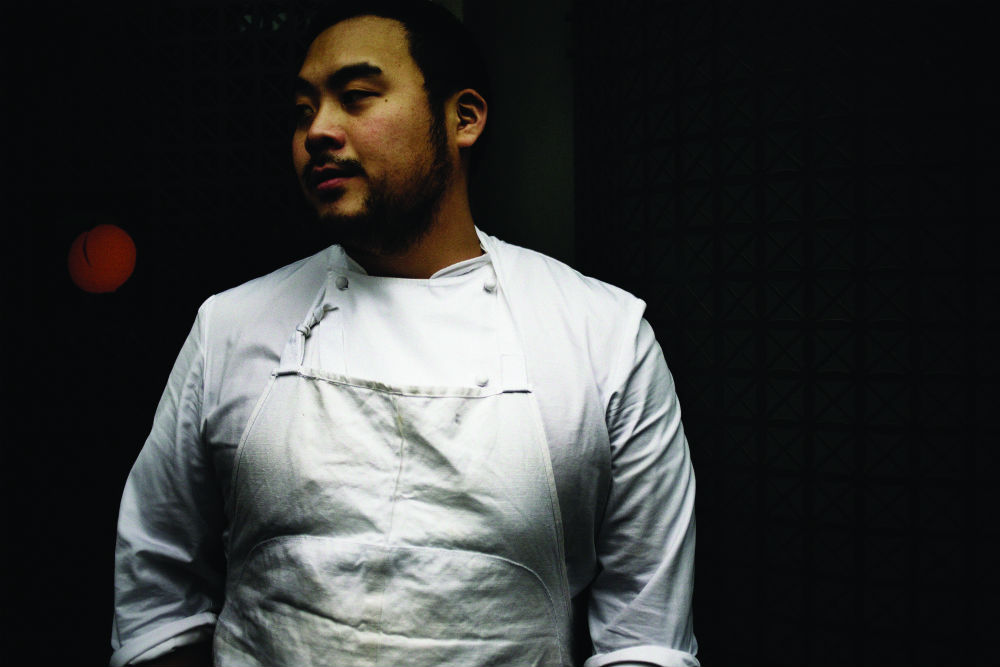 By Roger Grody.
Some influential New York chefs have recently opened restaurants in Los Angeles—the very place many Manhattanites long deemed unworthy—including Jean-Georges Vongerichten, April Bloomfield and Daniel Humm, to name a few. Perhaps the most eagerly anticipated was wunderkind chef/restaurateur David Chang, whose Majordomo brings a hot table to a forgotten part of town.
Majordomo is identifiable from the outside by Chang's signature peach logo and some Japanese characters that spell "Momofuku," the name of his restaurant group. Pulling up, it becomes clear that this neighborhood is a genuine frontier. The site, a former warehouse across the L.A. River from San Antonio Winery and Union Pacific's massive Piggyback Yard, is technically in Chinatown, but not a part you've likely ever been to.
The dining room has an industrial-chic vibe—raw concrete walls, exposed ducts, metal sash windows and factory-inspired lamps—but is warmed by walnut tables paired with blackened wood-and-leather chairs. Handmade Korean-inspired earthenware from potter Adam Field line shelves along with fermented products from Chang's kitchen.
Possibly the best place to sit is on the inviting patio, separated from the dining room by a wall of glass, with lights strung overhead and a mural by street artist David Choe covering the back wall.
An entire section of shareable snacks is accompanied by bing, a fluffy Chinese flatbread grilled to order and served steaming hot. Notable among these offerings is a small bowl of shredded lamb whose ample chili slices do not overpower but rather complement the richness of the meat. Equally memorable with bing is a dish in which frozen foie gras is finely shaved over ricotta cheese and plum jam, a true transformation of an ingredient that has become far too predictable.
A liberally peppered dish of macaroni is tossed with Hozon, a fermented chickpea seasoning akin to miso that is trademarked by Chang and produced in his lab in New York. A funky riff on mac and cheese, this upscale dish is shaved with black truffles by a server. Given the generosity of the shavings, the potency of the precious ingredient is mildly disappointing, but this is nonetheless a satisfying dish and a good representation of Chang's culinary approach.
Some of the vegetarian dishes at Majordomo are particularly recommendable, and they tend to possess refreshing qualities that pair well with the heavier dishes on the menu. Marinated oysters, enoki and honshimeji mushrooms, tossed with braised pistachios and cured radishes, are plated with a wonderful pistachio puree. Equally addictive are string beans with almonds in a classic French gribiche, a mayonnaise-based sauce, cleverly accented with pickled cherries.
Worth sharing is a boneless chuck short rib braised with Asian pear and daikon, arriving in a black kettle and served like a stew, perhaps a take on the Korean specialty galbi-jjim. For this dish, the presentation drama—and much of the flavor—results from a server shaving Raclette, a pungent Alpine cheese, from a partially molten wheel into the kettle. An exceptional dish is black cod, a clean but sumptuous filet whose slight sweetness comes from a marinade of chickpea Hozon, sake and mirin.
The wine list at Majordomo is eclectic and fun, with intriguing options available for more restricted budgets. As might be expected from the esoteric Chang, there are sections for both white and red wines titled "Something Different" that include the likes of a merlot-semillon blend from Sam Vinciullo of Australia's Margaret River region or a viura, of the less common white wines from Rioja, from Olivier Rivière.
Desserts tend to be underemphasized here, but a formidable strawberry kakigori (Japanese shaved ice) is topped with meringue, while its core consists of green ice flavored with shiso and Thai basil. Also available is chocolate-banana mousse with miso butterscotch.
Anybody who has waited in line at Chang's original East Village restaurant for a bite of his signature pork-belly bun—before he morphed from emerging star to celebrity restaurateur—might be disappointed by the chef's first West Coast eatery. It may not be magic, but it is hardly ordinary.
Majordomo, 1725 Naud St., downtown, 323.545.4880. majordomo.la