Celebrity Interview: Wendi McLendon-Covey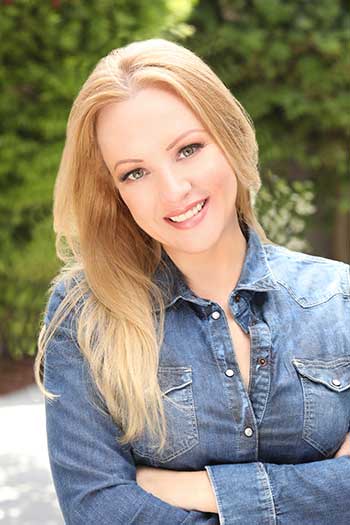 Long Beach native, Wendi McLendon-Covey chats about ABC's hit comedy The Goldbergs, Robin Williams and her perfect day in L.A.
By Jessica Radloff
Ask most locals what the downside is to living in SoCal, and they'll tell you it's traffic. But for Wendi McLendon-Covey, star of ABC's hit comedy The Goldbergs, a three-hour round-trip commute to Sony Studios in Culver City is a price she's willing to pay to live in her hometown of Long Beach.
"My parents are here, my friends are here, it's near the water, and [it's a] big metropolitan city," she explains.
That family-oriented upbringing didn't naturally lead her to acting, however—as she tells it, her parents did not encourage her passion for the craft. But her confidence grew when she got married and joined famed improv company the Groundlings, which led to a five-year stint on Reno 911! Multiple TV and film roles followed, but none as high-profile as Bridesmaids, which catapulted the star to new levels. Here, she talks about what she's learned, what it's like going back to the '80s, and the best chilaquiles in town.
What's it like transforming into Beverly Goldberg each week on The Goldbergs?
The minute I put on the wig, the shoulder pads and those sweaters, I feel like bossing people around. That's how moms dressed, and I immediately feel authoritative. And the real Beverly Goldberg and I actually look alike!
Whom do you feel the most maternal toward on the set?
Troy Gentile, who plays Barry, my older son. He just moved into his first apartment in real life, so all I can think of is "Who's doing your laundry? Do you have enough toilet paper? Do you need stamps? What are you eating away from here? Is there a single vegetable in the house?" These things run through my mind, and it is so not my business. [Laughs]
What's your relationship like with Jeff Garlin? I know he's often pantless on the show.
I love him so much. If he's pantless, I don't even notice it anymore. I don't even care! I could have full, serious conversations with him and not even notice if his pants are on or off. He just lifts my spirits.
You played Robin Williams' daughter in one of his last films, A Merry Friggin' Christmas. What was that like?
I was so tongue-tied when I met him, all I could think was, "Gosh, don't say anything stupid!" But we had a good time acting together. There were times when I wanted to bust up laughing, and when he would see someone about to lose it, he would just do it more and more.
Any chance of a Bridesmaids sequel?
It's not happening. I would love to do it, but if no one's going to write it … it's all in Kristen [Wiig]'s hands.
What advice would you tell your younger self?
There is no such thing as rejection. It's just about being diverted to where you're supposed to go. Every time I've lost out on something, something way better came up. Or I dodged a bullet. The old adage "Rejection is God's protection" … I totally believe that.
Wendi's Perfect Day
⁄ morning ⁄
Rise 'n' Shine
The best breakfast is Schooner or Later in Long Beach for chilaquiles.
[After breakfast] I would put on my roller skates and skate from the Belmont Peninsula down to Shoreline Village (562.435.2668) and back.
⁄ midday ⁄
Active Pursuits
Then I would probably go on a hike and see some tide pools near the Terranea Resort near Palos Verdes.
… For shopping, South Coast Plaza is my jam.
⁄ evening ⁄
That's Entertainment
I'd then probably have dunch, which is a mixture of dinner and lunch, at Pitfire Pizza in downtown L.A., [and] I would go see a show at the Ahmanson or the Mark Taper.
⁄ late night ⁄
Going Hollywood
I love the Velvet Margarita, and I love to hear jazz at the Catalina Bar & Grill.