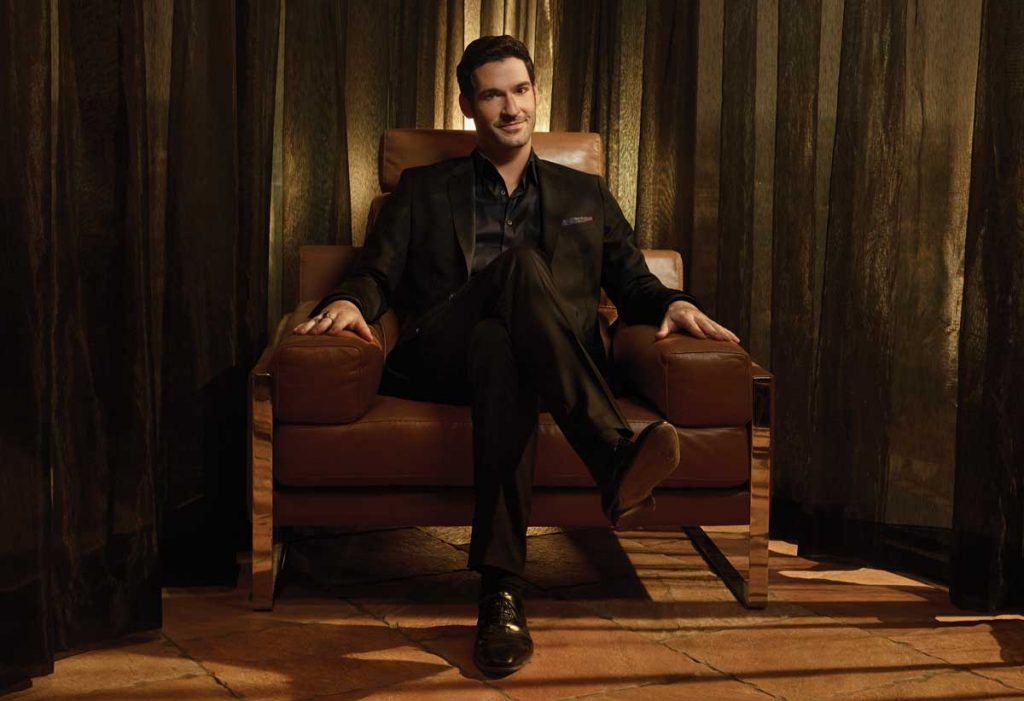 Lucifer star, Tom Ellis chats about his role on the Fox hit, being a dad and his favorite things to do in Los Angeles.
Adapted from The Devil in Disguise by Jessica Radloff, in the March 2016 issue of WHERE Los Angeles Magazine
Tom Ellis may have a family full of ministers, but the 37-year-old native of Wales says he never considered that path. "The preachings I grew up with were about love, understanding, acceptance. Still, whenever I was asked if I wanted to follow in my father's footsteps, I was like, 'Nope!'" he laughs. Instead, Ellis earned roles on the BBC's EastEnders, the USA Network's Rush and, now, Fox's Lucifer, which he describes as equal parts procedural, supernatural, fantasy and comedy. While digging his teeth into the devilish title role—drawn from the comic-book series, he emphasizes—Ellis is getting to know the City of Angels, where the show is set. "My best friends from London live in L.A., so I stay with them," he says. "It's nice because I have a bit of normality and grounding."
Charm and confidence help Lucifer get out of a lot of sticky situations. What qualities do you possess that have helped you succeed in Hollywood?
A few years ago, I got to a point where I stopped trying to impress people. I stopped worrying what people wanted from me and actually started to gain some confidence about what I might have to offer.
You've made a playlist of Michael Bolton songs, so I'd say that's confidence in the best way possible!
[Laughs.] Well, I don't profess to be this alpha male. I'm a bit goofy. People think they have to be cool all the time, but I think it's much cooler to just be yourself.
In the pilots of both Rush and Lucifer, you're seen speeding down Hollywood streets in a convertible. Is this in your contract?
If that's going to be my career path, I'm not complaining! Anytime I'm doing scenes like that, I'm like, "Oh, my God, I'm driving a convertible down Hollywood Boulevard or the PCH!" It's just ridiculous.
Several billboards around L.A. feature hit NBC shows, but, recently, someone has been writing "Watch Lucifer" in graffiti all over them. Do you want to confess anything?
I genuinely don't know! But someone sent me those photos, and I put them on Twitter. I have to say that I don't publicly condone this behavior, but it's kind of hilarious and very much in the spirit of what the show is! I genuinely don't know who did it, but I had no problem reposting those photos sent to me!
You're a father to three daughters, ages 10, 7 and 3. What kind of dad are you?
I'm really close to my girls. My kids are the least impressed of anyone of my career, but they're also really proud of me. People ask me what it's like having three daughters, and I say, "It's great! But ask me again in five or 10 years." [Laughs.]
Growing up, was there a role or movie that inspired you?
I watched Much Ado About Nothing and saw Kenneth Branagh and Emma Thompson speak Shakespeare in a very brilliant and understandable way, and it connected with me completely. That was the film that made me go, "Oh, yeah, I kind of get it now."
Aside from the weather, what do you most appreciate about L.A.?
The aesthetic. It's very different from London. There are parts of it that are very pretty, particularly the nature around it being right by the ocean and the mountains. … It's been a very positive place for me, and that's why I love it.
What are your favorite restaurants?
I love Osteria Mozza. It's one of my favorite [places to eat] Italian meals, and they have amazing wine. I spend a lot of time at Soho House. It feels a bit like the British Embassy! [Laughs.] It's the best view in L.A. The big difference between the U.K. and here is that people are fascinated by food in America. They talk about it a lot. We talk about the weather in the U.K. You guys don't talk about that here!
Where do you go to get an authentic British meal in L.A.?
The Pikey on Sunset and The Village Idiot. That's good grub! I do love me some fish 'n' chips. But when I'm in L.A., I'm all about the burgers. They're infinitely better here than back home. Any hotel that I've stayed in, the burger is amazing.
(THE DEVIL IS IN) THE DETAILS
The Pikey 7617 Sunset Blvd., L.A., 323.850.5400. thepikeyla.com
Osteria Mozza 6602 Melrose Ave., L.A., 323.297.0100. osteriamozza.com
Soho House 9200 Sunset Blvd., West Hollywood, 310.432.9200. sohohousewh.com
The Village Idiot 7383 Melrose Ave., L.A., 323.655.3331. villageidiotla.com