Celebrity Interview: Sean Hayes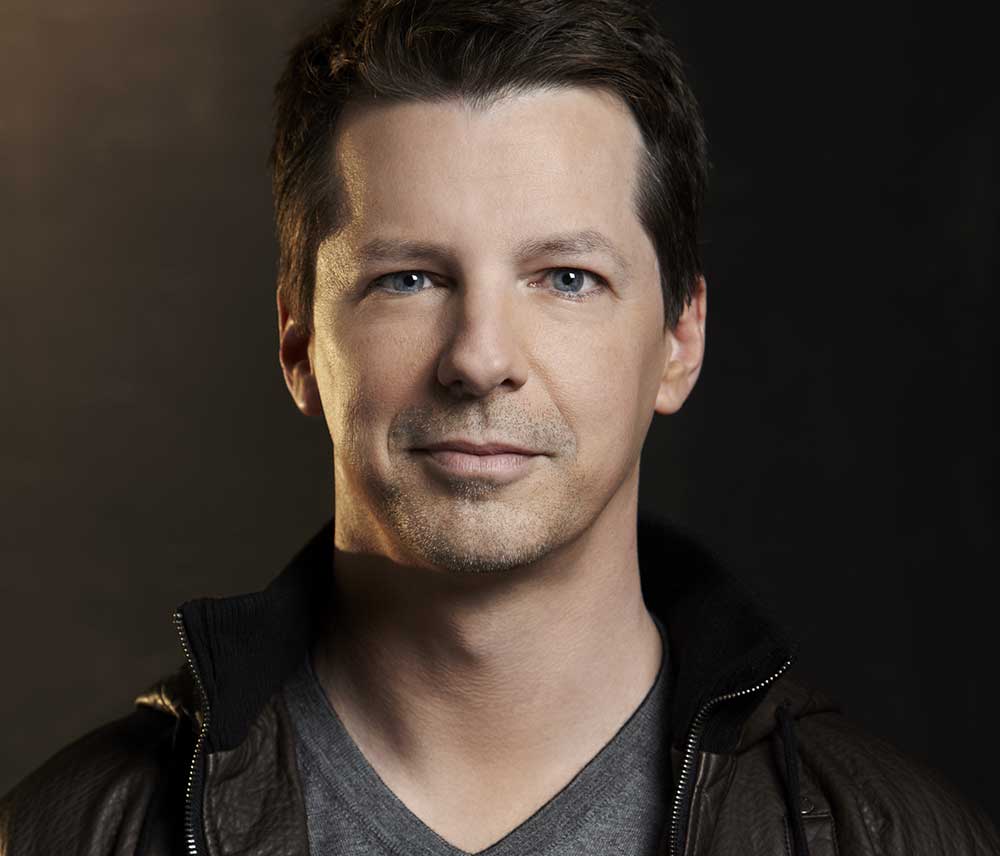 Find out what Sean  Hayes has to say about his creative process and his favorite Los Angeles haunts, then head to the Ahmanson Theatre to hear His message.
By Suzanne Ennis
An Act of God, the hit Broadway comedy from former The Daily Show With Jon Stewart head writer and executive producer David Javerbaum, has descended upon the City of Angels. Channeling the Big Guy himself is the divine Sean Hayes, who earned stardom (and an Emmy) as Jack McFarland on Will & Grace. Since then, the Chicago-born, L.A.-based talent has racked up Tony and Grammy nods for his work onstage and produced such hits as Grimm with his Hazy Mills Productions. Read on to see what Hayes has to say about his creative process and his local haunts, then head to the Ahmanson to hear His message. Can we get an amen?
As a kid in Chicago, what attracted you to performing?
When I was 11 years old, my brother took me to see E.T. for my birthday, and I cried like a baby at the end. I told my brother afterwards that I'd give anything to be that kid in the movie. He said, "Yeah, a lot of kids out there would give anything to have an experience like Elliott," and I said, "No, I meant I'd give anything to be Henry Thomas, who got the opportunity to star in something that brilliant." That's when my mind shifted into becoming aware of the business side of acting—that I didn't just have a love of film, but also a passion for the art of acting. [During] the same time period, I used to lock myself in my room on a Saturday night and watch [Saturday Night Live]. Martin Short, Steve Martin, Billy Crystal, Dana Carvey … those guys were my idols.
How has being a producer affected your approach to acting and vice versa?
When I started Hazy Mills with Todd Milliner, I did so because I've always been fascinated with how things are made. … And ever since we started producing together, I have [had] an entirely new appreciation, respect and overall awareness of all departments. … However, when I'm not producing something, it makes my acting gigs more fun. There [are fewer] pieces of the puzzle I have to personally attend to, and it frees me up to give more focus to character study and interpretation of dialogue.
Do you prefer working in film, on the small screen or onstage?
I love making films when given the opportunity. They seem to be much more fulfilling, artistically. That said, my time on Will & Grace was such a wonderful showcase for me, and I'm forever grateful. That being said, there's nothing like the immediacy of performing live onstage. It scares the s— out of me, and I think that's why I do it.
What do you look for in a role?
I look to see if it's a role that I can portray authentically. Audiences are far too smart these days and can immediately sense when someone is miscast. I never want to be perceived that way.
How did you feel about taking on the role of the Almighty in An Act of God?
The same as I felt taking on the role of the devil in Damn Yankees.
How long have you lived in L.A.?
Twenty years. Six more and I'll have lived here longer than my hometown of Chicago.
What's your favorite place to eat after a rehearsal or show?
I love Craig's, Il Piccolino and Izaka-ya by Katsu-ya in West Hollywood. Marino's in Hollywood. I also love the Tower Bar at the Tower Hotel on Sunset—day or night. But one of my all-time faves is Pie 'n Burger in Pasadena. Worth the trip.
What kind of music do you like, and where do you go to hear live music in L.A.?
Having studied classical my whole life, I have an appreciation for all genres, with the exception of, maybe, heavy metal—unless for comical use. I particularly love the feel and experience of Disney Hall. It reminds me of some of the concert halls in Chicago.
What else would your perfect day out and about in L.A. entail?
I also love the Huntington gardens in Pasadena. I sometimes go alone and love the quiet there.
It's awards season. How do you get "red-carpet ready"?
You're lookin' at it. Do you want to borrow it?
DETAILS
Craig's, 8826 Melrose Ave., West Hollywood, 310.276.1900
Il Piccolino, 350 N. Robertson Blvd., West Hollywood, 310.659.2220
The Izaka-ya by Katsu-ya, 8420 W. 3rd St., L.A., 323.782.9536
Marino Ristorante, 6001 Melrose Ave., L.A., 323.466.8812
Tower Bar, 8358 Sunset Blvd., West Hollywood, 323.848.6677
Pie 'n Burger, 913 E. California Blvd., Pasadena, 626.795.1123
Walt Disney Concert Hall, 111 S. Grand Ave., downtown, 323.850.2000
Huntington Library, Art Collections and Botanical Gardens, 1151 Oxford Road, San Marino, 626.405.2141