Celebrity Interview: Rob Corddry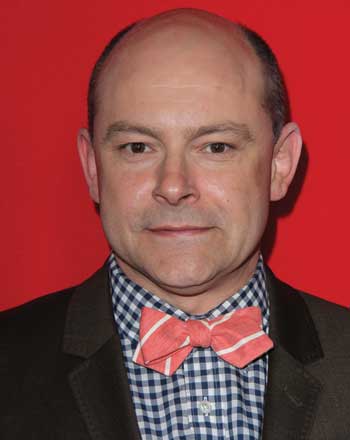 Funnyman Rob Corddry, who shot to fame as a correspondent on The Daily Show With John Stewart, is in the midst of a banner year. Check out what's on tap for him and some of his favorite things to do in Los Angeles.
Forty two-year-old Rob Corddry graces movie screens this summer in The Way Way Back with Toni Collette and Steve Carell; Lake Bell's buzzed-about directorial debut In a World…; and the time-traveling comedy sequel Hot Tub Time Machine 2. Corddry is also back on Childrens Hospital, the Emmy Award-winning TV series that he created, which kicked off its sixth season last month on Adult Swim. The Massachusetts native resides in the Silver Lake/Los Feliz area ("I live right on the line, which makes me pretty rad, I guess") and told Where how he likes to chill in L.A.: dining fabulously, exploring idyllic parks and (if you believe him) painting pottery. —Jessica Radloff
You moved to Los Angeles six years ago. What was your initial reaction to the city?
I moved from NYC, which I never thought I'd do. I was prepared for the worst. L.A. gets such a bad rap, but I was pleasantly surprised by how easy it is to live here. I love driving and I hate putting winter clothes on children.
Which of your projects are you most excited about right now?
Childrens Hospital is my baby and I hand-picked the cast with the people I most want to surround myself with. But I'm … deep into shooting HTTM2 right now, so I'm pretty into these folks. Clark Duke and Craig Robinson are my brothers.
You've been in the industry for a long time. What do you wish you had known when you were just starting out?
Nothing. That would be like saying that I'd change something if I had the chance, and I wouldn't. I had a lot of fun. And I was in it for the long haul, so I was very patient.
What's next for your career?
I don't know. What do you have? I'll do it.
When you're not busy working, how do you like to spend time with your family? What are some of your favorite family friendly things to do in LA?

The kids love Katsuya at the Americana. We bike the loop in Lacy Park in Pasadena a lot, and one of my new favorite things to do is go to Color Me Mine. I guess I like painting ceramic figurines.
Being from the East Coast, you're a pizza guy. Have you found authentic options in L.A.?
Tomato Pie is the closest that meets my impossible standards, but I also love Village Pizzeria. D'amore's on 3rd Street is as good as any East Coast standard.
What are your other favorite spots to dine?
[For Asian food,] Din Tai Fung is one of the best in the country, but it's all the way in Arcadia. My standard is The Palace in Los Feliz or Ghengis Cohen.
For sushi, there's Wa Sushi, Sasabune, Sugarfish—the list keeps going.
Do you have a favorite beach in L.A.?
Manhattan Beach, but only because I have family out there. I'm not a beach guy. The ocean scares the s**t out of me. I like Elysian Park. Lots of shade.
Any particular venue in L.A. where you like to see comedy?
I don't usually go see comedy. When you punch out, do you go home and read magazines? Did that seem bitchy?
DETAILS
Color Me Mine 12080 Ventura Place, Studio City, 818.762.4434
D'amore's Pizza 8369 W. 3rd St., L.A., 323.951.0070
Din Tai Fung 1108 S. Baldwin Ave., Arcadia, 626.574.7068
Elysian Park 835 Academy Road, L.A., 213.485.5054
Ghengis Cohen 740 N. Fairfax Ave., L.A., 323.653.0640
Katsuya 702 Americana Way, Glendale, 818.244.5900
Lacy Park 1485 Virginia Road, San Marino, 626.300.0790
Manhattan Beach 1400 Highland Ave., Manhattan Beach, 310.802.5000
The Palace 2112 Hillhurst Ave., Los Feliz, 323.667.1595
Sushi Sasabune 11917 Wilshire Blvd., West L.A., 310.478.3596
Sugarfish 212 N. Cañon Drive, Beverly Hills, 310.276.6900
Tomato Pie 2457 Hyperion Ave., Silver Lake, 323.661.6474
Village Pizzeria 131 N. Larchmont Blvd., L.A., 323.465.5566
Wa Sushi & Bistro 1106 N. La Cienega Blvd., West Hollywood, 310.854.7285