Celebrity Interview: Paul Adelstein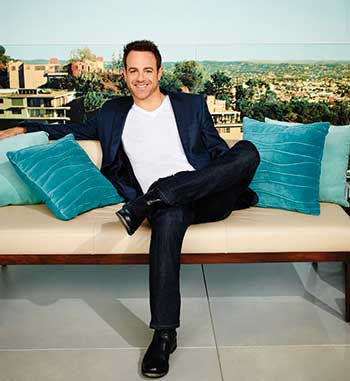 Catch up with Girlfriends' Guide to Divorce and Scandal Star, Paul Adelstein.
Get ready for your newest TV obsession, courtesy of Bravo's first scripted series in the network's history: Girlfriends' Guide to Divorce, starring Lisa Edelstein and Paul Adelstein as a recently separated couple trying to navigate life, family, kids and career. Consider it a hybrid of Parenthood and Sex and the City, with Adelstein not only starring in the drama, but writing for it as well (the show premiered on Dec. 2, 2014).
Fortunately, Adelstein's real life is much less dramatic than that of the character he plays on the show. The 44-year-old Chicago native, most recently seen as Leo Bergen on Scandal and as Minnie Driver's husband in Return to Zero, is married to How to Get Away With Murder's Liza Weil, with whom he has a 4-year-old daughter. The biggest obstacle they're navigating these days is their commute, with Murder shooting in Los Angeles, and Girlfriends' Guide filming in Vancouver. On a recent travel day, Adelstein caught up with Where Los Angeles magazine to bring us up to speed. —Jessica Radloff
Happy 10-year anniversary in Los Angeles!
Thank you! I spent a lot of time in L.A. before I technically moved there, so it hasn't flown by, which is a good thing. As soon as I first officially moved to L.A., I got Prison Break and then went back to Chicago. Then there was a year shooting in Dallas, then I got married, and had a baby, so a lot has happened in these last 10 years. I wanted to make a living as an actor and play music, and those things have happened, so that's pretty great. I'm really lucky.
How did the role on Girlfriends' Guide to Divorce come about?
I went in to audition, and I knew [writer] Marti Noxon before because she ran Private Practice for a bit, and I knew [producer] Dawn Parouse from Prison Break. We had a ball shooting the pilot, and then Marti asked me after if I would want to write on the show if it got picked up. She knew I had sold a previous pilot, and so we talked about ideas, and then I ended up in the writers' room. I wrote episode four, which aired on Dec. 23, 2014.
How would you describe the show?
It's a look at marriage and adult friendships through the lens of divorce when people are already established in their careers, have kids and lives. This is a couple that has been together 20 years, and you see her life blow up. I play her husband, and the assumption is that he'll be the bad guy, but I don't really think there is a bad guy.
You returned to Scandal last month and are clearly a Shondaland favorite. How does that work, though, when it comes to other projects, like Girlfriends' Guide to Divorce?
As for Scandal, yes, I have a nice juicy storyline. I don't know how long it will last, but it was really fun to come back. There was very little overlap with the shows, and Scandal knew what I was up to, and they would call to make sure things would work. Everyone is really accommodating, which is so nice.
Fans still miss Private Practice. Where would your character, Cooper, and his wife, Charlotte, be today?
I guess they'd have three 3-year-olds. So they'd be very, very busy! The question is, "Has Cooper gone back to work yet, or is he still staying home?" I'd imagine he's still staying home and has a big beard.
Describe your perfect L.A. day.
I like starting my day by drinking coffee on my back porch and hanging out with the family, but Beachwood Cafe has great coffee too. I like to go to Larchmont Village, where there's a bunch of cool shops and it feels neighborhood-y. For walking or hiking, I like going to Griffith Park. Another thing is Trails. It's an outdoor café in Griffith Park where you can get sandwiches and salads, and a lot of people bring their kids and there's all these hiking trails that end right there. It's great. I love music, and I could spend an entire day playing various guitars at Norman's Rare Guitars in the Valley. There's also McCabe's Guitar Shop in Santa Monica, which is incredible. I like Pace or Little Dom's for dinner with my wife. Pace has great everything and has so much L.A. history attached to it.
Details
Beachwood Cafe 2695 N. Beachwood Drive, L.A., 323.871.1717
Griffith Park 4730 Crystal Springs Drive, L.A., 323.913.4688
Larchmont Village North Larchmont Boulevard between West 1st Street and Beverly Boulevard, L.A.
Little Dom's 2128 Hillhurst Ave., L.A., 323.661.0055
McCabe's Guitar Shop 3101 Pico Blvd., Santa Monica, 310.828.4497
Norman's Rare Guitars 18969 Ventura Blvd., Tarzana, 818.344.8300
Pace 2100 Laurel Canyon Blvd., L.A., 323.654.8583
The Trails Cafe 2333 Fern Dell Drive, L.A., 323.871.2102