Celebrity Interview: Michael Fitzpatrick (aka Fitz of Fitz and the Tantrums)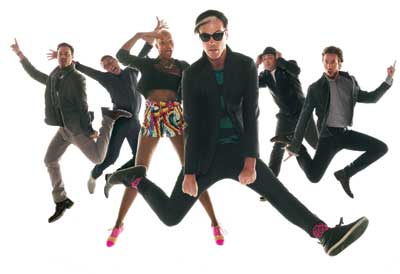 Success in the music industry is, at least partially, about being able to predict trends. Michael Fitzpatrick—better known by his showbiz moniker Fitz—has had his finger on the pulse for quite some time.
The Los Angeles musician, who is the lead vocalist and songwriter for soul–indie pop band Fitz and the Tantrums, has resided in bohemian Silver Lake since "before it was the hip place to live," he insists. "It has so much character and vibe, and is just a real, down-to-earth part of L.A." The band released its breakthrough album, Pickin' Up The Pieces, in 2010, and was named by Rolling Stone as a "band to watch" shortly thereafter. As the band gets ready to release its follow-up record, Fitz sat down with Where Los Angeles to talk career highlights, industry challenges and L.A.'s hip and happening places. —Jessica Radloff
Where did the name the Tantrums come from?
My friends threw it out, and I thought it perfectly captured the vibe of the band and what we were trying to do, and the energy we bring to the live show. It was actually one of the easiest parts!
Who were your biggest musical influences growing up?
I love everything from Radiohead to Zeppelin to all the old-school Motown artists. I've always been pretty diverse and eclectic in my taste.
What would you say is one of your career highlights?
Definitely getting to do the Live from Daryl's House [web series]. I've been a huge fan of Daryl Hall's forever, so that is one of the top five moments ever.
Your sophomore LP, More Than Just a Dream, will be released in May. What can fans expect?
The new record is about us taking new chances and not resting on our laurels. That meant being fearless and experimenting. Every song is going to make you want to dance.
What's the biggest challenge you face in today's musical landscape?
There's just so much good music out there that it's hard to get people to pay attention. One of the things we've tried to do is put on an amazing live show, and have that be one of the major focus points of our band.
What's the best advice you've ever gotten about the industry?
I've been doing this for a very long time and have had many failed attempts, but what I realized is to stop waiting for the music industry to take notice, and just go out and make your own best stuff. You have to work harder than ever with the way that the music business is now.
What is your favorite L.A. venue for seeing a concert?
I've always loved going to The Troubadour. That place is legendary.
Whenever you and the band go out for a midday break, where do you head?
I am a coffee fanatic, so I require a latte made by a snobby hipster … because I know it's going to be good. I like going to Intelligentsia … those real coffeehouses that are not about mass production.
Favorite store to shop for old records or sheet music?
Origami in Echo Park is great for vinyl. Amoeba Music also.
What stores do you hit to fill out your stage wardrobe?
I like Opening Ceremony for a piece that no one else will ever have. I can always find some great stage, rock 'n' roll gear at John Varvatos. There's a store on the east side called Confederacy, and they always have great men's clothing.
Where do you go to grab a bite after a show?
The 101 diner is a mainstay for me. I went there so many times when I was younger that they actually put an item on the menu named for me, called the Mikey Fitz!
DETAILS
Amoeba Music 6400 Sunset Blvd., Hollywood, 323.245.6400
Confederacy 4661 Hollywood Blvd., Los Feliz, 323.913.3040
Intelligentsia Coffee 3922 W. Sunset Blvd., L.A., 323.663.6173
John Varvatos 8800 Melrose Ave., West Hollywood, 310.859.2791
101 Coffee Shop 6145 Franklin Ave., Hollywood, 323.467.1175
Opening Ceremony 451 N. La Cienega Blvd., L.A., 310.652.1120
Origami Vinyl 1816 W. Sunset Blvd., Echo Park, 213.413.3030
The Troubadour 9081 Santa Monica Blvd., West Hollywood, 310.276.1158