Celebrity Interview: Matt Letscher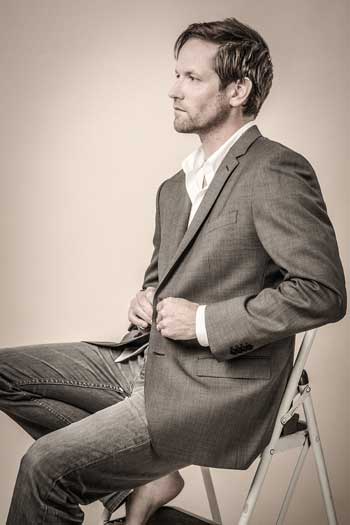 The Michigan native and star of the hit ABC series Scandal and the forthcoming Spike Jonze film Her to New York, where he films the CW's The Carrie Diaries dishes on his new role and his favorite things to do in Los Angeles.
In 1993, Matt Letscher drove cross-country from Michigan to L.A. But upon arriving, he found the City of Angels so intimidating that he didn't leave his hotel room for a full 24 hours. "It was very overwhelming. I was staying in the Hollywood Hills and was too afraid to venture down the street." Luckily, that didn't last long. "The boy grew into a man," he laughs. "Thank goodness I ventured out and experienced some of L.A.'s sweeter pleasures." Now, the Venice resident (who is married and a father of two) can't seem to stay put. In the past few years he has bounced from the L.A. sets of hit ABC series Scandal and the forthcoming Spike Jonze film Her to New York, where he films the CW's The Carrie Diaries. When he's local, he enjoys L.A.'s dining, theater and art scenes. —Jessica Radloff
You play Carrie Bradshaw's father on The Carrie Diaries. Were you a fan of the original show?
I never really watched it until the final season, but since it was such a cultural phenomenon, I always had an awareness of the characters and the story. This season you'll start to see characters that appeared in the original [show] pop up.
In December, you star opposite Amy Adams in Her.
I'm playing Amy's husband, who is an amateur self-help guru. It's a really fun role. At its heart it's a relationship drama, and a very unusual relationship drama at that. It has those signature Spike Jonze moments of whimsy, but there are certainly comedic moments to it.
Your first role was on Saved by the Bell: The College Years. What do you remember about that?
I remember screaming girls because those guys were so loved and adored. I played Rick Larson, the president of a fraternity that wanted to let in Zack and Slater, but not Screech, of course.
When did your love of acting begin?
I knew I really loved it while in high school, but it wasn't until I took a workshop with the great Uta Hagen. She totally transformed my understanding of acting. After the course of a week, I became convinced it was something I had to do and I never looked back.
You have two kids, aged 9 and 11. Where do you and the family like to go? What's your favorite family friendly thing to do in LA?

We love going to shabu shabu in Santa Monica [at Eat Shabu] on Broadway. The ingredients are so fresh. The kids will eat things there that they'll never eat anywhere else because they get to prepare it themselves. We also go to Paradise Cove in Malibu quite a bit. It's right on the beach, and you can have breakfast served right on the sand if you want.
You're also a big theater guy. Where do you like to see shows?
L.A. has a lot of great theater, which people don't know a lot. The Geffen is lovely in Westwood. I'm a member of Pacific Resident Theatre on Venice Boulevard. It's an ensemble that has been in L.A. over 25 years now. They do some of the greatest 99-seat theater in town.
Where do you and your wife go for a romantic night out?
Mastro's in Beverly Hills. It's evil delicious food and great people-watching. I always get the filet.
Where do you go to see art?
We have two world-class museums in the Getty and LACMA. It's a majestic experience to go up to the Getty to see the galleries and the gardens. LACMA is so great because in addition to its great collection, it's a great family-friendly space.
DETAILS
Eat Shabu 930 Broadway, Santa Monica, 310.899.9494
Geffen Playhouse 10886 Le Conte Ave., Westwood, 310.208.2028
Getty Museum 1200 Getty Center Drive, Brentwood, 310.440.7300
Los Angeles County Museum of Art (LACMA) 5905 Wilshire Blvd., L.A., 323.857.6000
Mastro's Steakhouse 246 N. Cañon Drive, Beverly Hills, 310.888.8782
Pacific Resident Theatre 703 Venice Blvd., Venice, 310.822.8392
Paradise Cove 28128 Pacific Coast Hwy., Malibu, 310.457.2503